Here's a line-up for the first group of exhibitors in Architect'23 with a full range of innovative building and construction materials and even more special highlights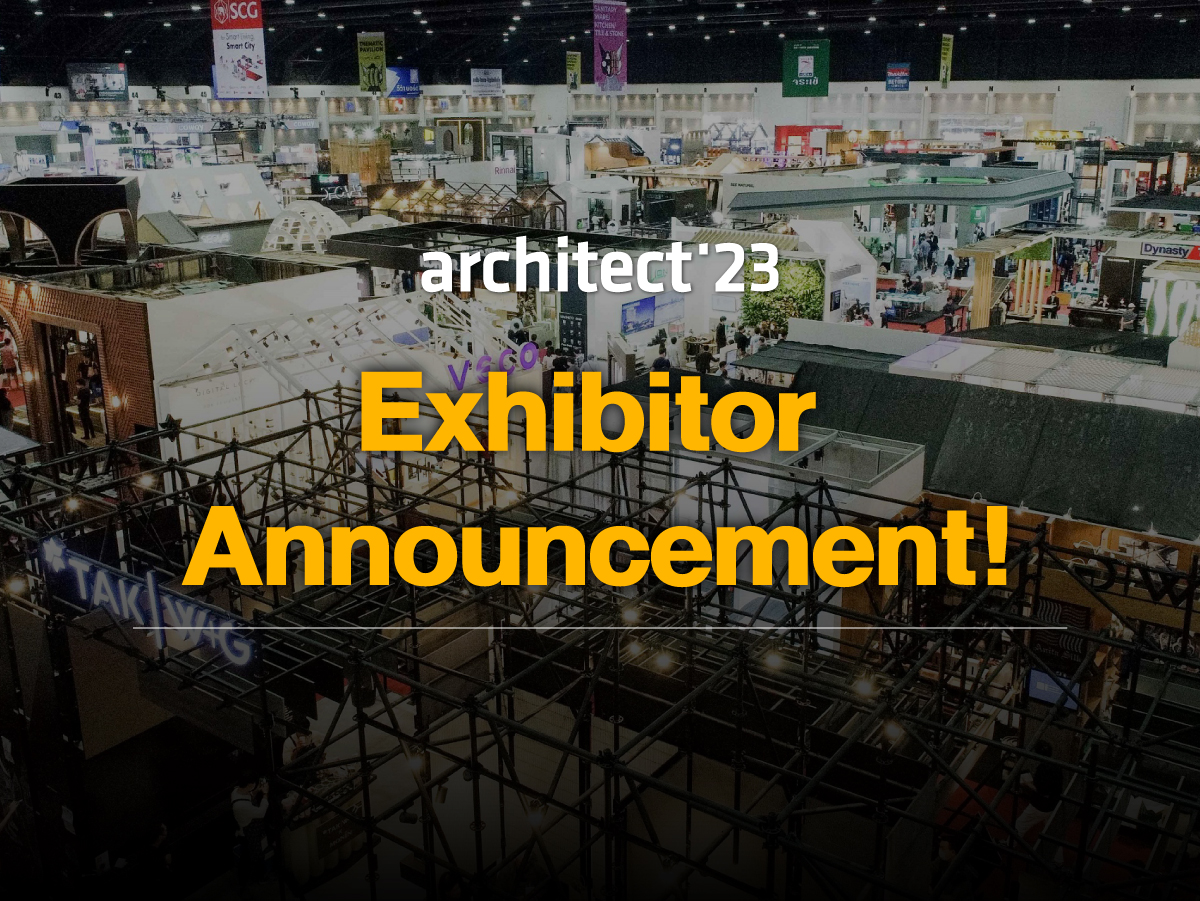 "Architect'23", ASEAN's Largest Building Technology Exposition, is back again for its 35th edition with big surprises for designers, architects, investors, real estate developers and all stakeholder in the construction industry.
After the success of "Architect'22" with more than 250,000 visitors and 500 exhibitors from Thailand and international, amidst the ongoing COVID-19 pandemic, the Association of Siamese Architects under the Royal Patronage (ASA)and TTF International Co., Ltd. are prepared to expand the success with next year's event. A large number of exhibitors have already confirmed their participation, including TOA, VG, MAKITA, EDL, TOSTEM, WOODDEN, PANTAMITR, MITSUBISHI, WILSONART, FORMICA, CIBES, LUCKY FLAME, KARAT, J.D. POOLS, PANEL PLUS, CHAMPACA, SEACON, ALUZAT, ISHIMOK, YKK AP (THAILAND), TPI POLENE, NGERNMA BUSINESS, BINGO LAMP, GIO HOME KITCHEN, SHIMONO (THAILAND) and many more, all of which are ready to showcase their latest innovations and technologies!
Lightings such as L&E, BINGOLAMP, QUILL LIGHTING and LUMENPLUS etc.
Construction Tools & Electrical Appliances such as
MAKITA, BLACK + DECKER, MITSUBISHI ELECTRIC, SHIMONO, POWERTEX WORLD WIDE etc.
Home Lift such as ARITCO, DTRUSS, CIBES etc.
kitchen such as GIO HOME KITCHEN, LUCKY FLAME, PRUSSIA etc.
Swimming Pools, Waterworks & Pipes such as
DOS, BAANKRONGNAM, J.D.POOLS, POOL & SPA, MR. POOL, TAC-M & THAI PP-R etc.
Sanitary Ware KARAT, COTTO, CRISTINA etc.
Wood & Artificial Wood Products such as
WOODEN, BRT, SIAM GLORY WOODWORK, POLYMER MASTER, KTH WOOD, PANEL PLUS, CHAMPACA etc.
Furniture & Office Furniture อาทิ
AT SIAM, HAWAII THAI, ZEDERE, ABOUT HOME, JADBAAN, ISHIMOK, OFFICE INTREND etc.
Covering Material such as EDL, WILSONART, FORMICA, TAK etc.
Doors & Windows such as
TOSTEM, GLASTEN, YKK AP, MODERN GLASS, GLASTEN, MYTHTIDA etc.
Home Builder such as
SEACON, WIDE HOUSE, MASTER PLAN 101, BUILT TO BUILD etc.
Steel & Aluminium such as EMPOWER STEEL, MUNKONG STEEL, HWALIN, THAIKOON STEEL, RC STEEL, PEB STEEL etc.
Stones & Artificial Stone HOMESTYLISH, NGERNMA, STONEMARK etc.
Another big surprise is the first collaboration in Architect Expo between two leading brands, namely TOA Paint and VG, leading company in vinyl roof and rain gutters, on a magnificent space of more than 800 Sq.m, with the creation of Thematic Pavilion by combining products from these two brands.
For those who are interested in space reservation, please visit our website at https://architectexpo.com/2023/en/about-the-expo/#space-reservation, or contact us at 02-717-2477 and Email: info@TTFintl.com.
Please wait a little longer for the revelation of next year's special concepts and highlights! This come back will surely be greater! See you at the "Architect'23" during 25 – 30 April, 2023 at Challenger Hall, IMPACT Muang Thong Thani.