Creating opportunities to cross-professional collaboration: a new image of the Architect Expo 2022 by the perspectives of the three organizing chairmen.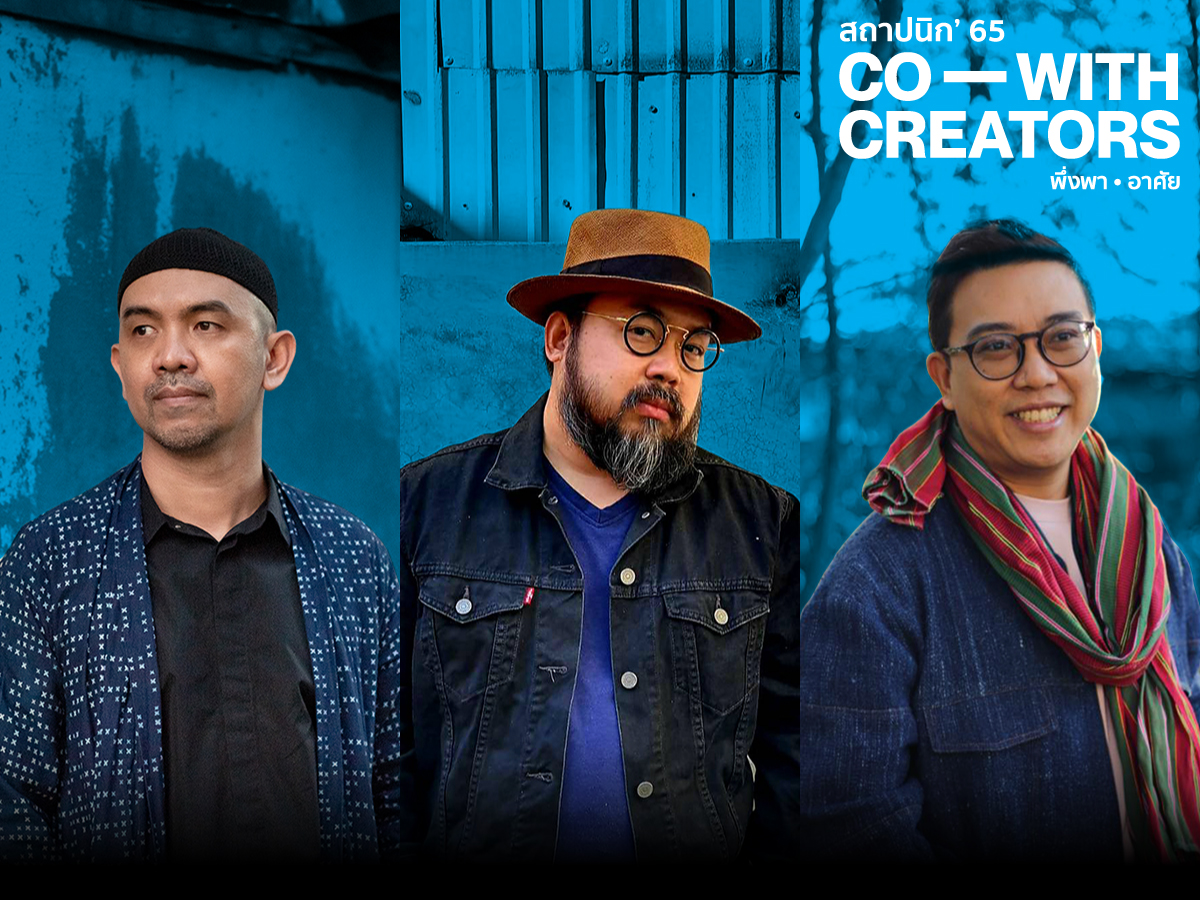 "CO – WITH CREATORS" is the main concept in organizing the Architect Expo 2022 under the first collaboration in organizing the exposition of Mr. Rachit Radenahmad, an architect from the South, Mr. Issara Areerob, an architect from the North, and Mr. Pongpon Yutharat, an architect from the Northeast. They were honored to explain how the main concept of the Architect Expo 2022 came to be and why it will be a significant turning point in changing the way visitors experience prior to the Architect Expo 2022, which will be held during 26th April – 1st May, at Challenger Hall, IMPACT Muang Thong Thani.
01
Hypothesis of Working Collaboration
Architect Expo 2022 will be held by the collaboration of the three architects from three regions of the country, which will be the first speciality of the exposition that has three co-chairmen under the concept of "CO – WITH CREATORS" in order to reflect the current situations in which architects have worked together with creators from various fields, for instance, the collaboration of architects and lighting creators, the collaboration of architects and pastry chefs to make distinctive look of dishes, or even the collaboration of architects and astronauts to create conceptual ideas of residential unit in other planets.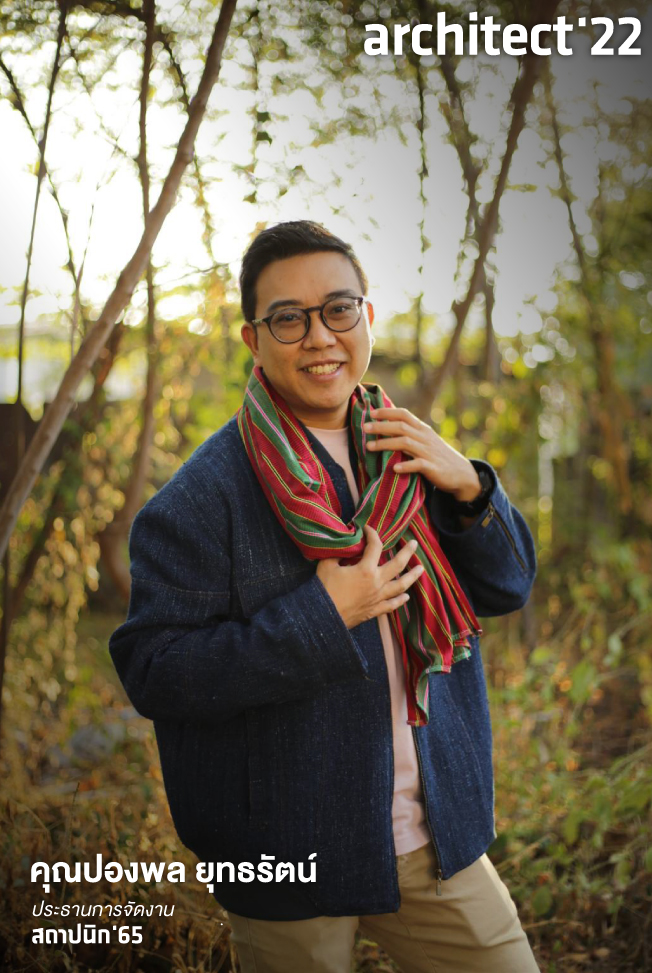 "I was wondering if future architectural designs could benefit from this type of collaboration. I made the assumption that if architects collaborate with other creator on organizing the exposition, will it be more attractive and interesting, or is there any other way to improve the exposition to make it better than it was? As a result, I decided to take this opportunity to test the hypothesis and gather feedbacks from visitors." Mr. Pongpon said.
By adding that the idea for organizing the Architect Expo 2022 originated from Mr. Pongpon's perspective on "Co-evolution" which is the ancient system of interdependence of living things. Flowers, for example, were unable to self-fertilize a hundred million years ago and thus co-evolved to attract insects to drink nectar and pollinate flowers.
"I personally believe that when we do things alone, they may not be very sustainable, whereas working with the concept of Co-evolution would be more sustainable. Therefore, I am taking the opportunity of organizing the Architect Expo 2022 to offer potential alternatives and to ensure that "CO – WITH CREATORS" will be an alternative way for architects in the future."
Another source of CO – WITH CREATORS concept is the Covid-19 outbreak. Mr. Issara mentioned that the collaboration of the three organizing chairmen is similar to group work in that job responsibilities are assigned to each one, representing the concept of "CO – WITH CREATORS" since the first working day with the Covid-19 pandemic affecting our working conditions. "CO – WITH CREATORS" sparkled by combining CO-WITH, which has a homophone with Covid, with CREATOR, which, in this case, refers to anyone who is creative.
Therefore, the highlight of the Architect Expo 2022 is the transformation in the exposition's perception of images, thoughts, feelings, and intimate atmosphere from the old one. Anyone, not just architects, is welcome to participate in the exposition, Mr. Rachit concluded.
02
Architecture is not accomplished by just architect
When asked about his collaborative experience with those from other fields, Mr. Pongpon shared his working experience with a child psychologist, whom he considered a creator of designing residential flooring that can support a fast-growing child both physically and mentally. This could distinguish his work from previously unchanged work when he worked alone.
Mr. Issara explained that the architectural working process does not rely solely on the architect, but rather on all parties. For example, Zaha Hadid, a well-known architect, began his work by drafting a model and assembling a team to create it. He recognizes the significance of his team, which is as talented as the architect himself. They are the driving force behind architects' success. This is in contrast to the work of Thai architects, who almost always do everything themselves. That is why Thai architecture does not "go beyond" because there is still a lack of a supporting team known as "CREATOR." As a result, we place a high value on these creators in the exposition.
"I believe that a piece of architecture should not be completed solely by an architect." Some of the works appeared to be really spectacular in the model plan, but when I saw the actual work, I couldn't see what I had seen in the designed plan. A photographer is the best person to put it out there. I realized that working in architecture necessitates a wide range of professionals to support and assist in making the architect's vision a reality. As a result, creators are just as important as architects."
Architects interact with many people during the course of their work, including engineers and local technicians, and they must communicate about working techniques that can integrate knowledge. Mr. Rachit observed that this problem was particularly evident in provincial areas where there was no common understanding of technology or know-how, forcing people to rely on one another, including passing on knowledge from generation to generation, as in valuable local architecture.
03
An event that narrates the thinking process.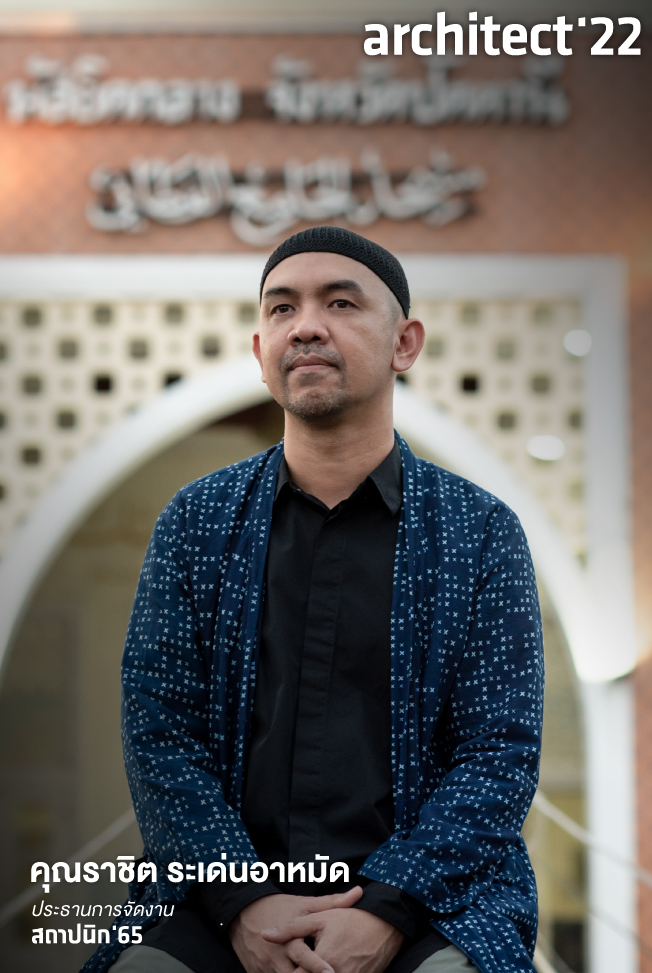 "Architect Expo 2022 will be a lot of fun," Mr. Rachit said. After confronting the covid-19 for a long time, the next year's exposition will be the channel which architects, developer, designer and other people who are interested in architecture can reunite in an unconventional atmosphere that is not overly architectural. Mr. Issara stated that this is in line with the highlight of the exposition in the area of the Association of Siamese Architects under Royal Patronage (ASA).
"Architect Expo 2022's highlights are most likely a result of the concept that we are pursuing." Because we will find something closely resembles an event discussing the design process rather than an exposition describing what architects do. As a result, rather than hosting an event solely focused on architecture or construction, we tended to provide a presentation that reflects brainstorming, working principles, and conceptual framework. We have developed presentation guidelines to ensure that the presentation is significantly altered and distinguished."
According to Mr. Pongpon, the definition of organizing Architect Expo 2022 is "Now Normal." Aside from the changing atmosphere in the exposition, a number of online activities have been planned for the duration of the kick-off period. To create an experience and participation of visitors that is not limited to the 6-day event and does not have online activities exclusively to support emergencies during the COVID-19 pandemic, but will be one of the exposition's usual highlights.
The environment is also an important issue in Architect Expo 2022, as evidenced by the fact that the exhibition will be the first time to measure the Carbon Footprint. Mr. Pongpon stated that he plans to disseminate the exhibition's knowledge gained from working with scientific researchers to architects as a designer who is directly related to environmental management, as well as the general public. This is to inform how much carbon is emitted by one exhibition and how many trees will be required to replace it, in order to digest the knowledge and disseminate it in the area of the Association of Siamese Architects under Royal Patronage (ASA).
04
The exposition concept that delivers visitors a relaxing feeling.
The concept was created by the three organizing chairmen with a focus on friendliness and overall atmosphere rather than academics. The purpose of the Architect Expo 2022 is to shift visitors' perspectives from stressful and serious to more relaxing and approachable. Visitors from other fields are at ease visiting the booths and having the opportunity to be a "CREATOR" as part of their daily routine. It is not limited to those who plan to build a house or are interested in the construction field, but also to those who are creative and always looking for new things. As a result, this is the most effective way to expand target audiences to come to the exposition.
05
Fashion Designers, photographers, street artists, and architects are gathered in the Architect Expo 2022.
We will present the story of thinking process and the principles of collaboration between architects and creators in the area of the Association of Siamese Architects under Royal Patronage (ASA). The three organizing chairmen have invited 12 creators and 12 architects, four from each region of the country's north, northeast, and south, to exhibit their works that present "CO – WITH CREATORS" by performing "Cross-culture work," such as the collaboration of people from the north and northeast, or "Cross-function," which is a collaboration between different professions. This clearly demonstrates the learning process and mutual reliance. It's a fascinating idea to have such a concept.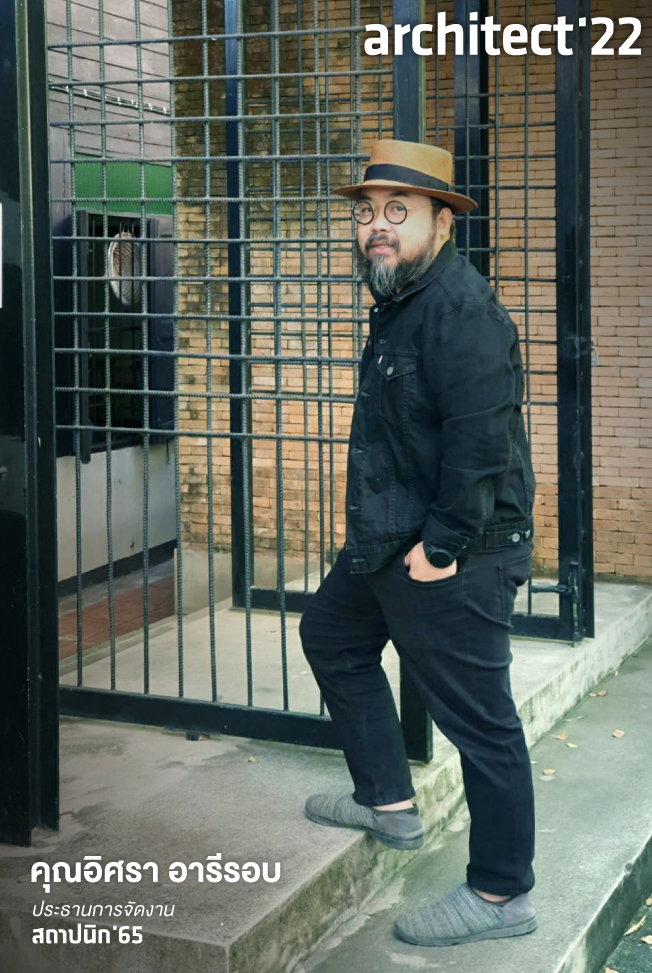 Mr. Issara revealed that he hired CREATORS with an educational background in architecture but no experience in the field, such as the owner of the Rubber Killer brand or the owner of a music recording company. Mr. Pongpon, on the other hand, has invited creators from the northeast, one of whom is a photographer at "Very Thai" who takes photos of rice fields, monks, and swimming children with his iPhone. His work was displayed on billboards all over the world, and he had the opportunity to meet Apple CEO. He is collaborating with a Phuket architect to create a "Local Innovation" zone that represents innovative materials from local wisdom through the perspectives of architects and photographers, which is expected to be a unique visual arts composition from previous years. Furthermore, Mr. Pongpon compares this concept to TTF International Co., Ltd.'s operation of Thematic Pavilion because it partners architects and suppliers to get to know each other before having architects design exhibition spaces to showcase the potential of each building material in a different way. This work concept is in line with the work of the Association of Siamese Architects under Royal Patronage (ASA).
Ductstore the Design Guru Co., Ltd also utilizes the concept of "CO – WITH CREATORS" in the development of its key visual work, collaborating with Benzilla, one of the most popular street artists in this era, to design unconventional characters in the key visual work. "If the poster is published, it will certainly surprise people, and they may wonder whether it is an architect expo or a skateboarding expo," Mr. Rachit said. Architects are also expected to be open-minded in order to accept the opinions of other creators, as this work cannot be completed perfectly on their own. Collaboration of architects can provide architects and creators with opportunities for knowledge sharing. For example, the 12 architects who have been chosen will learn how to work with the creators, be able to see the benefits and drawbacks of each other's ideas, as well as the knowledge of Carbon Footprint from scientists and environmental design experts that the 12 pairs must learn together, Mr. Pongpon added.
06
Creating collaboration opportunities for CREATORS from diverse professional fields.
Visitors from all over the country are cordially invited to attend the exposition. It will be a great opportunity to perform your potential and network with other creators. In addition, they would like to invite creators to witness the outcome of the collaboration challenge in order to provide an opportunity for architects to broaden their perspective to other professional fields in order to work together more and create positive interactions among one another.
Most importantly, Architect Expo 2022 will be a turning point in organizing the event in terms of mood and tone, as well as the characters that will be created with the purpose of being approachable to both new and old generations. This upcoming exposition should leave an impression on all visitors.
07
Bringing architects, suppliers, and creators from all over the world together.
Mr. Issara mentioned that he would like to invite suppliers to participate in the exhibition as well, in order to recall the old feelings of the exposition, which had been on hold for a long time. Meanwhile, changing the exposition concept can attract more target audiences. This is a good starting point for increasing new visitors to the exposition.
Mr. Pongpon also believes that the Thematic Pavilion model is a good example for suppliers to experiment with attractive exhibition space designs in order to satisfy the needs of provincial architects traveling to Bangkok to participate in the Architect Expo 2022, with a focus on seminars and innovative building materials exhibitions. The Thematic Pavilion will allow suppliers to integrate new design perspectives into product presentations. It's even more incredibly interesting because it clearly demonstrates the potential of materials from suppliers.
Finally, he believes that architects and creators living in provinces will be able to meet and build relationships with suppliers, especially this year due to the frustrated condition caused by the Covid-19 situation, as well as 24 architects and creators from various regions who will act as an attraction for friends to attend the Architect Expo 2022.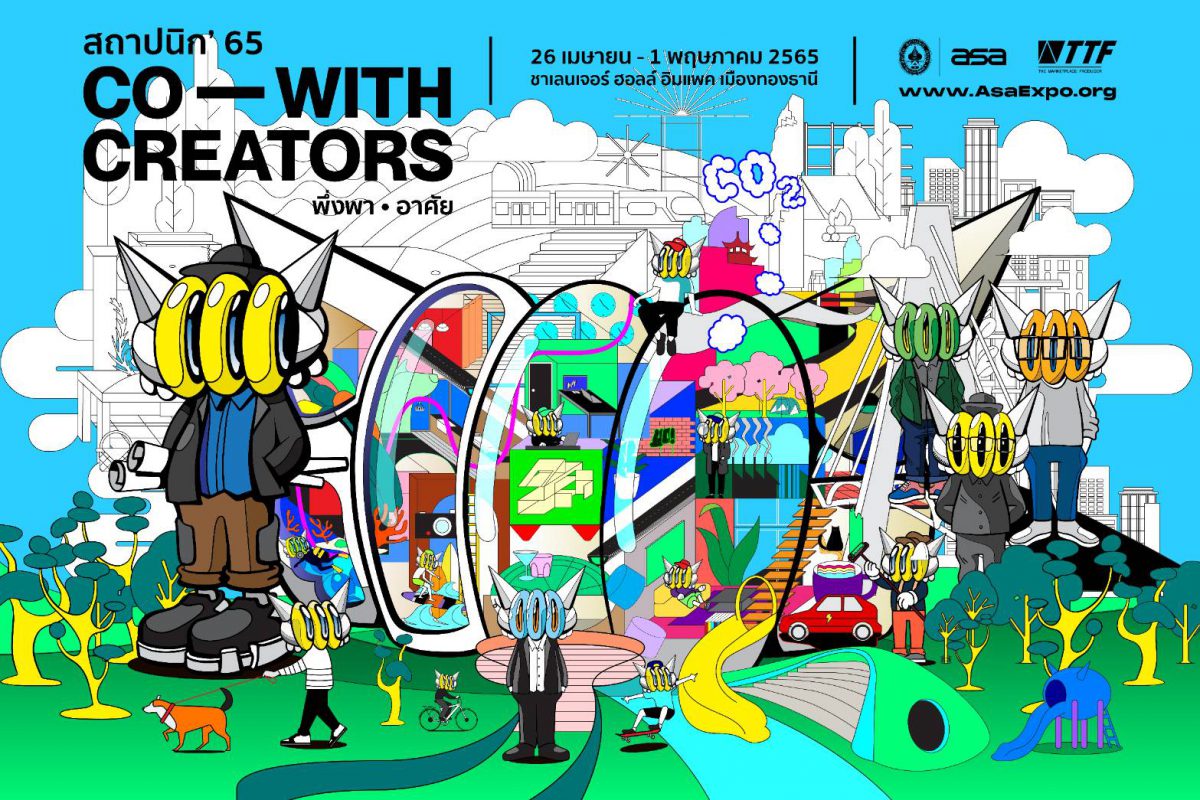 08
A big surprise!
The Architect Expo 2022 surprises have gradually been revealed, as evidenced by the movement in pre-exposition, which includes an event poster, a unique key visual, and other moves prepared after the Exposition Kick-off. As a result, there is no need to wait until the day of the exposition.
What big surprise will the chairman of the three organizers have in store for us? Please stay tuned.
---
Architect Expo 2022 will take place on 26th April – 1st May, 2022 at Challenger Hall, IMPACT Muang Thong Thani. For those who are interested in space reservation, please visit our website at www.ArchitectExpo.com/2022/space-reservation/ or contact us at +66 02-717-2477 and info@TTFintl.com