"A good kitchen must be flexible." Explore Gio Home Kitchen with "Aaron Chou", designer of bespoke kitchen who tailors flavor for homeowners before participating in Architect'23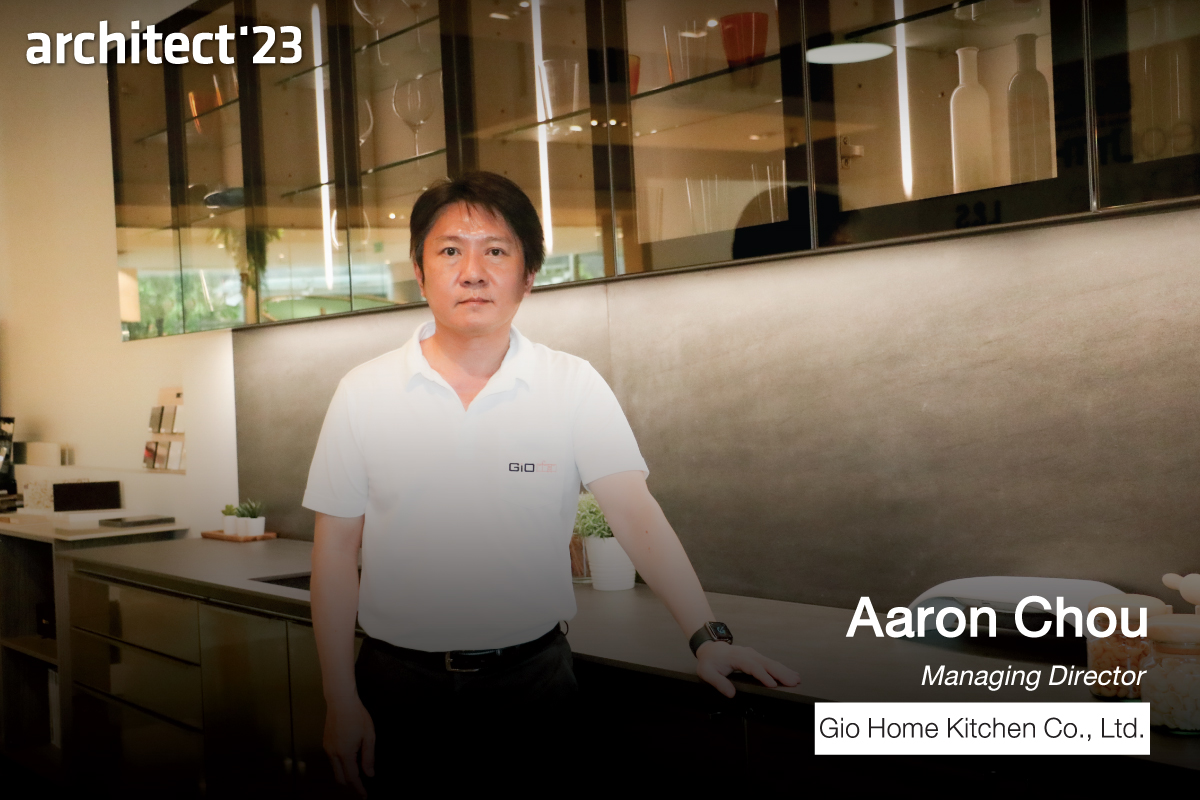 The kitchen is a space of happiness and a space where families spend time together, so having a nice kitchen of ​​great quality would result in even fonder memories. In reality, however, the kitchen is the area that many families pay the least attention to, possibly because it is only used for cooking.
Such is not true for Aaron Chou, Managing Director of Gio Home Kitchen Co., Ltd., who wishes to create a space of happiness called "kitchen" using high-quality materials with complete functionality to meet all needs. Most importantly, the space must be "flexible" to satisfy all the wants of homeowners, architects, designers or real estate developers who pay attention to every detail and wishes to make this truly a family space.
Feedback of Architect'22
It was great. Maybe it's been a long time since such big event like Architect Expo, so it attracted new customers, including real estate developers, architects, and homeowners who wished to decorate their kitchens. Our booth welcomed a lot of visitors and we got quite good feedback.
Most of the visitors came to see the design, materials, and functionality as well as our new products, like laminate sheets from the Italian brand Fenix, LED lighting from L&S in its latest design with hidden lighting behind a shelf, cabinet or along the countertops which adds gimmick to the kitchen, an increasingly popular trend in Europe.
Strengths of Gio Home Kitchen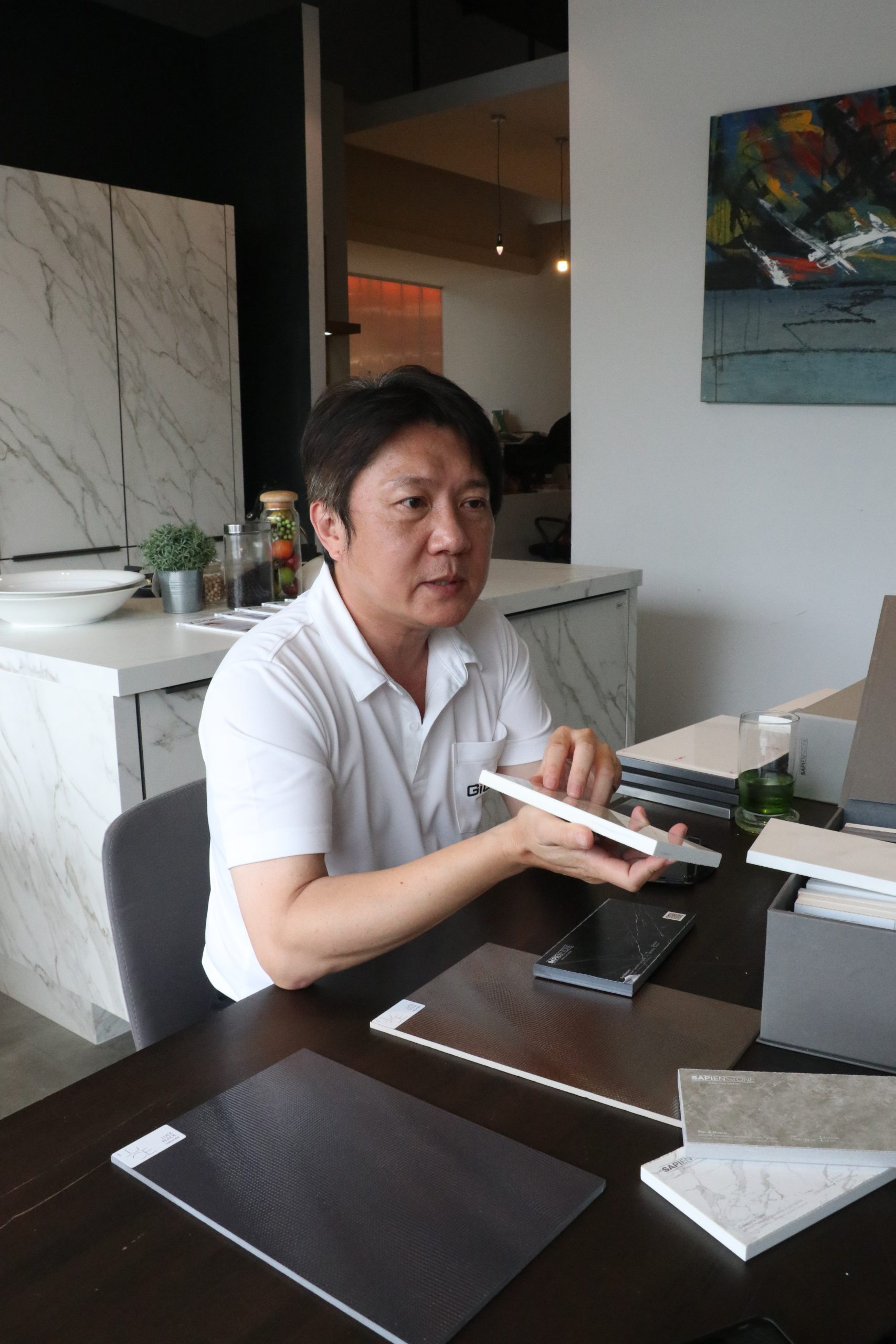 Product quality. We always select the best materials in the market. The technology and various machines are from Germany. We pay attention to every detail and test every step before delivering to customers. Even though our products come with a slightly higher price than other brands, the quality and value for money is certainly second to none.
Even the smallest details, such as edge banding of the workpiece, Gio Home Kitchen uses a technology called Airtech from Germany, which utilizes heat to melt the glue for even smoother laminate finish. Although this method means the cost is higher than general edge banding, Gio Home Kitchen is delighted to provide the best for our customers.
Gio Home Kitchen Product Development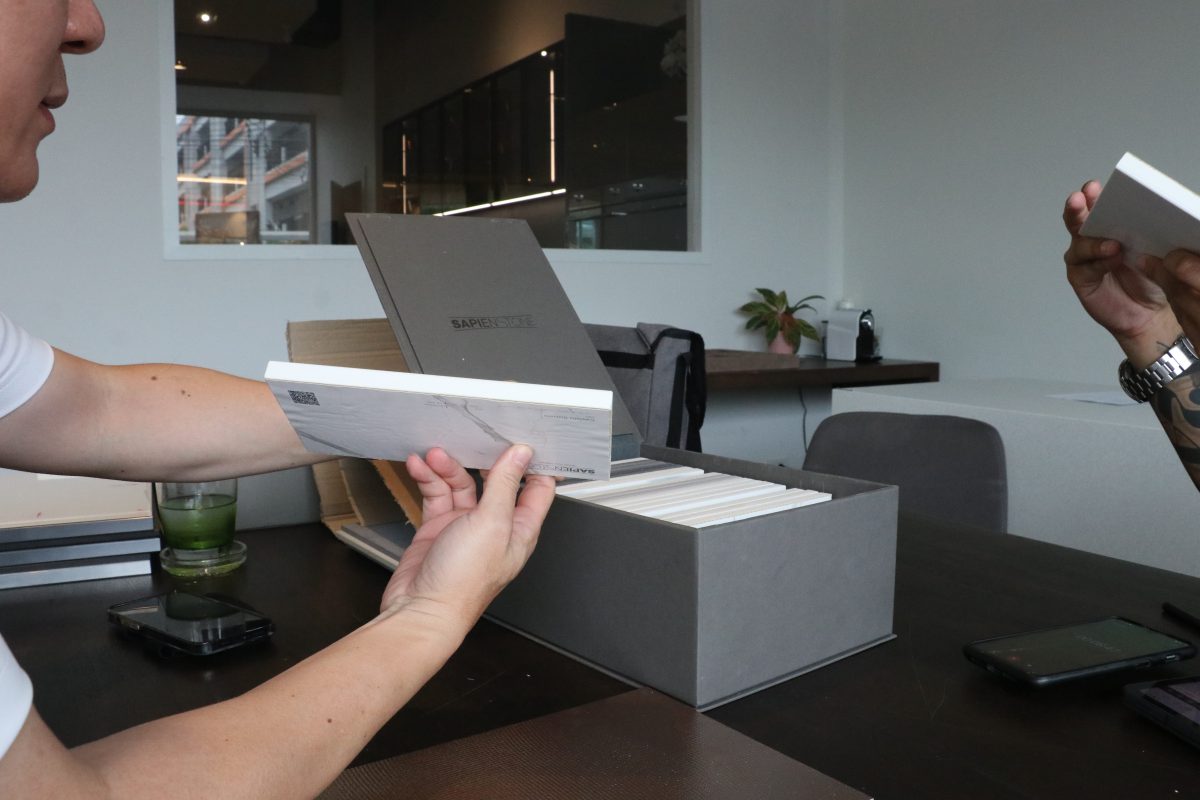 Every year, Gio Home Kitchen conducts research to discover new equipment or materials, such as top-tier ceramics; searching high and low to provide the best for our customers. We previously used ceramics from Spain and it was of good quality. However, when we discovered a new Italian brand with a long history and is famous for ceramics like Sapienstone, we shifted to this instead.
The reasons we chose this brand is because of their know-how and their unique material properties. This special technique is when we look at the ceramic from different angles, the texture resembles waves. But when we feel the surface, it is actually smooth and not wavy at all. The technology at play here plays with the texture of material surface. The product will be imported and launched soon.
Extending on its success of Architects'22 toward Architects'23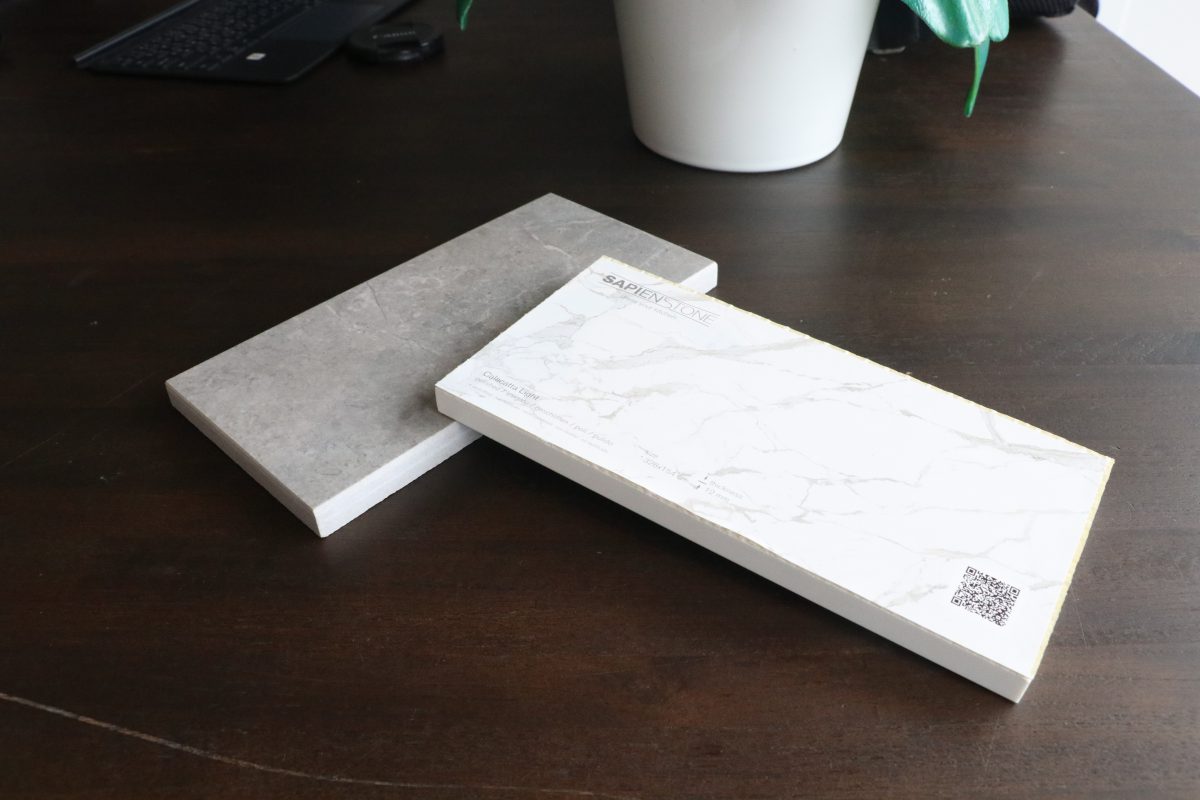 With Architects'22, a lot of visitors were interested in the designs and patterns of ceramic stone. We have plans to import an even more exclusive model than the ones available on the market. It is a ceramic called Full Body, meaning instead of imprinting the pattern only on the surface of the stone, the pattern of mineral veins seeps into the stone texture throughout the entire sheet. All the products are imported from Italy.
In Architects'23 next year, Gio Home Kitchen has prepared new materials and designs to meet everyone's needs as always. But right now, it is still a secret and I wish it to remain a surprise, please wait for more information.
What about kitchen trends in upcoming years?
I myself have just returned from EuroCucina and have seen kitchen trends from Europe. I guess that soon matte finishing will be popular in Thailand. Gio Home Kitchen has adapted this trend by importing matte finish materials to meet the needs of various customers.
The reasons why matte finishing is becoming so popular is because in the past, everyone used high-gloss finishing. Even ten years ago, high gloss was still widely popular because the glossy surface delivers luxurious, expensive and sleek look to the kitchen set. Recently, however, the market trend started to change from shiny to matte finishing as it offers a smooth and soft feel. Possibly because of the minimalist trend, high-gloss finishing reflected on the shiny surface looks a bit too heavy.
If high-gloss finishing is executed well, it will look elegant. However, if it is installed in a way that makes the surface looks too heavy, it will surely affect the feelings of users as well. Another thing to take note of is high-gloss surface are prone to leave fingerprint marks, which needs to be cleaned on a regular basis. Matte surface ensures that such issue will not arise with anti-fingerprint technology and can also be repaired easily.
The best material that Gio Home Kitchen recommends is ceramic. The ceramic imported is imbued with anti-bacterial technology. Although several brands possess this technology, the products imported by Gio Home Kitchen are more exceptional with coating in the texture of ceramic sheet, not just the surface.
Definition of Gio Home Kitchen in Aaron's Perspective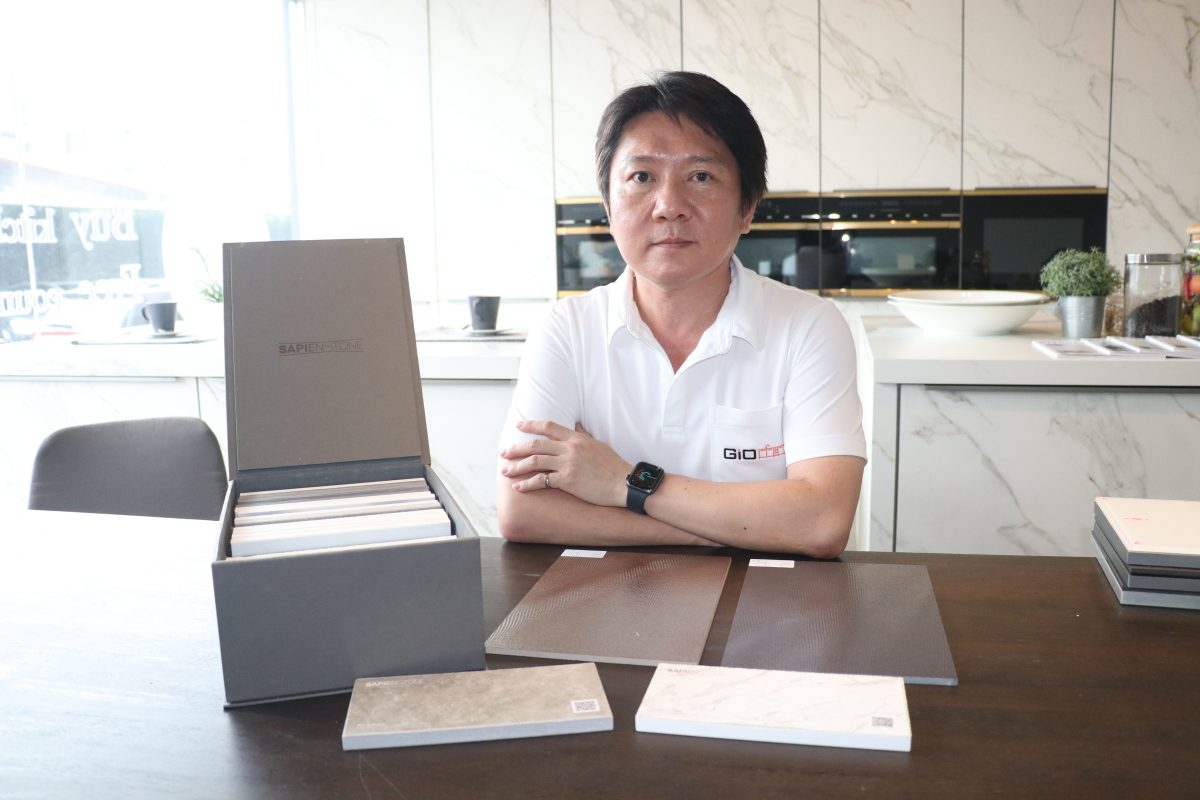 Gio Home Kitchen is a professional in kitchen design. We look at the needs of our customers and satisfy those needs. Another thing is the materials selected actually surpass the limitation of themselves. For instance, wood in cabinet or shelf, Gio Home Kitchen can design for it to be longer and wider than general. The design also allows more "storage space". Gio Home Kitchen is more flexible, more capable, and more versatile, for the convenience of users.
A message for other exhibitors in the upcoming Architects'23
The economy cannot wait anymore. It must be prepared from this moment which technology, innovation or new products will be exhibited at the event. If we keep waiting for the situation to improve, perhaps our competitors have already overtaken us or maybe the available slots will all be reserved, losing the precious opportunity of showcasing important products. If you wait, the opportunity will disappear. The competitors are not waiting like us. We have to make a decision now.
Have you ever designed a kitchen for a famous chef?
Gio Home Kitchen designed Chef Ian's kitchen. He opted for ceramics, with a kind of loft cement finishing. At first, he wanted other materials, but he had two dogs at home who loved to scratched things so we recommended ceramic to him. As for the kitchen set, it is full of professional level, world-class brand, focused on heavy kitchen duty.
You can design a kitchen set, but can you cook?
I can whip up some dishes like Taiwanese fried chicken, steak, or spaghetti.
Meet the kitchen builder who designs according to your needs with Gio Home Kitchen at Architect'23
See kitchen sets and other furniture such as walk-in closet, TV shelf with a variety of designs, great quality material and full functions from Geo Home Kitchen Co., Ltd. at booth number S304 in Architect'23, the 35th ASEAN's Largest Building Technology Exposition during 25- 30 April, 2023 at Challenger Hall, IMPACT Muang Thong Thani.