Bring human interaction to Architect Expo with Puiphai Khunawat, one of the co-organizing chairmen of Architect'23 from ASA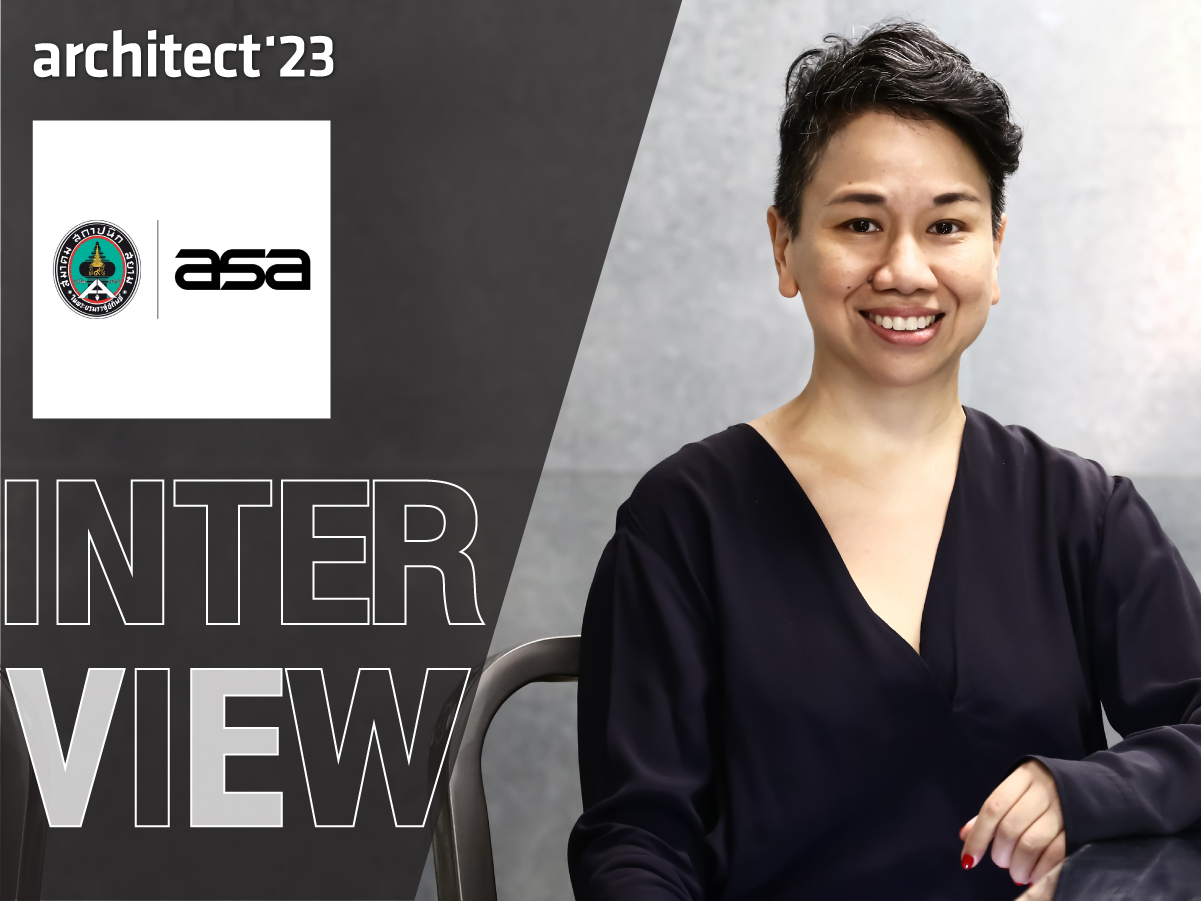 Architect'23 has officially revealed its concept of "Tum Tad: Time of Togetherness," which is the first time knowledge from all fields of architecture has been combined with the collaboration of five professional organizations, namely the Association of Siamese Architects under Royal Patronage (ASA), Thailand Interior Designers' Association (TIDA), Thai Association of Landscape Architects (TALA), Thai Urban Designers Association (TUDA), and Architect Council of Thailand (ACT). What actions will each organization take? How does each of the professional fields function? All five co-organizing chairmen will share with you in the five following interviews before the exposition will be launched in a few months.
This is the 35th year of the Architect Expo and the Association of Siamese Architects': ASA's role in disseminating works and knowledge about the architecture professions and construction innovations. This time, Khun Puifai Kunawat, one of the co-founders of Creative Crews and a co-organizing chairmen of Architect'23 from ASA, is ready to develop the exposition in response to the world's changing situations with new approaches and new activities, including innovative exhibition styles that will make Architect'23 unmissable.
Transform Architect'23 to allow inter-personal conversations
'Human Interaction' is the heart of the development of Architect'23 to meet the needs of the world in an age where information and knowledge can be easily obtained from internet.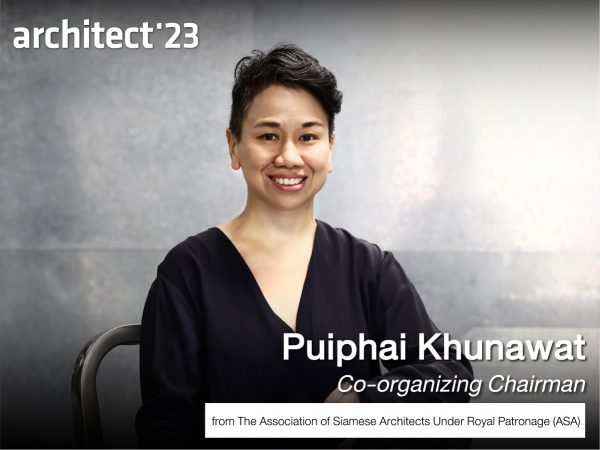 The COVID-19 outbreak kept industry and general public from meeting and engaging in conversation. As a result, Khun Puiphai realized that architects' work needed to adapt to people's changing information gathering methods. "As children, we felt obligated to attend the event in order to receive material and industry updates, as well as to gain knowledge about what they were doing at the time." "Unless we went to the exposition and visited the supplier booths, we couldn't discover anything about this industry." However, we can now obtain information from any sources other than physical ones."
That is why, rather than listening to a lecture or presentation, meeting and talking is still necessary in terms of inter-personal conversation. Khun Puiphai gave the example of TTF International's Thematic Pavilion project, which did not just showcase products but also implied the collaboration of architects and suppliers. It was the start of more discussions, allowing for more activities to be provided at the suppliers' booths, main stage, and association platforms. This is essential for participants in terms of innovation updates and keeping them active in order to participate each activity on time as schedule.
'Human Library', a brand-new activity for a fun knowledge transfer
From the concept of Human Interaction to a new knowledge platform, 'Human Library' is a new activity in Architect'23 that allows experienced people to share their stories in a grooving atmosphere.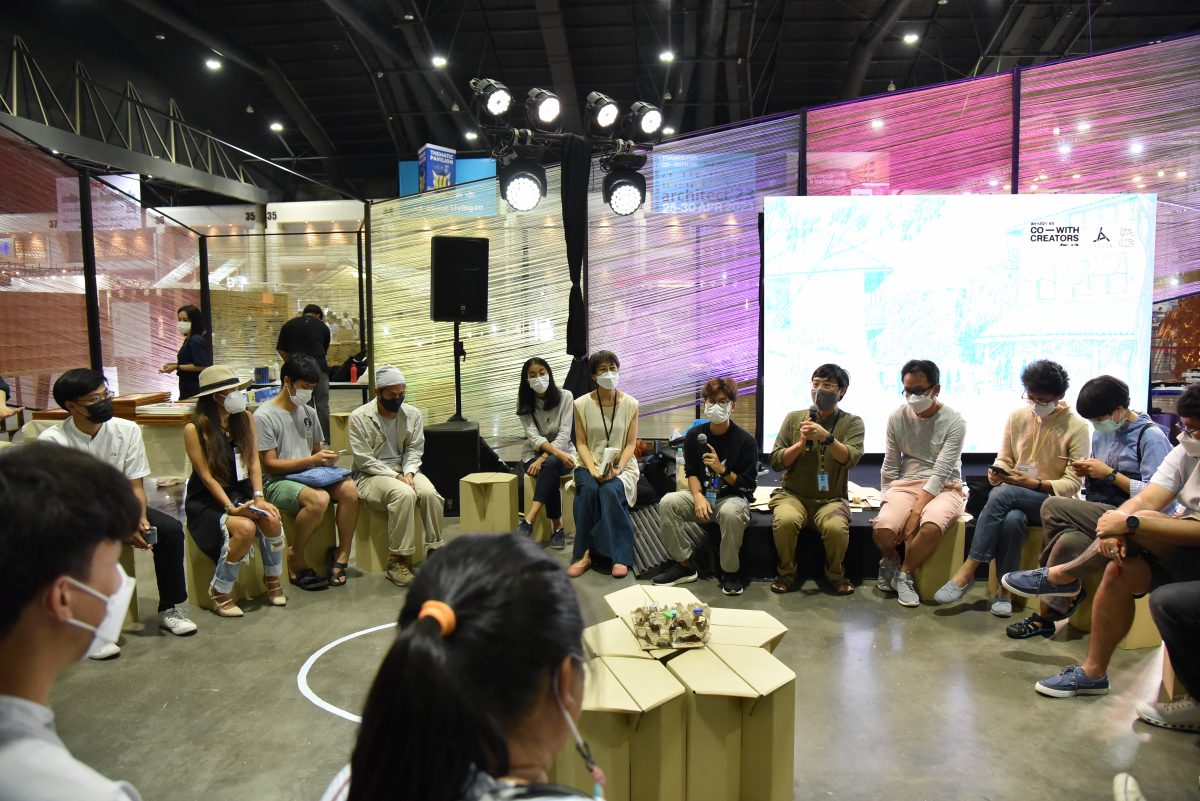 ASA has previously hosted numerous knowledge transfer events for architecture professionals. Whether it's various talks, books or ASA Journal all of which are now available through online channels. The content is the person's knowledge or experience that is conveyed through an editor team to interview, publish, and deliver to students, young architects, and the general public to read.
"I believe that if we finally made it happen at the exposition, having conversations with knowledgeable, experienced, or interesting people, allowing them to register and meet each other, would be beneficial." There are professional benefits to meeting and interacting rather than searching and reading articles on their smartphone."
Intense content for anyone interested in Built Environment.
The special things about Architect'23 is the collaboration of the four representatives from the Thai Association of Architects (ASA, TIDA, TALA, and TUDA), and a representative from the Architect Council of Thailand (ACT) to broaden its scope to be more connective and visualize an overview of Thai Association of Architects.
"Initially, the collaboration will make the big picture clearer for the general public that when we work together, we will see this picture clearer and this makes the environment, city, or Built environment better and see what positive impacts are on people's lives." The intensity of knowledge, cooperation, and participation of people in the industry and the general public will be greater if the works are carried out concurrently. Hopefully, the number of visitors to the exposition will increase. Participants in the construction industry will be more intense if they can attend the same event.
Exhibition experience by the integration of current interests
"To be honest, we should create an activity or something to respond to needs of the people in the industry or the general public." Khun Puiphai mentioned that the association's movement, which will take place from now until Architect'23, is to provide flexible activities to respond to the trend of current social attentions.
"High school students, must now prepare a portfolio in getting admission to the Faculty of Architecture." This proves how much the younger generation values design, architecture, and the city. As a result, we try to think about and categorize the topics.
The experience of visitors to the exhibition will also change when the space outside the hall, which previously frequently presented conservation work and award-winning works, has been changed to promote works of the new generation of university students, integrating with the attention of high school students to arouse the interest of people from outside the exposition until entering to see the work of the members of the four associations. You will gain a better understanding of what an architect does, and there is a Human Library surrounding the exposition.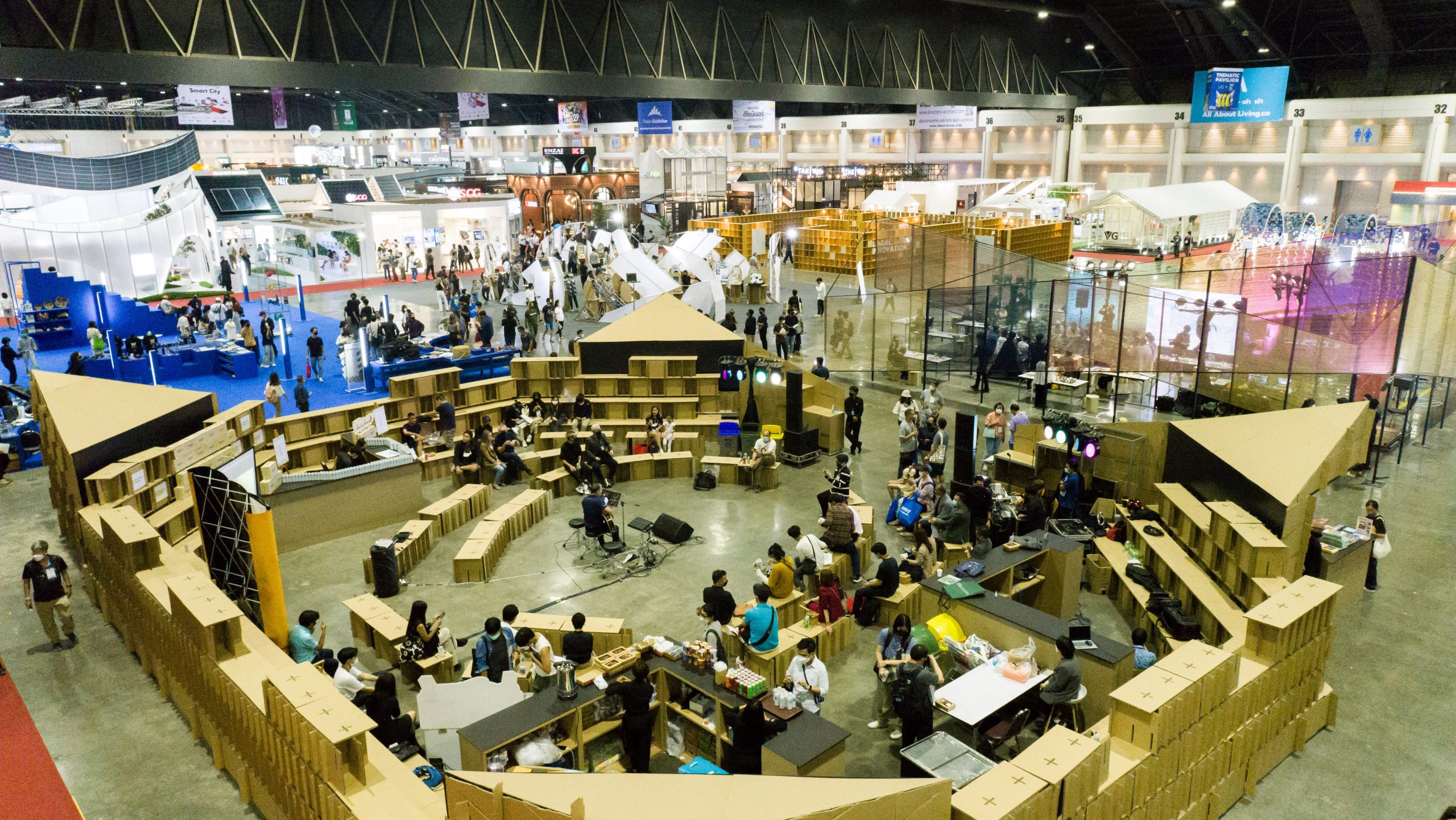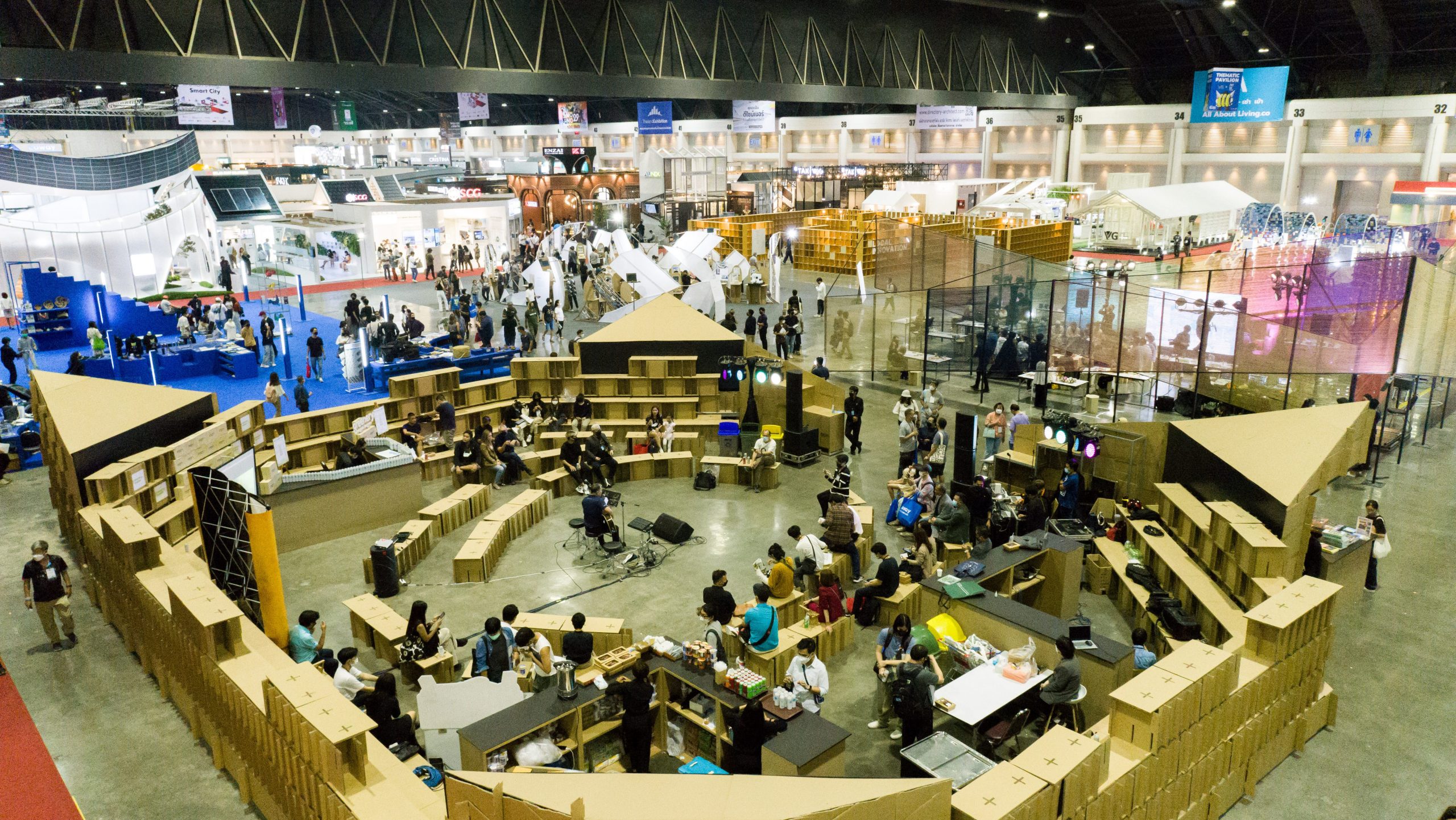 This is the opportunity for suppliers, designers and project owners
Khun Puphai sees this as a good opportunity for construction material suppliers to meet their target audience. This will also benefit architects, designers, and project managers for realizing customer needs.
"There is no other exposition that brings together so many architects from all walks of life in one place." If your new products are notintroduced to the participants now, and when should it be?"
"Architect'23 will serve as a platform to update both construction knowledge and materials used, with the goal of both cost-effective construction due to current construction costs and sustainability with net zero goals on greenhouse gas emissions.
If compare ASA with the ingredients of Tum Tad, Khun Puiphai said shortly, "Definitely Som Tum. How can it become Tum Tad if there is no papaya salad?"
Architect'23 is scheduled to be held during 25 – 30 April, 2023 at Challenger Hall, IMPACT Muang Thong Thani. For those who are interested in space reservation, please visit our website at https://architectexpo.com/2023/en/about-the-expo/#space-reservation or contact us at 02-717-2477 and Email: info@TTFintl.com