THEMATIC PAVILION: PAVA X WOODDEN, planting a teak forest in IMPACT, awakening the slumber of 'teak' in terms of sustainability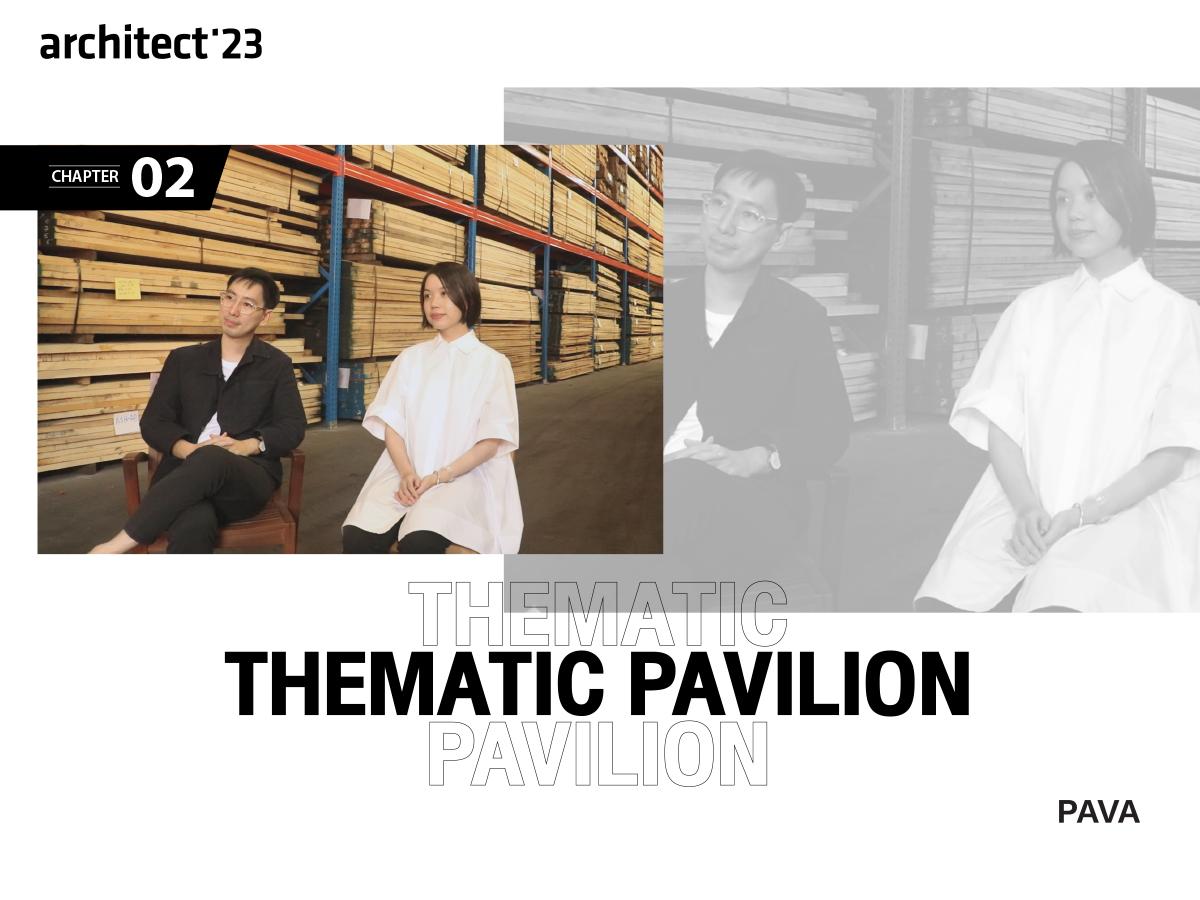 WOODDEN is a brand of manufacturer, processer, and distributor of quality teak from Myanmar with a history of more than 60 years, who has a large warehouse for storing large quantities of teak in the country.
PAVA Architects is a youngblood architectural studio that has been in the spotlight for its works at the Kaomai Estate 1955, which won the UNESCO Cultural Heritage Award back in 2018.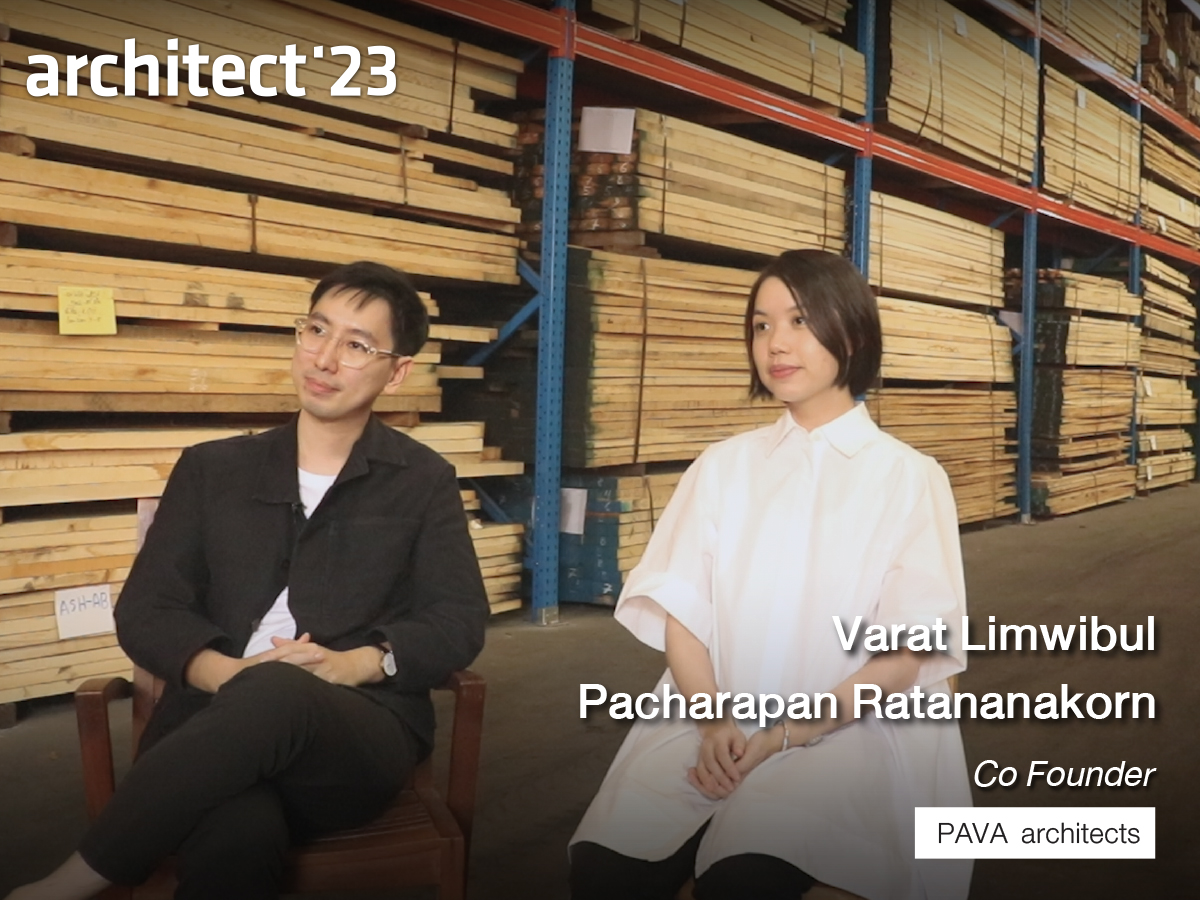 When the two brands join hands, this is certainly one of the most anticipating collaborations between architects and brands to design Thematic Pavilion, the highlight of Architect'23. Before the start of the event where everyone can explore the space with their own eyes, let us offer you a chance to sit down and talk to the two designers who designed the space, Khun Va – Varat Limwibul and Khun Tris – Pacharapan Ratananakorn, about their work, the inspiration, and the concept behind the design, while basking in the atmosphere surrounded by wood in WOODEN's warehouse, the largest imported teak warehouse in Ayutthaya province.
TEAK CONCEPT
"We have had some projects where we worked with wood. So, we understand the advantages and limitations of using wood. We therefore see this as a great opportunity for everyone to gain an in-depth understanding of the material, including designers, architects, contractors and those who wish to build houses and buildings."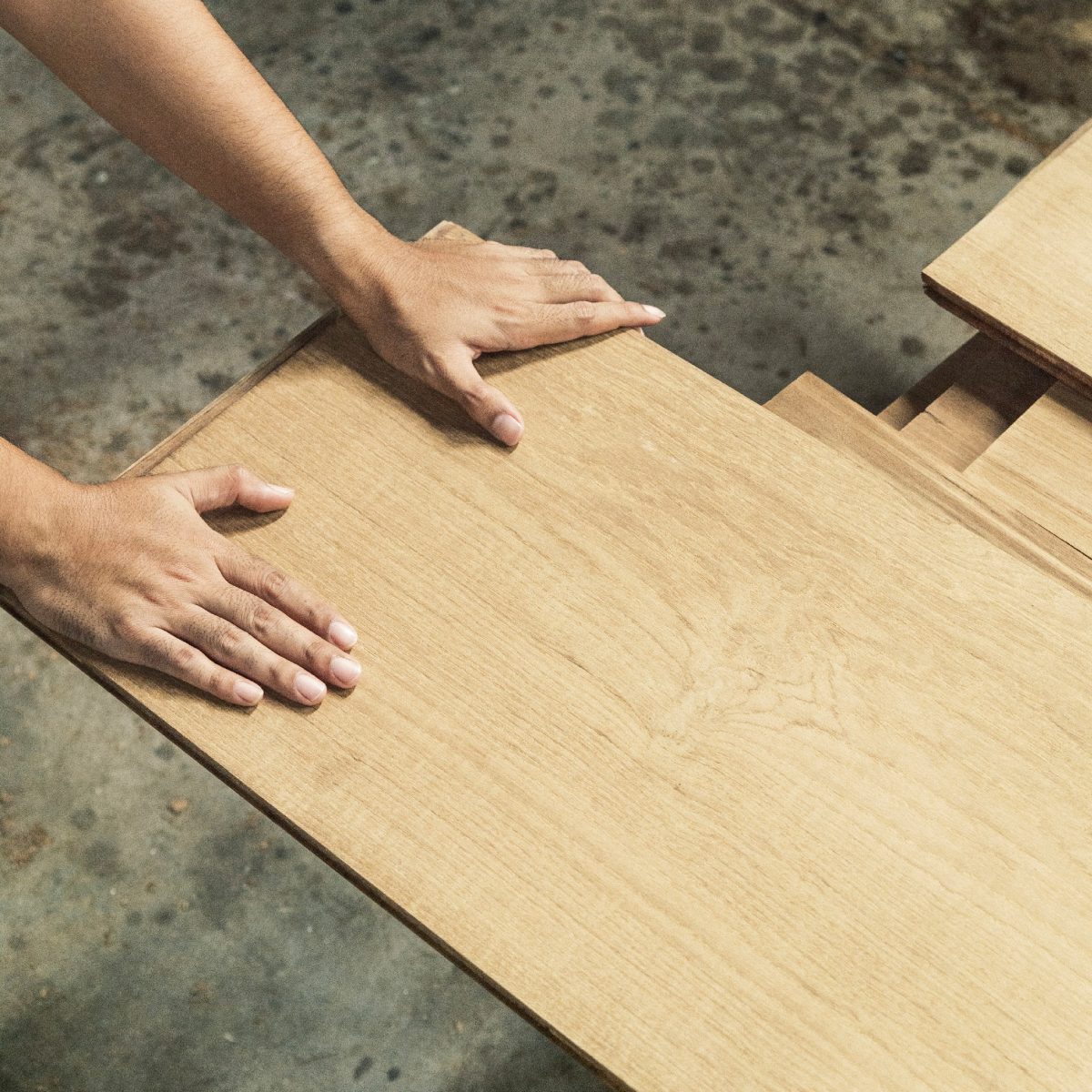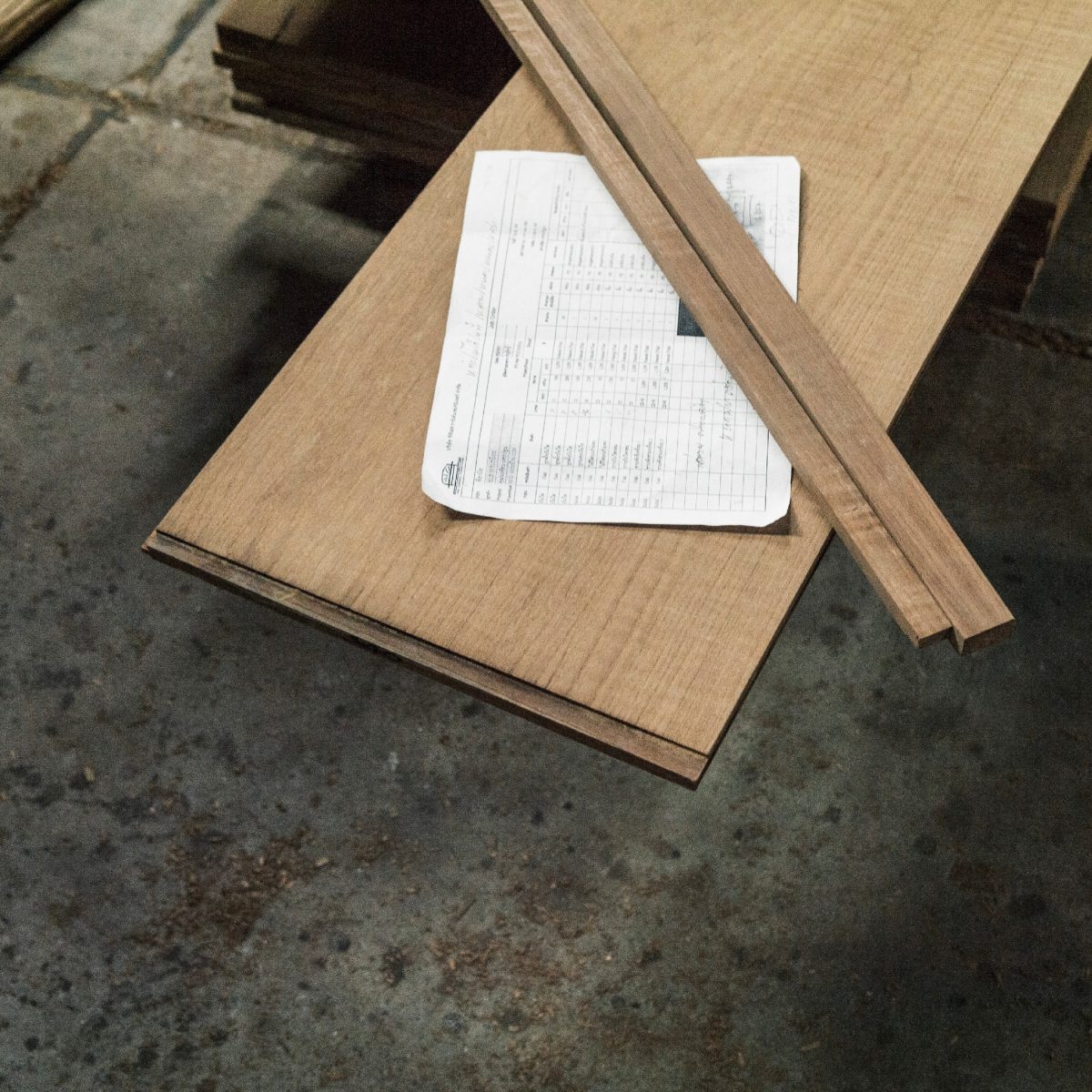 Khun 'Tris' and Khun 'Va' shared with us the goals of Thematic Pavilion that they have planned this year. After learning that the design material is teak wood, the first thing they did was studying and understanding the material, going through the wood production process from the beginning and visiting the woodworking factory to really absorb the materials in the real setting. All this hard work led to the discovery of several interesting facts that may have eluded those working in the architectural field. To ensure that the design meet the needs as desired, the concept of "forest to human" was created, allowing visitors to trace back to the origin of teak and see the life cycle of wood from upstream to downstream.
"We believe that the key message is that using wood does not mean destroying the nature. And we hope that if people have a chance to witness the process from the very beginning to the very end, they would understand that we can use wood. We just have to plant more trees, we co-exist with them, and we use them interdependently. This will make us and the entire ecosystem more sustainable. And we think that people would not be afraid to use wood in the future.
We don't want people to think of wood as some kind of privileged items forwealthy people. We are trying to make wood a more accessible item in design. This is one of the objectives that PAVA wishes to experiment with in designing the Thematic Pavilion."
KEEP CALM AND FEEL WOOD
When the concept is clear, in terms of space design, PAVA chose to build the Thematic Pavilion in the form of an enclosed space with teakwood as walling to provide a contrasting experience for visitors. Outside, the booths may be bustling with people, but upon stepping into this space, the placement and design can reduce noise, and this becomes a peaceful space to relax your mind, stop by and chill so you can absorb the story to the fullest.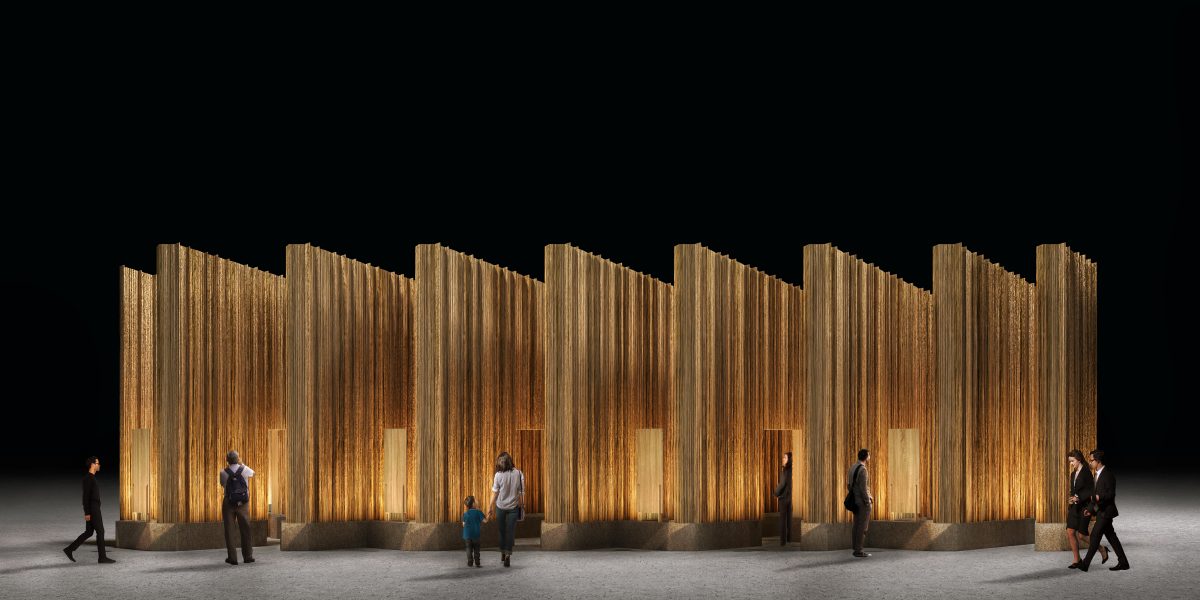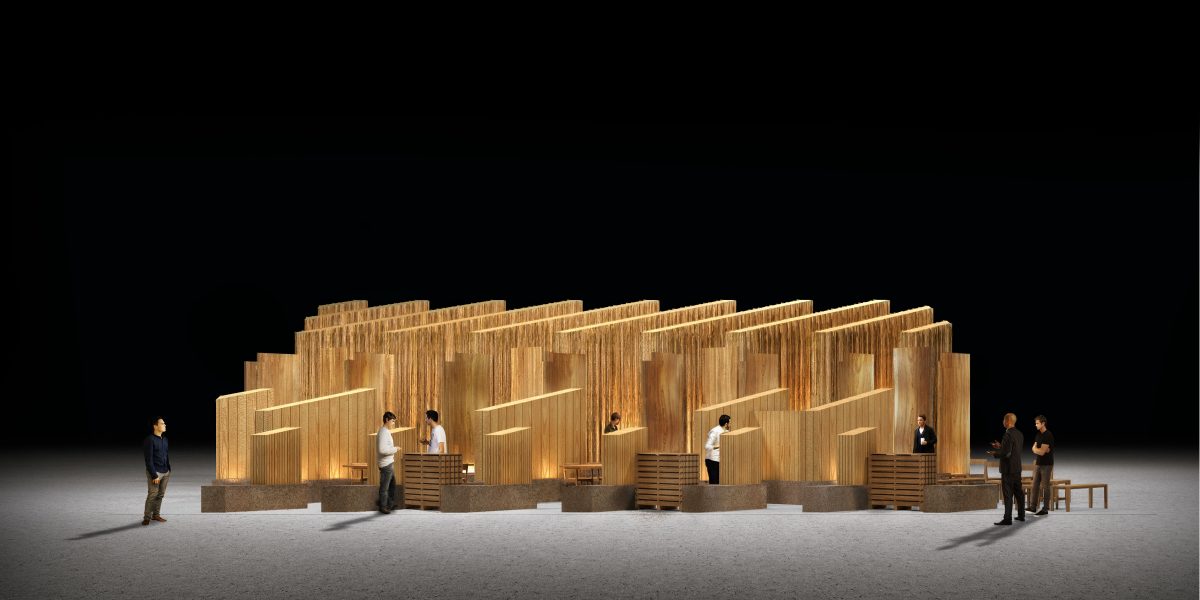 The zoning area is divided into 2 main parts connected to each other, namely:
Thematic Pavilion area, which is considered the upstream area, exhibits an overview of teak, in terms of native species, teak wood in the world, ecosystem of teak wood in the forest, propagation and the properties of teakwood, with explanation for visitors to understand the aspects in which teak can be used.
The exhibitor area, or the downstream area, exhibits the destination of the teak wood that has undergone processes. It is the area for product display and consulting space from WOODDEN.
In addition, the booth also features a small community zone with warm and friendly atmosphere, allowing visitors to strike up conversation, exchange stories and techniques of using wood as well as sharing knowledge.
Deconstructing the Perception of 'TEAK'
After warming up with space design concept questions, now it's time to heat up the conversation that many, including myself, wonder about materials, design and sustainability.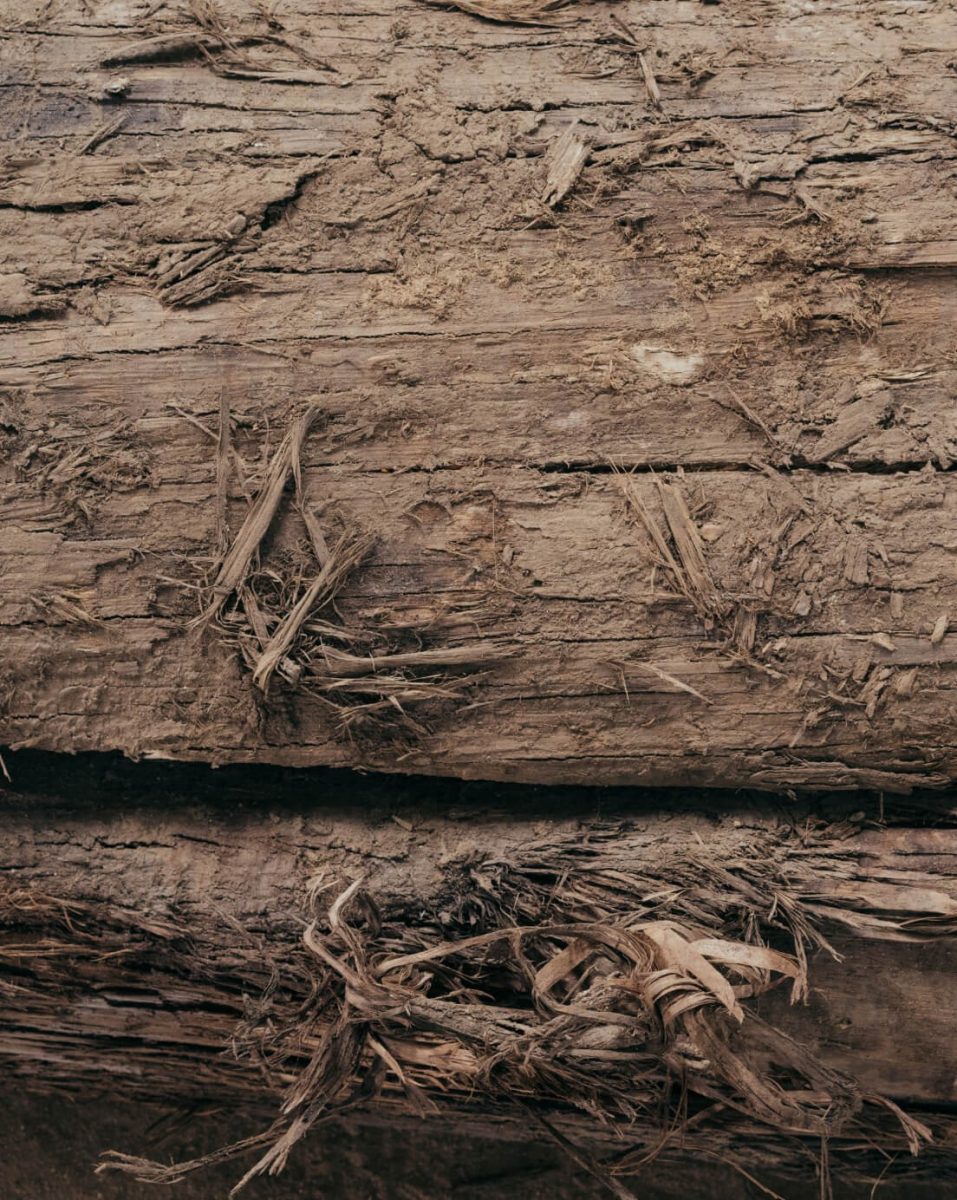 Why does the design feature bark that people often discard?
Raw wood is sexy. Meet Natural Aesthetic
"Flaw" is just a definition in relation to the standard that humans have determined for objects. In reality, every trace of wood and a wide variety of colors influenced by growing conditions and weather conditions are beauty of the nature. They are the charm that PAVA wishes everyone to experience.
"Teak is such a useful tree. The leaves to the stems can be used in construction. The leaves are used as roofing. Teak trees are tall and have large leaves. People use the leaves for roofing because with a large surface area, water is less likely to leak. Upon stripping the tree of its leaves, the trunk is used as a column. The bark may not be appreciated much, but the wood is used as flooring and wall. Essentially, every part of the teak can be used."
Retracing from forest to humans therefore showcases the beauty of teak wood in the form of raw material as well. You will see teak in various dimensions from being a log, being gradually exposed layer by layer, from bark – sap – wood – heartwood to go through the production process to result in the end-product.
Reviving the 'bark' that is often neglected in the production process and turned into waste, is the process we rarely experience. And that's what to be expected in this pavilion.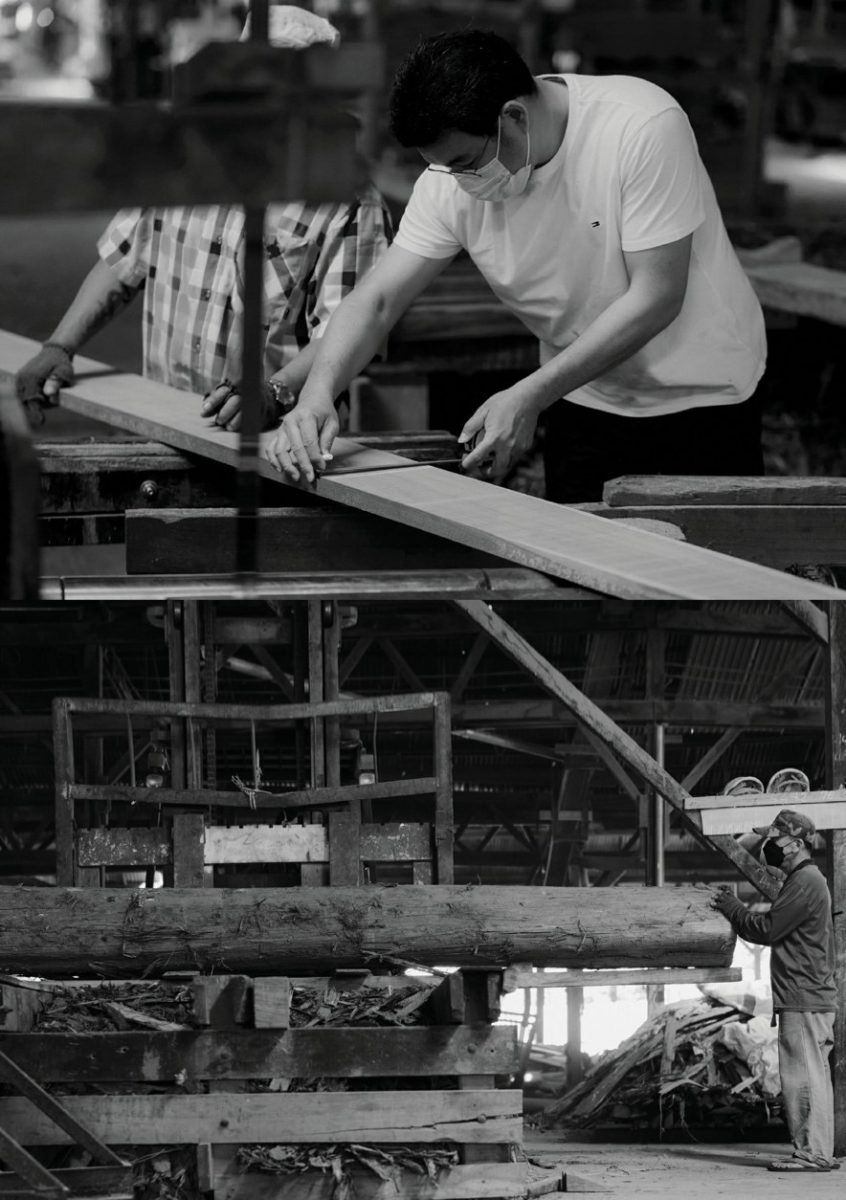 Cutting teak trees but not destroying the forest?
Renewable Material from Sustainable Harvesting
Many would think how it would be possible. Cutting the wood from the forest, just the sound of these words alone feel like our hearts are being ripped out of our chest. It takes years and years for a tree to grow, why don't you leave it there to absorb the carbon gases? Especially with teak which can grow up to hundreds of years, if we cut it for use for our own pleasure, while saying it is sustainable, would it really be possible?
PAVA answered that this is possible and has already happened. Sustainability mechanisms have been put in place through a process called "Sustainable Harvesting", which allows us to use wood as a sustainable renewable material with minimal disturbance to nature.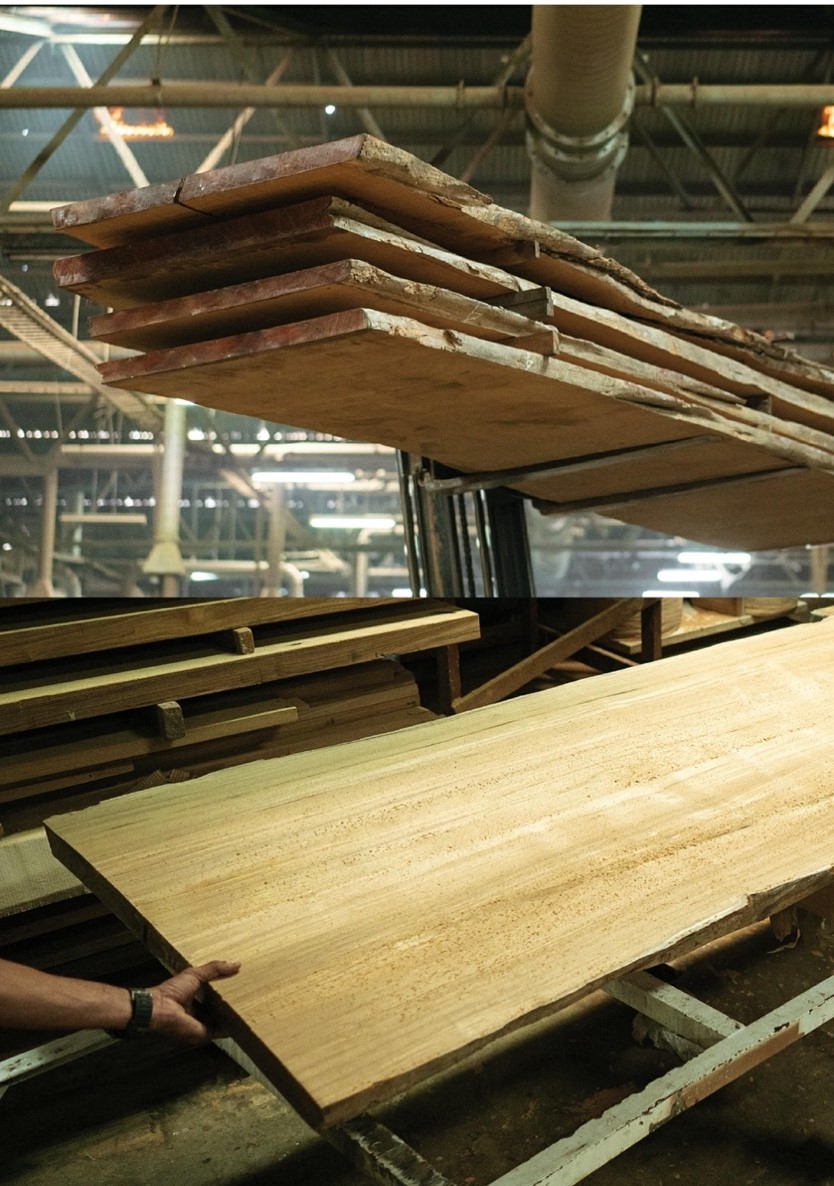 "Sustainable Harvesting" is a process of controlling natural forests used in Myanmar by planning a harvesting structure, suitable replacement as well as determining the method of cutting to minimize disturbance to the forest ecosystem. This system dates back to the colonial era when the British occupied Myanmar. They laid the foundation for Sustainable Harvesting in Myanmar's teak forests and this system still exists today. It is therefore not surprising to see a cycle of natural teak use in construction and one of the thriving export industries, bringing in high value in the country.
In addition, what many people may not know is although the teak tree can grow hundreds of years old, through the natural growth of living beings, when it reaches a certain point, it will enter the loop of decline. Therefore, creating a mechanism to establish a cycle of replanting and choosing mature wood is a way of consumption that helps create sustainability.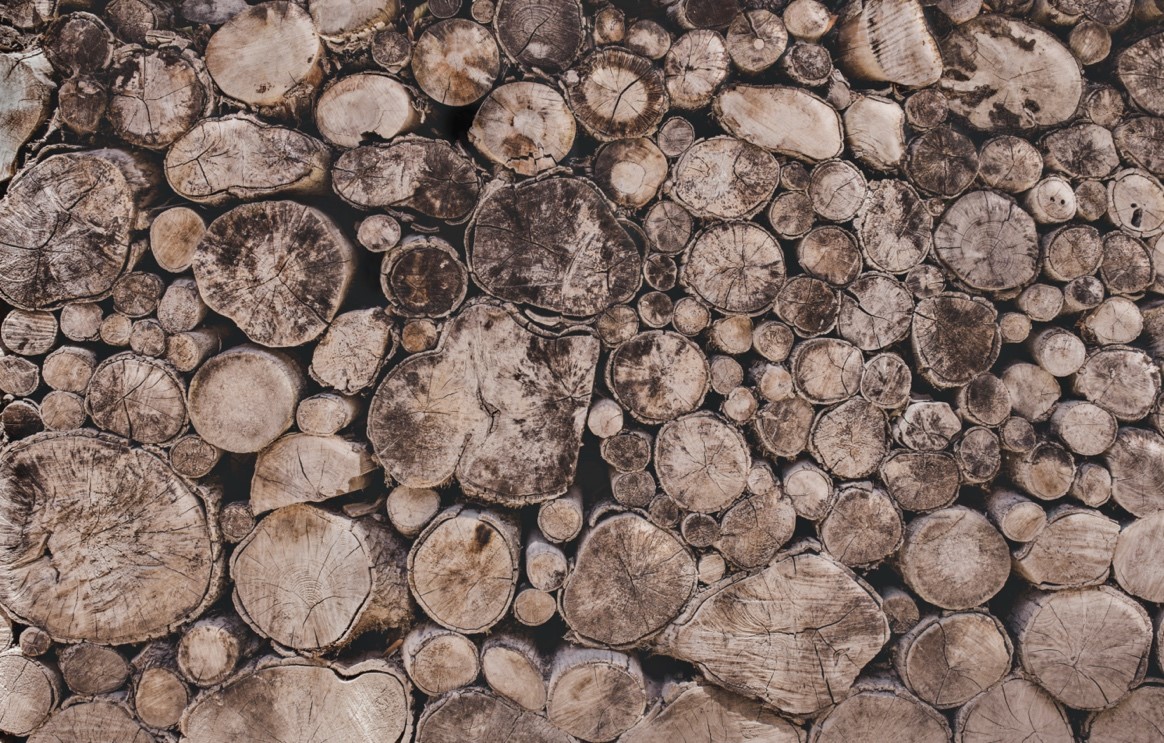 For the construction industry, which is the world's top resource consumer, upon hearing the campaign, "cut wood = destroy forest", it should make many people concern of using teak and turn to choose other materials instead.
We pose this question to Khun Va and Khun Tris, "By using wood that can last 100 years as a construction material, wouldn't that be considered as overconsumption of the earth's resources? Should we use other materials instead of wood?" The answer we received seem to have flipped the coin and created a new perspective, for both those inside and outside the industry.
"We want to share this too. When people hear that teak is 100 years old, 120 years old, they often feel that 'Oh, it has lived for so long, and then we just cut it?' But people never realize that 100 years or 120 years is very short compared to the life cycle of other construction materials. It's just that we've never really picked it up for a serious discussion before.
100 years may seem long when compared to our lifetime. But some other materials may take thousands of years to form and are material that cannot be created and replaced. Let's look at it this way. The trees are 100 years old, we don't have to cut them all. We cut some and then replant. The period of 100 years is considered very short."
"In terms of carbon footprint, the use of hardwood emits a very small carbon footprint compared to using other construction materials, perhaps to the point that some ecosystems are at a negative level. Negative here is good because wood is naturally biodegradable. It is even better when the materials are easy to find in nearby areas. Wood is also almost 100% reusable and recyclable," Khun Tris added.
"We don't think that preserving the trees means not cutting them. We must not fall into the trap that we have created with our good intentions. But we have to step back and see the bigger picture and use it appropriately. I think it should create an opportunity for us to co-exist with trees for a longer period of time, rather than not messing with them at all."
You have probably heard the echoes from materials and designers. If you still hesitate whether you should come to this event or not. We would like to end by letting the designers tell you why you should visit Architect'23.
"We think that Architect'23 offers an opportunity for visitors to see design work in several fields. The previous events may have focused only on architecture. This year, however, the focus would be on Landscape Architecture, Interior Architecture, and Urban Design. In fact, we should not look at design as separate elements. Each component comes together to form an ecosystem or a holistic system, which is interesting. And we would like to invite everyone to come to the event.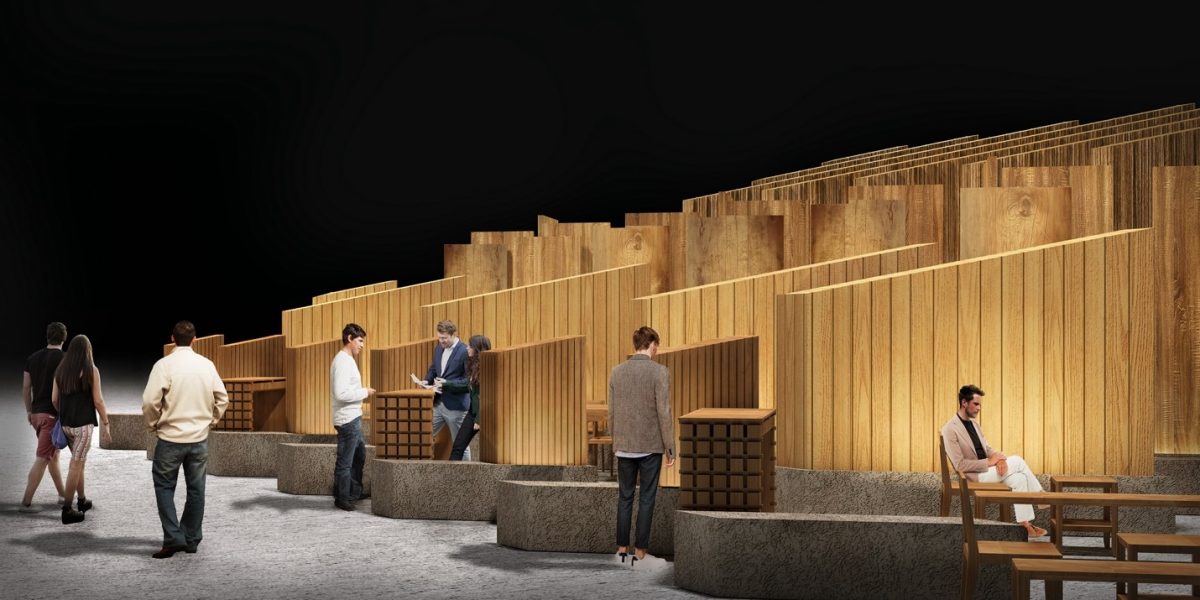 As for the materials in WOODDEN's Thematic Pavilion, we wish visitors to experience by themselves. It's not just about buying furniture for your house, we wish visitors to understand the process from upstream to downstream. We want them to change their perspectives and their perceptions, change their mindset towards wood, that wood is good for nature. And if you utilize it in a proper way, it can last a long time. Use it, but if you use it properly and re-plant it, it will be good for us humans. We do believe so."
All of these can be found at the Architect'23 "Tum Tad: Time of Togetherness" which is scheduled to be held during Tuesday 25 – Sunday 30 April 2023 at Challenger Hall, IMPACT Muang Thong Thani.