Witness and test Libra Ergonomic Health Chair by Workscape at Architect Expo 2022
The environment in the office or any working space is considered a key factor for the inspiration and creativity of the new normal's working styles. Because effective work results from a good environment that fosters creative ideas.
Workscape Co., Ltd is a manufacturer, importer, and distributor of office furniture both domestically and abroad. Its products are made with an outstanding, modern, and fully functional design that is intended to be an inspiration for any modern office.
An excellent ergonomic chair that has been guaranteed by popular vote across the country.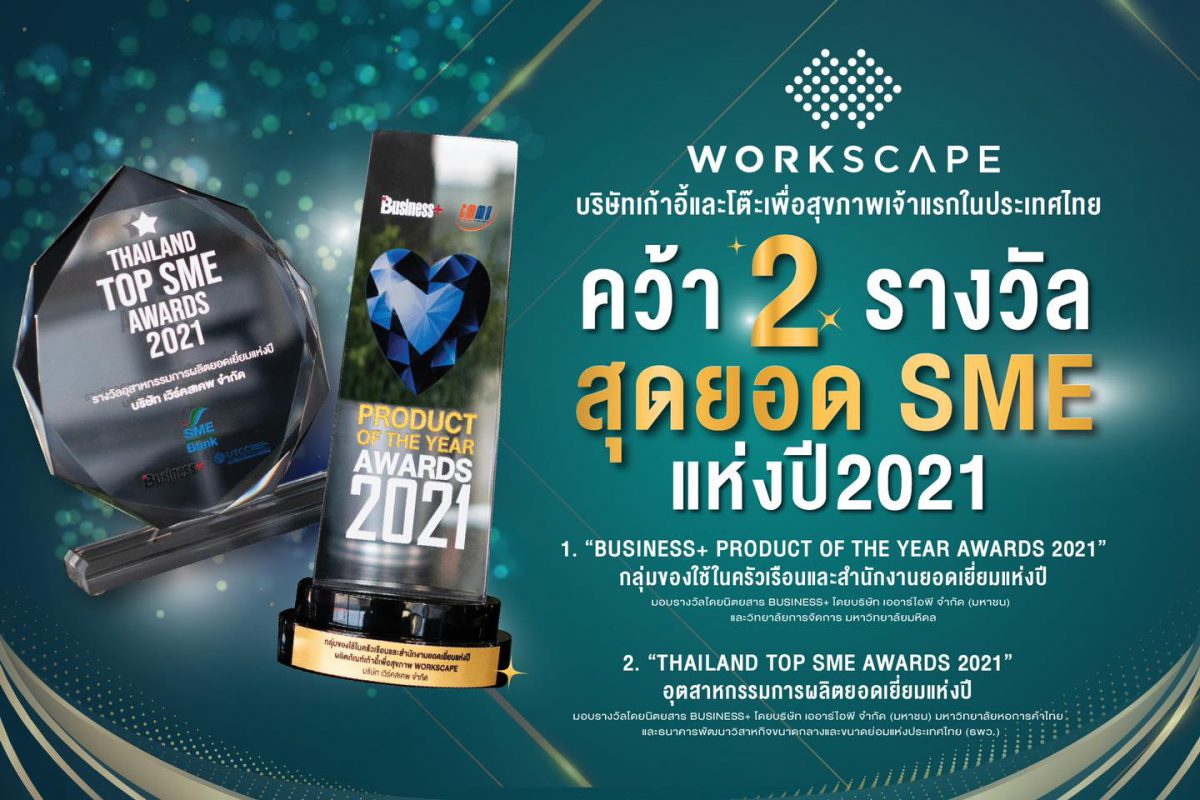 Workscape's innovative ergonomic chair was voted on by people all over the country via the online platform of Business+ magazine, which was created in collaboration with ARIP Public Co., Ltd and the College of Management, Mahidol University. It received the BUSINESS+ PRODUCT OF THE YEAR AWARDS 2021 for the best household and office group of the year. It reinforces customer confidence and experience in the furniture industry, which has been recognized for 50 years. Workscape Co., Ltd was also awarded the THAILAND TOP SME AWARDS 2021 in the manufacturing industry of the year. This can exemplify that the company is able to adapt to the current New Normal economy.
Libra Ergonomic Chair can relieve back pain.
Many people choose to go to a massage therapist when they have back pain. However, the underlying cause of the symptoms has not changed, resulting in back pain. The optimal solution is to sit in the proper position. The Libra Ergonomic Chair can be of assistance.
Why Libra Ergonomic Chair   
Aesthetic design with effective usability
You can move freely like you've never experienced before due to a Korean Mesh-covered backrest that can be tilted at any angle based on the user's movement. It is the only ergonomic chair that can lean to the left and right.
Lumbar support backrest with height adjustability
Adjustable 3D Armrest that can be moved forward and backward, as well as twisted left and right.
A world-class chair mechanism with the Donati system, an Italian know-how, provides soft seating and a strong structure that can be adjusted to fit the sitting posture, and it allows users to sit freestyle, which is beneficial to their health.
High-quality nylon wheel base with a 120 kg load capacity.
Stable and durable PU wheels
Passed the United States' ANSI/BIFMA international quality standards testing.
Check out Libra Ergonomic Chair by Workscape at Architect Expo 2022
Experience comfortability of Libra Ergonomic Chair and range of other related office furniture by Workspace at booth number L608/1 in Architect Expo 2022, the 34th ASEAN's Largest Building Technology Exposition during 26th April – 1st May, 2022 at Challenger Hall, IMPACT Muang Thong Thani.