Moving toward Sustainability with innovative building materials by JORAKAY Corporation, "Innovation for your family's happiness", at Architect Expo 2022.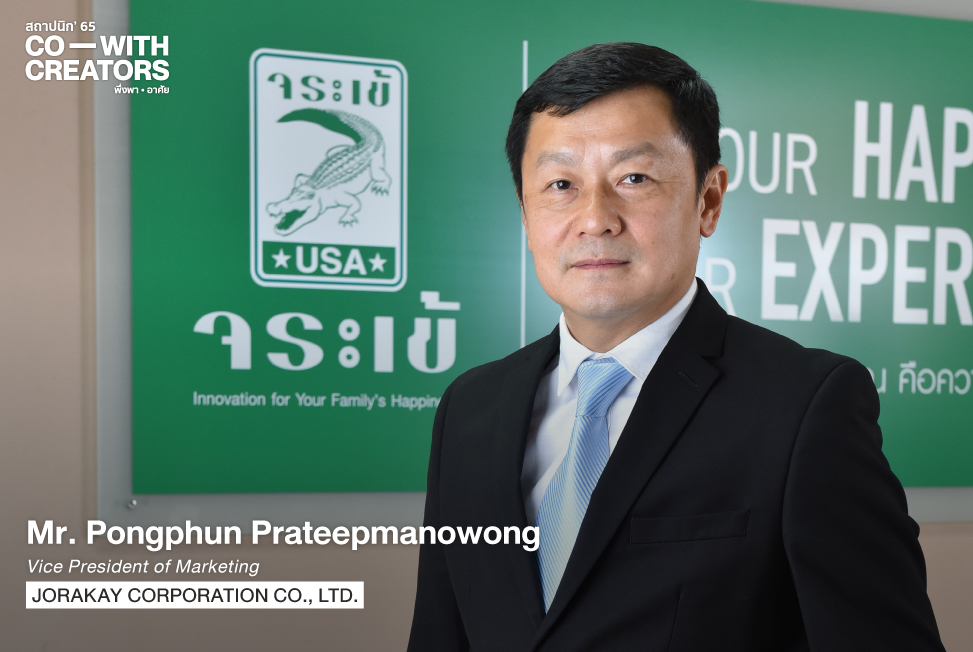 JORAKAY Corporation Co., Ltd was established 30 years ago by a group of building material specialists who wanted to propose a new standard in tiling with cement glue. They realized that using typical cement or mortar, as well as improper laying methods, increased the risk of cracking and dangers. As a result, JORAKAY offers "Cement Glue" for tiling with American standard technology. It's the company's first product and has since become a market leader. JORAKAY's product innovations have expanded to cover everything from the foundation to the roof.
JORAKAY therefore presents a marketing campaign "Use JORAJAY's products, protect the whole house" for 3-4 consecutive years to build customer confidence and provide more JORAKAY's products that can be used in conjunction with one another in order to expand its product lines to meet the needs of the growing infrastructure works.
Deliver happiness with sustainable innovations
As a Thai company that adheres to international standards, we are able to develop high-quality products that better meet the lifestyles of Thais and people in this region with a deeper understanding. "Innovation for your family's happiness" is our primary objective, which forces us to pay close attention to the needs of our customers as if they were members of our family.
Initially, executives traveled across the country to visit stores and customers. It's an opportunity to learn about the market's needs. It's similar to conducting small-scale research and using user problems to generate innovations. Until now, we have continued to focus on research and satisfaction surveys of various target groups via all channels, with the goal of using the gathered information to develop innovative products to solve customer problems.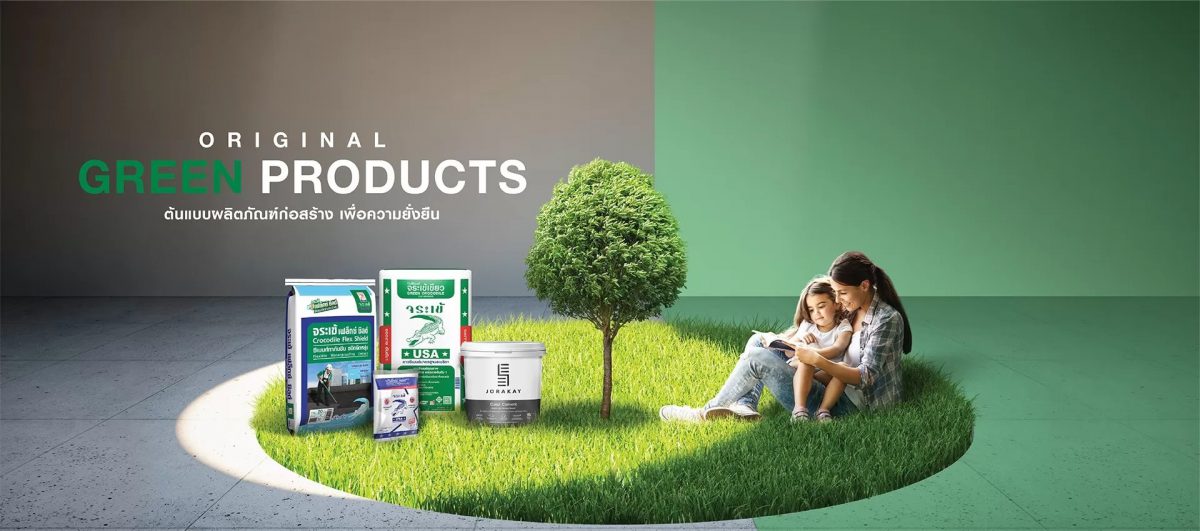 Shift customer' needs to Innovations
The product development team has taken the customer needs or problems we discovered to analyze and integrate world-class technology and optimize efficiency while considering the environment according to international standards such as LEED and WELL, becoming the first innovation among a wide range of products. This establishes a new industry standard, such as anti-mold sealants with Microban technology, single-ingredient waterproofing cement or 1K to reduce chemical mixtures, volatile substances with LOW VOCs, reducing environmental impact, and cement glue that can replace the current one without breaking.
Crocodile Floor Smooth Patch is our latest innovation for floor smoothening and repairing thin floors; no need to bash up, save time, reduce PM 2.5 pollution, and so on. It has become an innovation that can best satisfy customer's needs and best fit the tropical climate in Thailand and the Southeast Asian region due to its high quality and outstanding features, which have been tested by international standard labs. "JORAKAY" is recognized as a market leader in building materials in Thailand and the EEC countries. We also have consulting teams that work both online and offline to provide comprehensive consulting services across the country.
Meet a variety of innovative paints and cements that help protect your house by JORAKAY Corporation at Architect Expo 2022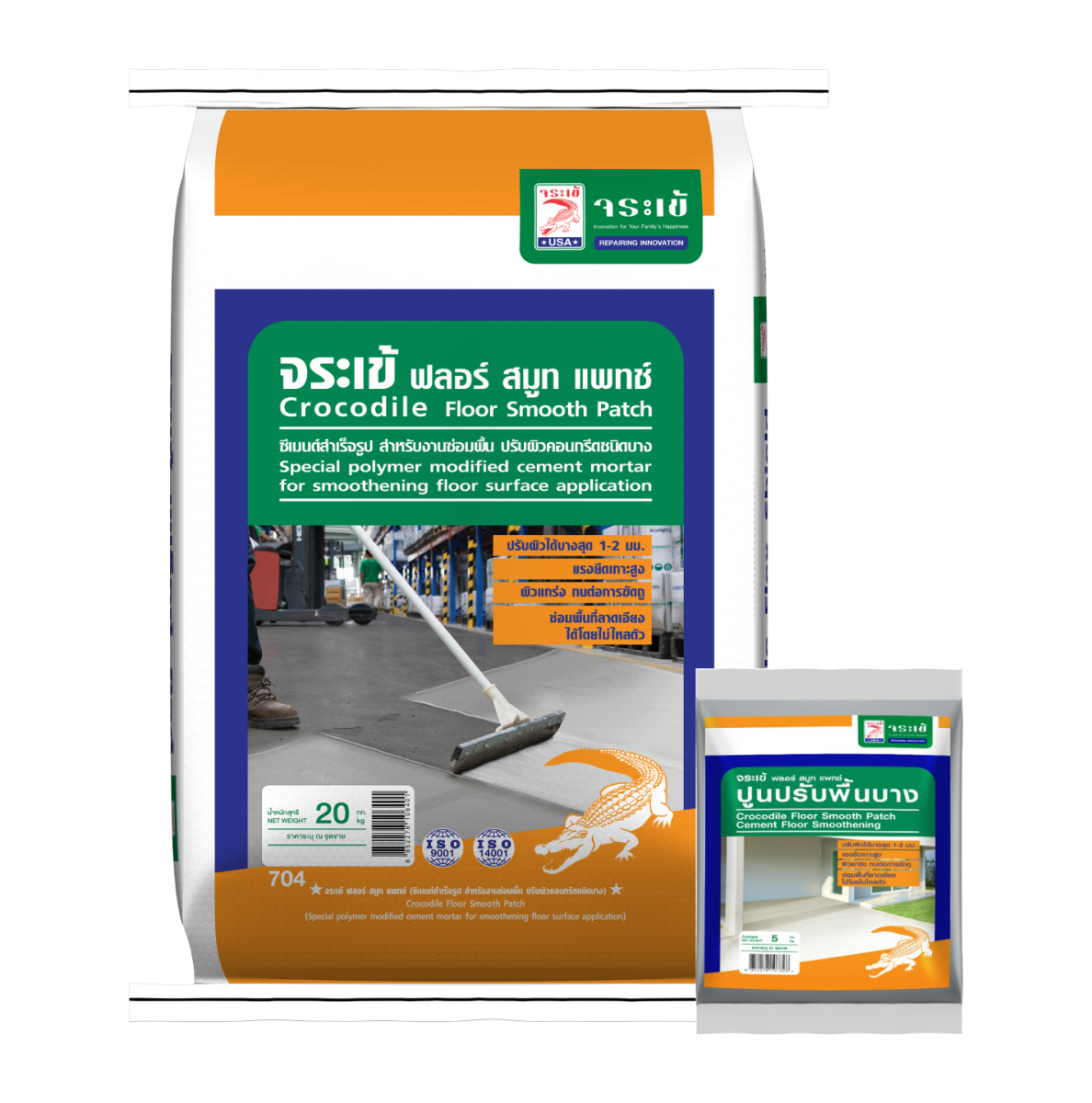 Crocodile Floor Smooth Patch is an innovation in the JORAKAY series to protect the floor. It is a floor smoothening cement that was invented for the first time two years ago to help solve the pain point of the original repair that has to extract the old floor, which causes dust pollution and the construction area must be closed for a long time. It is suitable for use as a topcoat or overlay in high traffic areas and is used for surface smoothening applications on 1-2 mm thick without cracking, providing excellent bonding to cement substrates and high abrasive resistance. Its thinness also helps offset the issue of excessive surface repair material load, which can cause structural damage. It is an innovative 1K technology that requires only one ingredient mixture (water). Crocodile Floor Smooth Patch is chemical-free and thus safer than other cements. Witness the real Crocodile Floor Smooth Patch at Architect Expo 2022.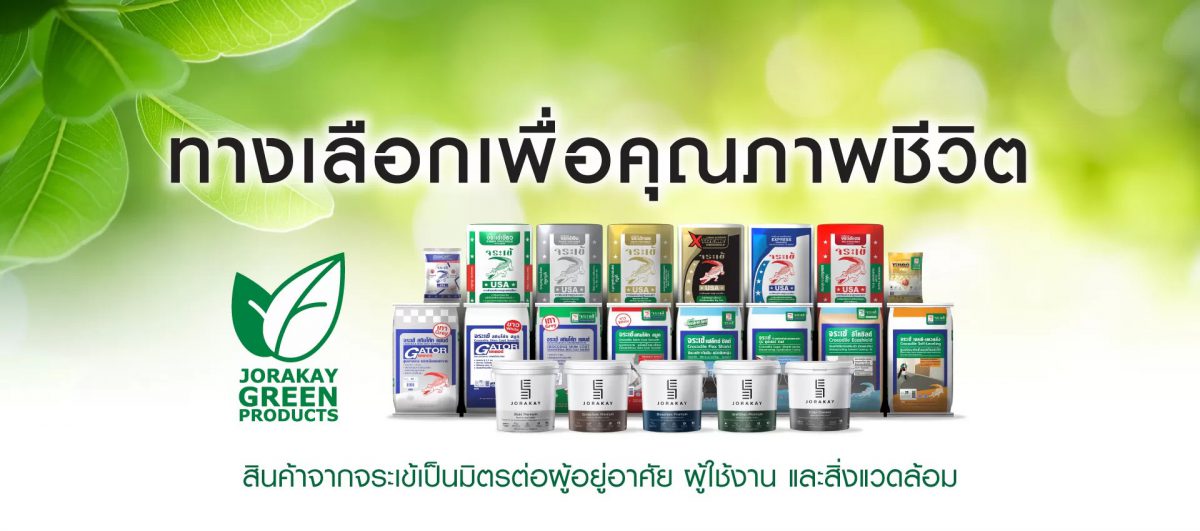 The highlight of JORAKAY's booth is the opportunity to experience the innovative natural colors "SEE JORAKAY," which are available in Natural Color, Art Color, and Texture Color. It provides new ideas for home decoration and painting to house architects. Natural raw materials are essential components of SEE JORAKAY, both in high-quality Limestone and cement that distinguishes it from competing brands. SEE JORAKAY is better for residents' health and aligns with the current trend of everyone looking for a truly healthy option that is free of toxic volatile substances (0 percent VOCs), which cause many diseases, including cancer.
Unlike other brands, Natural Color "SEE JORAKAY" is environmentally friendly from the extraction of Limestone raw materials to the decomposition process at the end of life, in accordance with high Cradle to Cradle standards. The only color in Thailand right now that can help reduce CO2 emissions to the rest of the world. Consider the color of nature, and then consider SEE JORAKAY.
It's more than Building Materials
The materials of this era should provide benefits in a variety of ways. Crocodile Floor Smooth Patch is the best option for satisfying customer needs such as reducing labor, cost, and time, which has a significant impact on business operations in both factories and commercial buildings that must be open for business every day and every time. Crocodile Floor Smooth Patch speeds up the repair process. There is no need to remove the old cement floor, there are no environmental issues, labor costs are reduced, time is saved, and business opportunities are not lost. It is suitable for thin layering applications such as warehouse, garage, deck, and ramp work. The area can be opened within 24 hours (for general pedestrian walkways) and 48 hours (for pedestrian bridges) (for driveways or heavy traffic).

SEE JORAKAY is a significant cost-saver because it does not require a primer. Furthermore, the use of low-VOC paints reduces the risk of serious diseases, reducing the burden of future medical expenses.
In addition, it helps reduce the cost of environmental management because crocodile paint can absorb CO2, one of the major causes of significant global disturbances.
JORAKAY satisfies all customer's needs in a New Normal way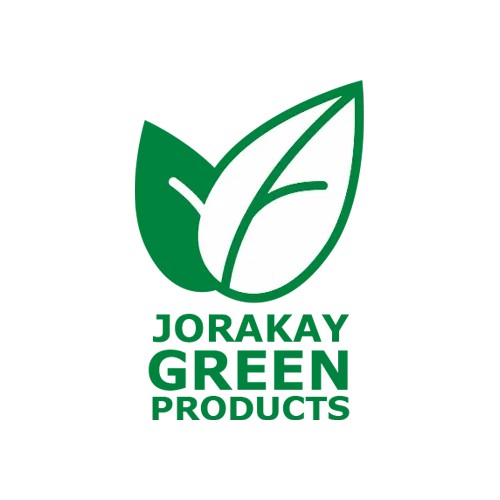 People are paying more attention to health and the environment in the New Normal era, to which the two products mentioned above can respond. It is also a direction in which "JORAKAY" has continued to develop environmentally friendly products in accordance with international green building assessment standards such as LEED, WELL, and TREES, particularly in terms of Indoor Air Quality. Crocodile's standards have been certified in all product groups. It can systematically ensure the construction process, as well as receiving the Carbon Footprint label.

"JORAKAY," the product behind the durability in every part of the house, has jumped out to show off through SEE JORAKAY. Natural materials have been used to create innovative paints. You will find a difference in the style of home decoration with an idea that brings natural beauty to show a new style under the Co – with creators' concept between and new generation architects. Available Architect Expo 2022 only.
Discover and experience distinguished innovations by JORAKAY Corporation at booth number S206 in Architect Expo 2022, the 34th ASEAN's Largest Building Technology Exposition during 26th April – 1st May 2022 at Challenger Hall, IMPACT Muang Thong Thani.