A collection of four young designers, ready to create Thematic Pavilions in Architect Expo 2023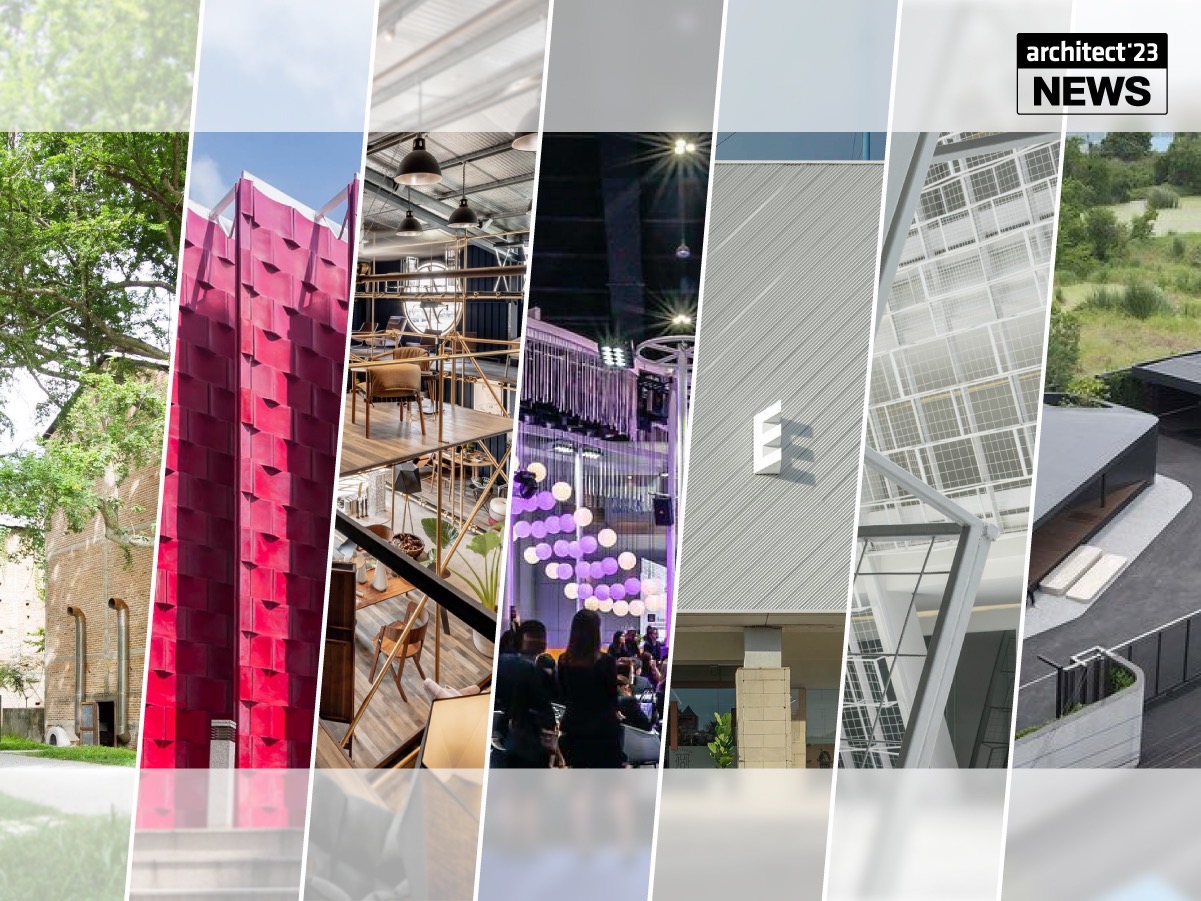 Among many world-famous architects from various countries, how many of those are Thai architects whom can you think of? For 2023, we have rounded up the list of architecture firms you should keep an eye out for because they are going to design the highlight space of the Architect Expo, Thematic Pavilion, which has fascinated visitors in Architect'22 and will bounce back even bigger with Architect'23.
Thematic Pavilion is a space where architects' creativity and innovative building materials from brand suppliers are fused together to create a pavilion that showcases the potential of materials as well as creates interesting new architectural experiences like the Pavilion at the Global Expo.
With the conclusion of Architect'22 whose Thematic Pavilion was well-received, with WDC x ACa Architects winning Thematic Pavilion of the Year 2022 with vote from visitors, the Architect Expo is now ready to reveal the list of architecture firms to join the creation of Thematic Pavilion at Architect'23, all of whom has had experience creating uniquely amazing works, including:
Hypothesis
"Energetic, Experimental and Open-minded
Hypothesis is something that often goes hand in hand with research. The name "Hypothesis" studio by Manatspong Sanguanwuthirojana and Jessada Telumpusut demonstrates the research-based approach that leads to new possibilities which break away from old framework or style to innovate something new to the world.
Notable works of Hypothesis include the SCB Money Expo, an exposition of over 1,000 square meters that embodies the identity of the Siam Commercial Bank. In Architect'23, Hypothesis, together with VG and TOA, are prepared to create the Thematic Pavilion. Just these leading names alone already excite visitors.
PAVA architects
"Interdisciplinary practice in architecture"
"We do not believe that architecture is limited to architecture, rather [we see] the connection of different scales," Varat Limwibul describes his work with Pacharapan Ratananakorn in their interview with art4d. PAVA architects studio where the two work together is defined as "interdisciplinary practice in architecture studio" or doing research to bridge the gap between architecture, interior design, landscape architecture and urban design.
Interesting works of PAVA architects include Kaomai Estate 1955 and the "Kaomai" museum, originally a tobacco processing estate that has swept several world-class awards, including the UNESCO Asia-Pacific Award for Cultural Heritage Conservation in New Design in Heritage Contexts.
PAVA architects has joined hands with Woodden, a perfect match since it is "Thailand's leader in woodworking ideas", whose collaboration is certainly something to look forward to.
ASWA (Architectural Studio of Work – Aholic)
"Experiment with materials, forms and character of space"
Design in architectural language is the result of analyzing the context around each project.
ASWA or Architectural Studio of Work – Aholic, led by Phuttipan Aswakul and Chotiros Techamongklapiwat, experiments with materials, architectural styles and characteristics of the interior spaces in relation to natural light.
Some of ASWA's interesting portfolios include the Sevenlakes office, an office building that represents the brand with an architectural shape that takes ideas from the shape of the food packaging, the Sesia showroom from the brand's signature bookshelf to a showroom that attracts the attention of passersby, showcasing the products through the windows and emphasizing the brand's identity, SNOG XX, which plays with contrasting materials between the exterior and interior, and ASWA Studio, an enclosed building that blends in with its surroundings, among others.
ASWA has partnered with EMPOWER STEEL, a leading company in color coated steel and printed color coated steel manufacturing innovation, which participates in the Architect Expo for the first time and prepares to debut by using the Thematic Pavilion. This is certainly a collaboration worth looking forward to.
Context Studio
"Design with contextual story in mind"
"Every project has a unique identity driven by the unique characteristics of each different context." Context Studio led by Bodin Plangkoon embodies its name by having context as its design guide. Context Studio's definition of context includes nature, history, on-site environment, customer's personality, concept or mood and tone of that brand.
Context Studio's intriguing works include the PEA Plastic Cup Pavilion, a pavilion that showcases the toughness and curvature of plastic glass as a building material, Flat+White Café, a white café with soft curves and edges as smooth as the café's milky coffee, and Etcetera Warehouse where an old warehouse is turned into a furniture showroom by representing the brand's identity, etc.
FLAT12x
"Creating portraits of people through design"
Designing a house must be "tailored" specifically to suit the owners and designing for business must promote the sales and present the brand's unique identity. Studio FLAT12x, led by Julsamano Bhongsatiern, has expertise in tailor-made architectural and interior design 'to celebrate the success of the project owner", improve the quality of life or promote business even further.
FLAT12x's intriguing works include KPWT Residence, a modern house that considers function for a tropical climate beyond form and composition, Hey Coffee in different branches for different unique points of the brand's intention to be everyday coffee and ANAVILLA, the finalist fisherman's house at the World Architecture Festival 2019, etc.
Cloud-floor
"Alternative architectural practice for better living"
"Alternative architectural practice" is how Nattapong Phattanagosai and Donlaporn Chanachai managing director of Cloud-floor Studio describes themselves, their designs and their development of public and urban spaces in a systematic manner by not limiting the results, bettering the quality of life of many people.
Some of Cloud-floor's impressive designs include the Waste Side Story Pavilion, a striking pink pavilion structured by interlocking polygonal recycled plastic blocks, the Common Air-rea, a pavilion that showcased possibilities in mitigating air pollution and improving the air quality in a semi-open public space as part of the Bangkok Design Week 2021and the EV-verse, comparable to the "cosmos" of EV innovations in motor shows, etc.
RAD studios
"Create in a unique way"
RAD generally means cool or radical, which fits perfectly for the works designed by RAD studios for its individually creative creations. This design studio is made up of three studios: architecture studio, technical production studio, and interior design studio.
Some notable works by RAD studios include Bamboo Jungle, a "modern interpretation of nature" made of bamboo, Niran Apartment, a dormitory and community space where shiny materials showcase a futuristic style, and Bread House that plays with clear geometric shapes.
---
Architect'23 is scheduled to be held during 25 – 30 April, 2023 at Challenger Hall, IMPACT Muang Thong Thani. For those who are interested in space reservation, please visit our website at https://architectexpo.com/2023/en/about-the-expo/#space-reservation, or contact us at 02-717-2477 and Email: [email protected].