Captivate all eyes with natural stone panels and various decorative surfaces from Ngern Ma Business at Architect'23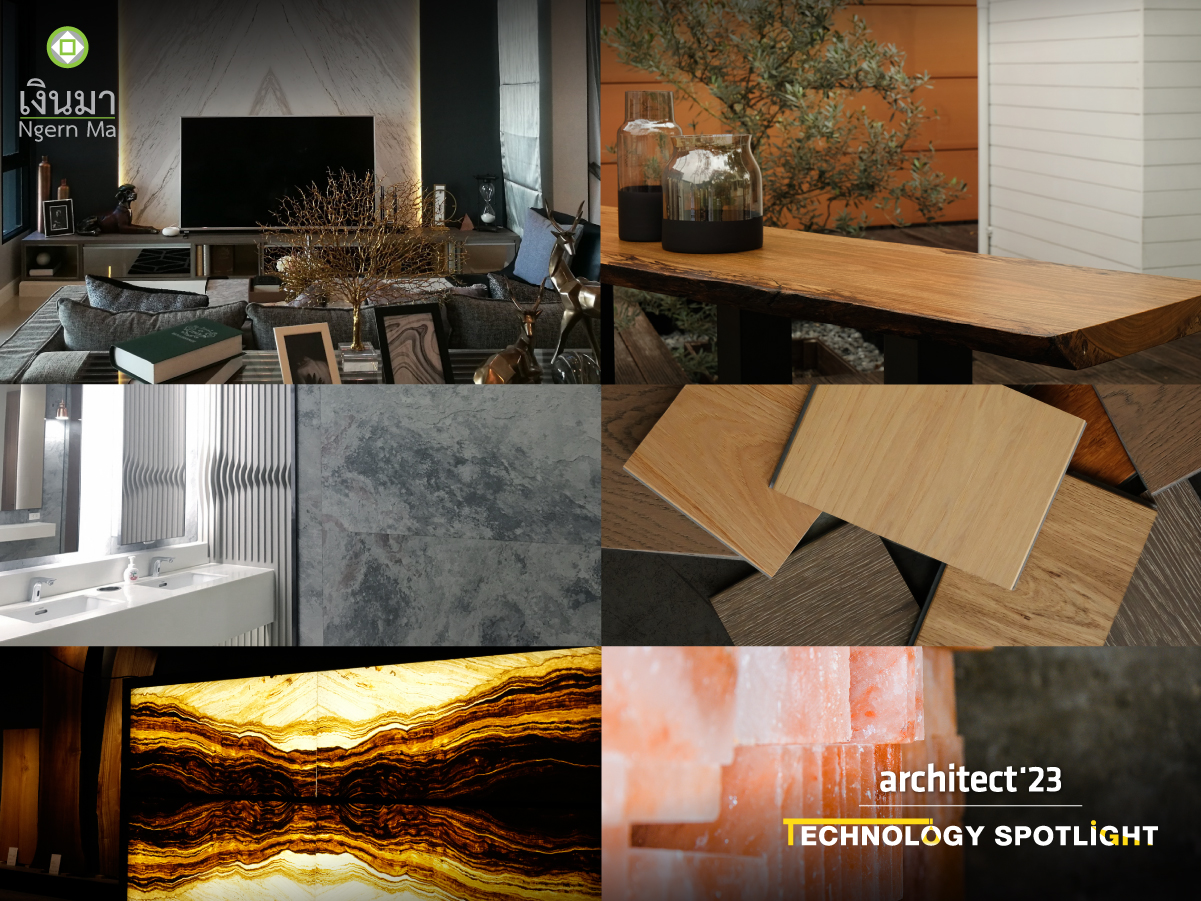 Ngern Ma Business Co., Ltd. engages in the business of innovation in various types of decorative surfaces, including translucent marble, natural stone, wood slabs, wood flooring. With over 24 years of experience and its commitment to continually develop products and services, Ngern Ma Business makes its mission to meet the needs of a wide variety of decoration demands.
Do not miss these innovative decorative surfaces
In Architect'23, Ngern Ma Business is ready to showcase a variety of decorative surfaces to fulfill the needs of decorative demands, complete every design and expand the possibilities in decorating.
LumiStone
Translucent Natural Stone Panel manufactured by slicing natural stone, such as granite, marble, and onyx, which is imported from quarries around the world. The stone is sliced to be only 3-5 mm thin, enabling light to shine through the generally opaque texture and making onyx, which is already translucent, even sharper and richer in unique patterns. The stone is then attached to a backing material, which is 8-12 mm. of thick glass, holding the stone panel together and reducing chances to breaking. This makes LumiStone a much stronger and safer structure than natural stone, perfect for decorating various parts of the building, restaurant countertops or wall decoration.
LiteStone
Light Weight Natural Stone Panels are manufactured by slicing natural stone such as granite, marble, sandstone, basalt and limestone, which is imported from quarries around the world. The stone is sliced to be only 3-5 mm thin and then attached to a backing material, either Aluminum Composite or Aluminum Honeycomb, making it up to 80% lighter than normal natural stone of the same size and much more durable than natural one.
LiteStone can be used as a substitute for natural stone and in cases where natural stone has limitations. The stone panel can be installed with dry mechanical fixation system (specially designed system) to ensure that the stone panel is secured and its aesthetically-pleasing appearance is preserved by eliminating the issue of salt stains, a trace still visible with traditional wet cladding installation.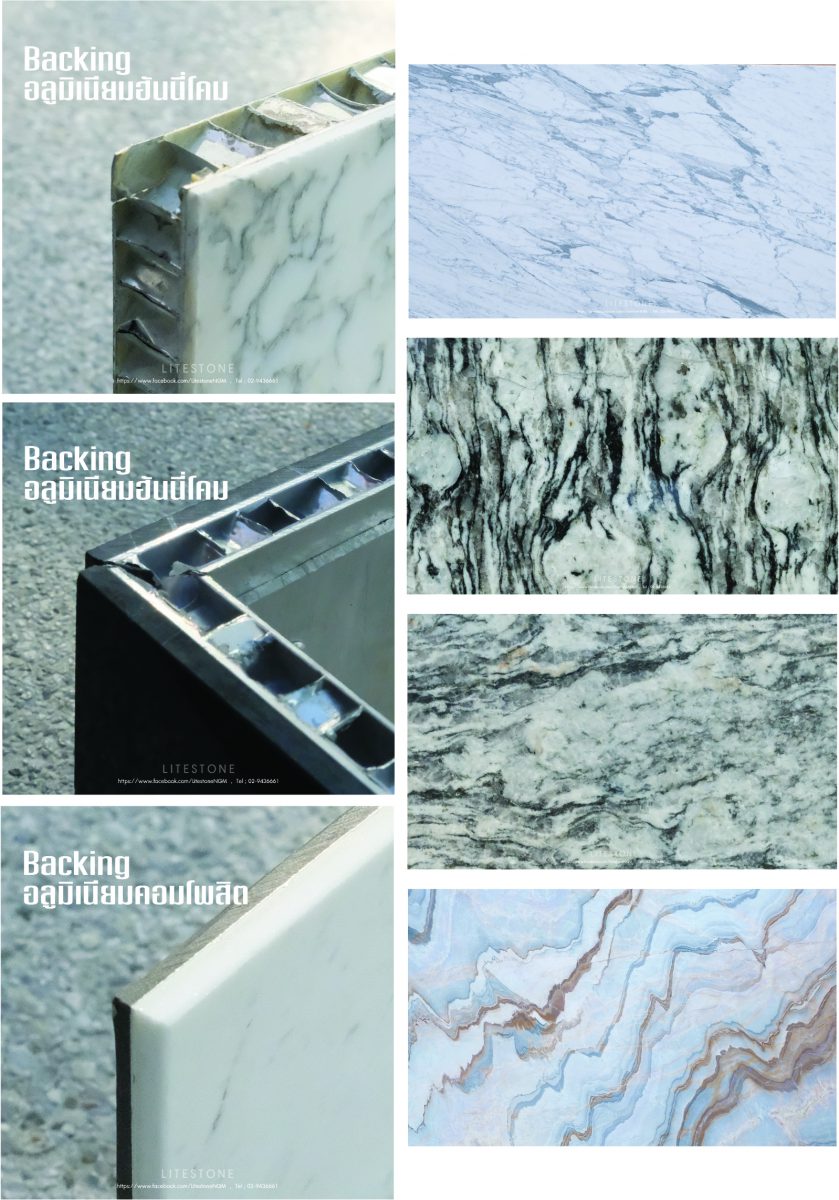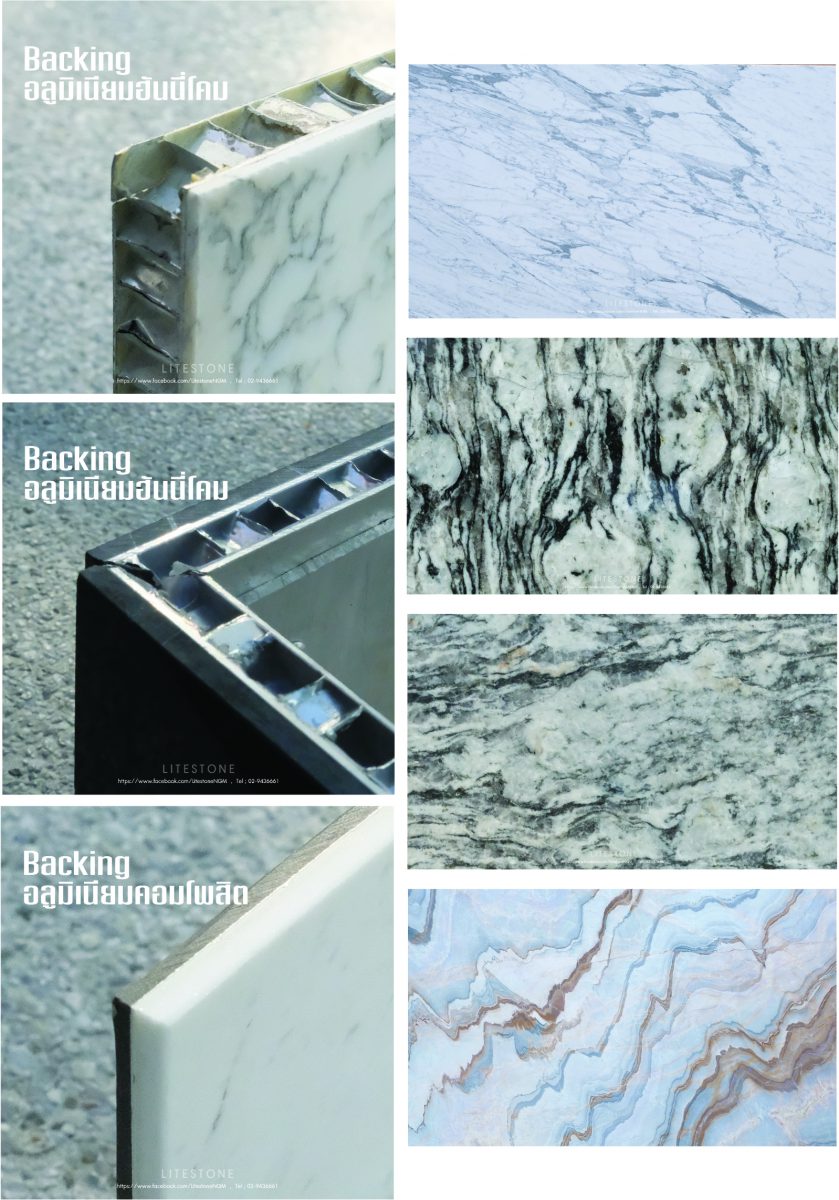 MilliStone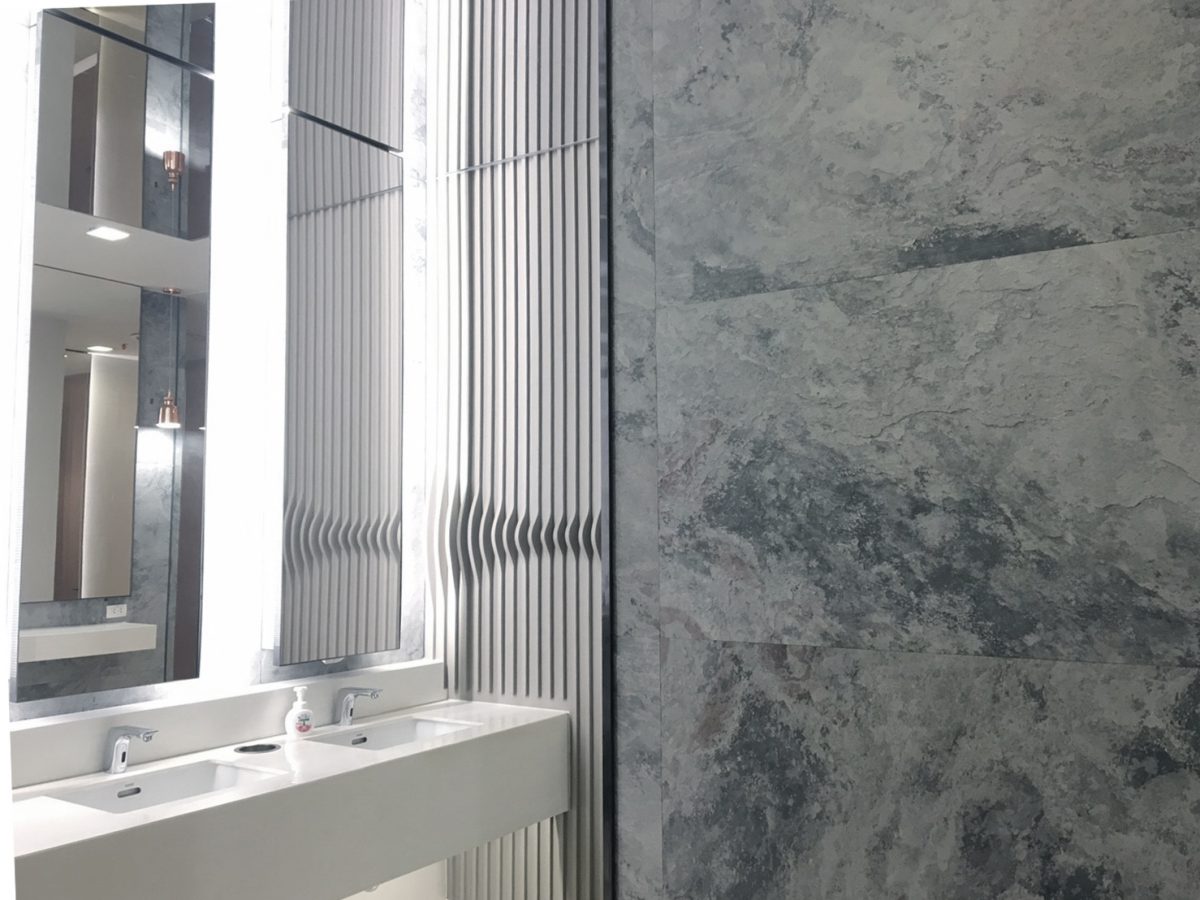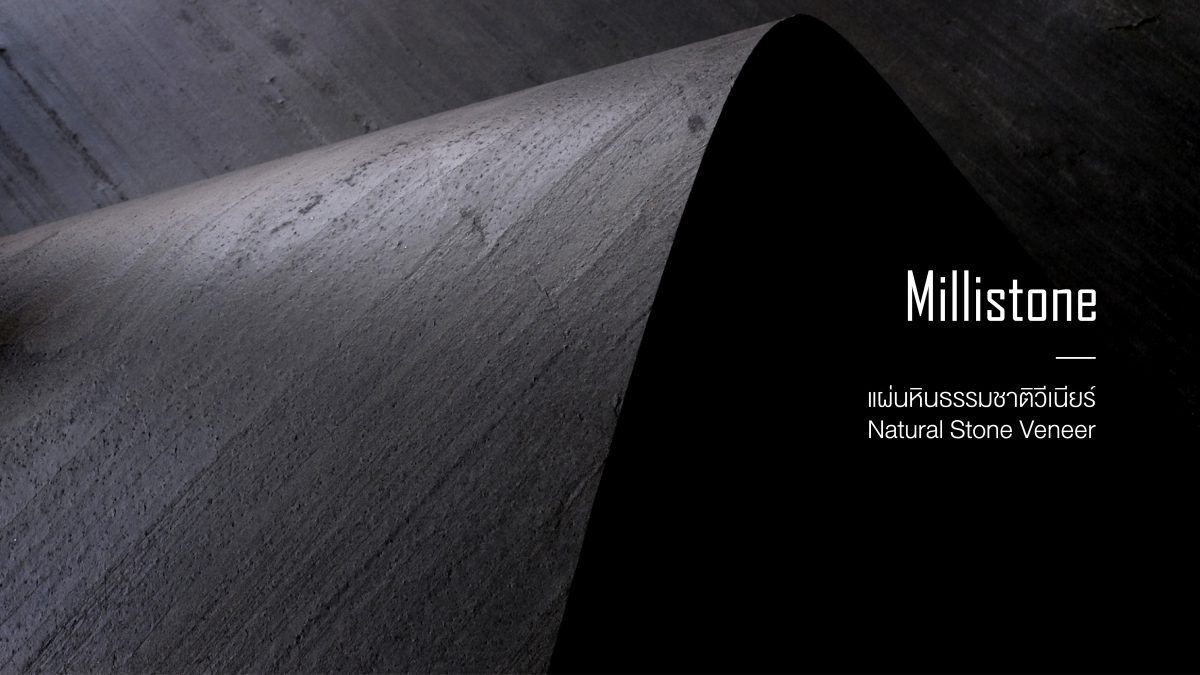 Natural Stone Veneer is made from slate, phyllite and sandstone from quarries around the world, thus in different color and texture in each model. The manufacturing technique delivers only 1-3 mm. thin stone, which is then attached to various types of backing materials, including opaque fiberglass coated with polyester resin and translucent polyester resin and fabric, leading to versatile usage. The stone veneer is suitable for both facade and interior, such as wall paneling, counters, columns, beams and partitions.
MilliStone is also ideal as decorative surface on various materials such as door panels, cabinet doors, drawer doors, furniture and in areas where natural stone may be too heavy, such as ceilings and façade. As Millistone weighs only 1-3 kg/m2, it saves on construction costs with quick and easy installation.
SALTSTONE
Natural salt stone from the Potohar Plateau in the south of the Himalayas, also known as Himalayan Salt, comes in different shades including clear, pink, orange, brown, red and gray etc. These varying colors are from the minerals found in salt stone, most of which are pink, therefore it is also called Pink Salt.
It is claimed in several sources that the various elements in Himalayan salt provide health benefits, help trap dust and pollution in the air, absorb moisture and unpleasant odor, thus resulting in a refreshing and clean atmosphere. The stone is used in wall cladding as decoration and creation of relaxing atmosphere in the bedroom, kitchen, living room, reception counter or backlit wall. It is also perfect for salt room and salt wall of sauna room, meditation room, yoga room or recreation area and for wall cladding in the dry-aging room, a popular practice among foreign countries because it is believed to make meat taste better.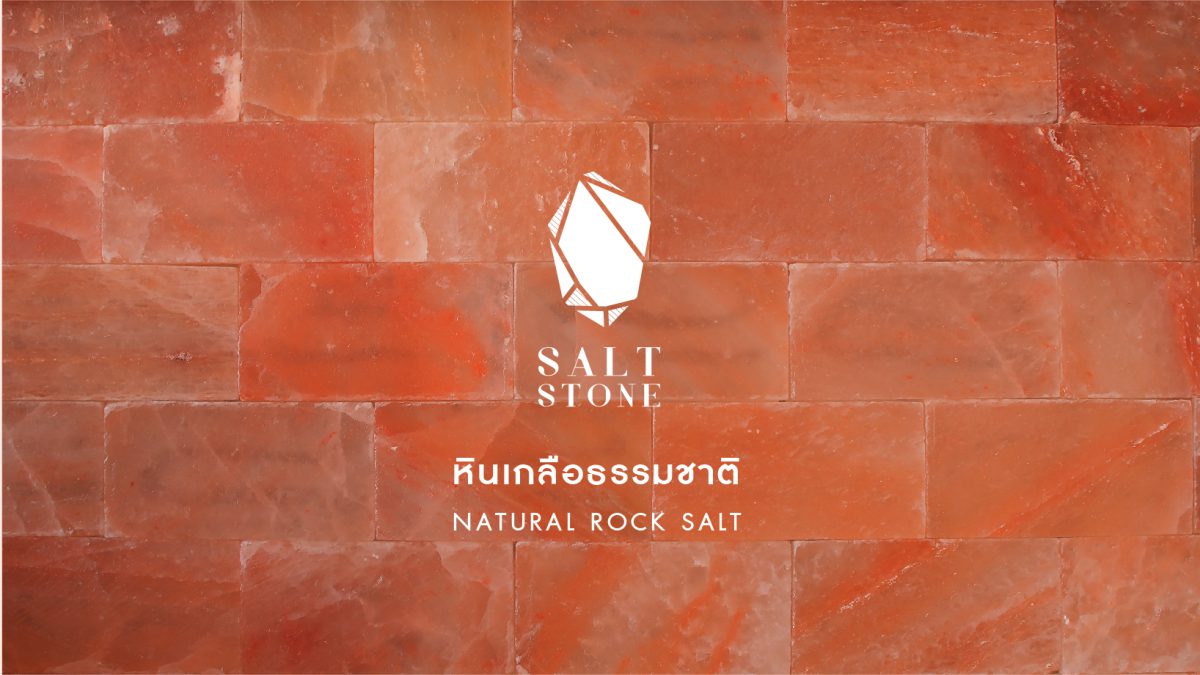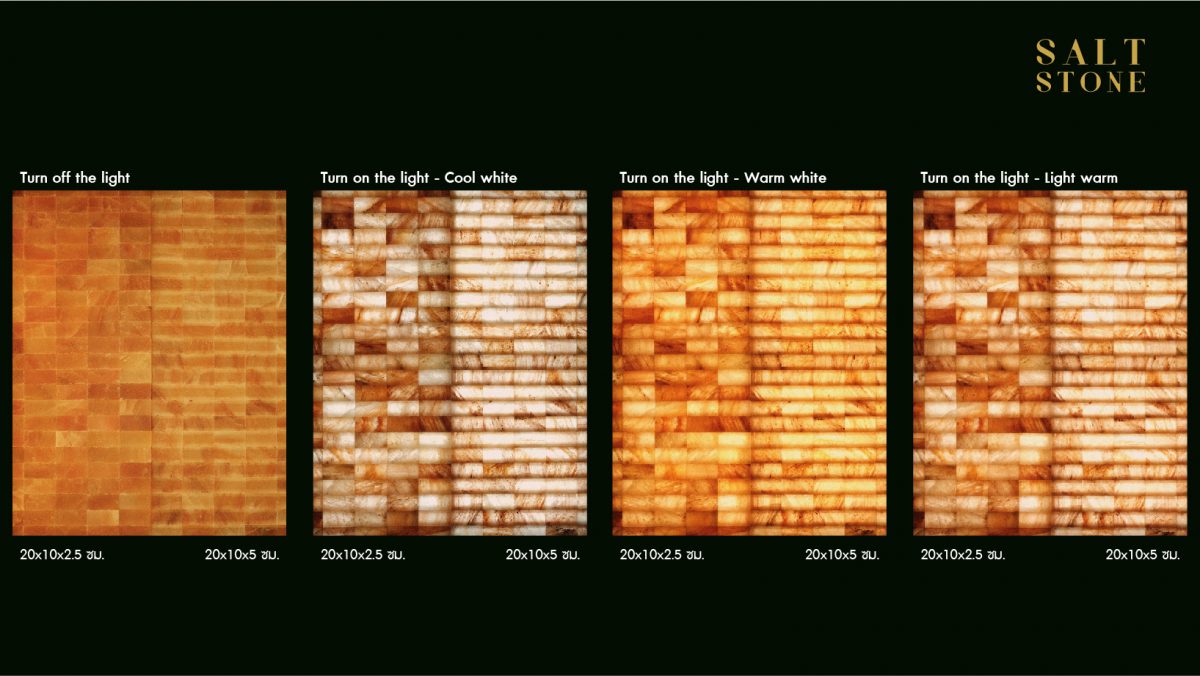 TENN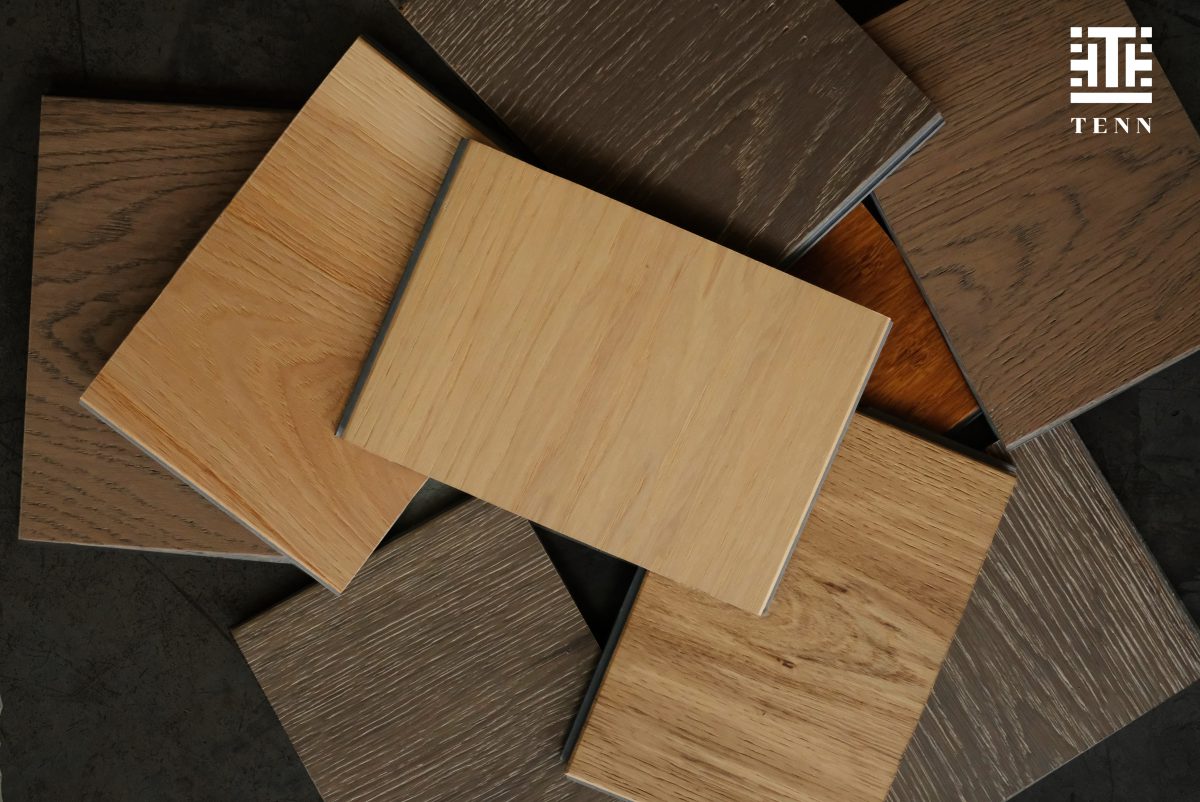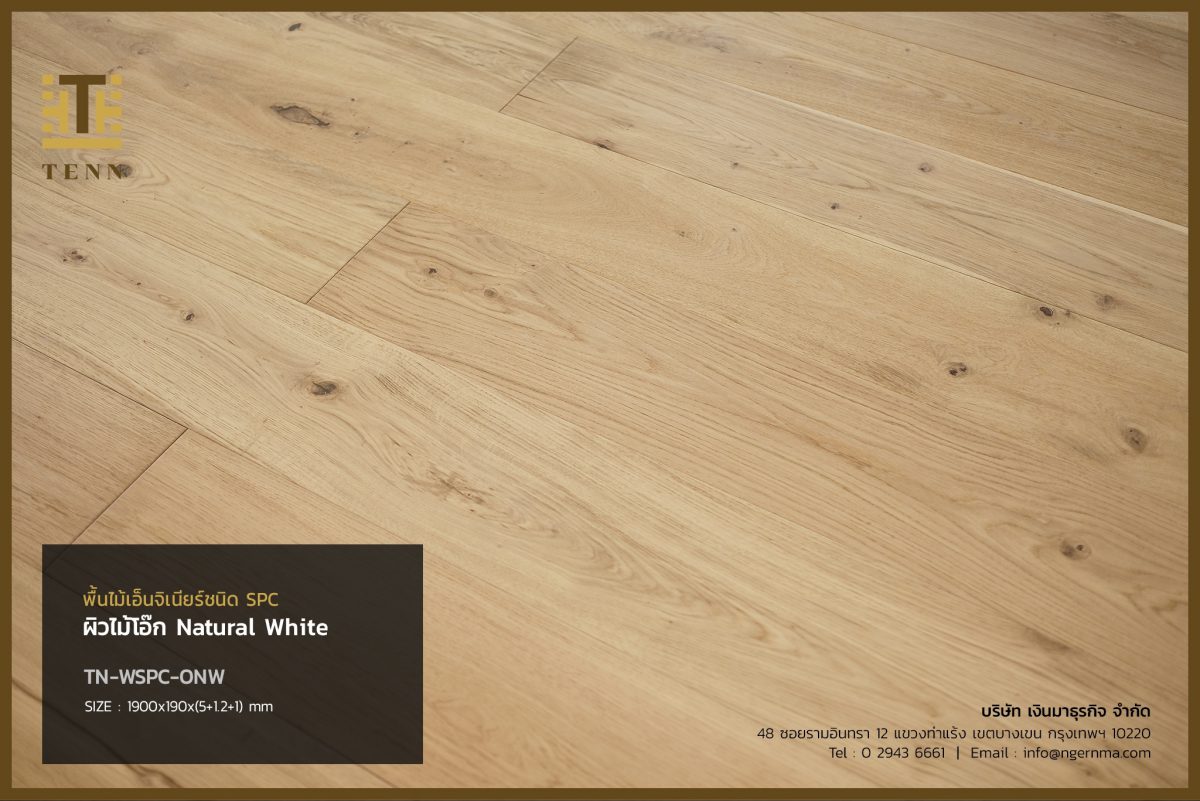 SPC engineered hardwood flooring and SPC flooring meet CDPH V1.2-2017 requirements and WPC decking is FSC certified. TENN offers flooring material for indoor applications, a new alternative which blends modern production technology with the beauty of hardwood. TENN is noteworthy for its hardwood surface of oak, hickory, and bamboo, all strand woven so as to preserve the color, pattern and texture of hardwood while retaining the qualities of SPC engineered wood. The surface is UV coated to prevent scratching.
Stone Plastic Composite (SPC) prevents wood swelling from moisture, ensuring that the engineered wood is more long-lasting.  It is also cushioned with IXPE foam to reduce impact, so stepping on this wooden floor feels even lighter. V GROOVE corner design perfectly imitates hardwood, sleek yet easy to install with Uniclick system, suitable for several applications, no adhesive required, safe for users with LEED GREEN WELL green building requirements and light weight, reducing the burden on the project weight and perfect for both commercial and residential application.
TENN SPC flooring
TENN SPC flooring has been developed to solve various problems of vinyl and laminate floorings.  The top layer is UV coated to prevent color fading. The 0.3-0.5 mm thin Wear Layer provides excellent scratch resistance. The wood film layer has been designed to feature patterns just as remarkable as hardwood. SPC is a perfect mixture between tough and flexible PVC and calcium carbonate which provides strong, durable, termite-resistant and non-swelling properties.
The flooring is padded with IXPE foam with remarkable properties including high flexibility, high impact resistance and easy installation, ensuring the versatility of flooring with no adhesive required which can be used immediately after installation. It is also safe for users with LEED GREEN WELL green building requirements and lightweight, reducing the burden on the project weight and perfect for both commercial and residential applications.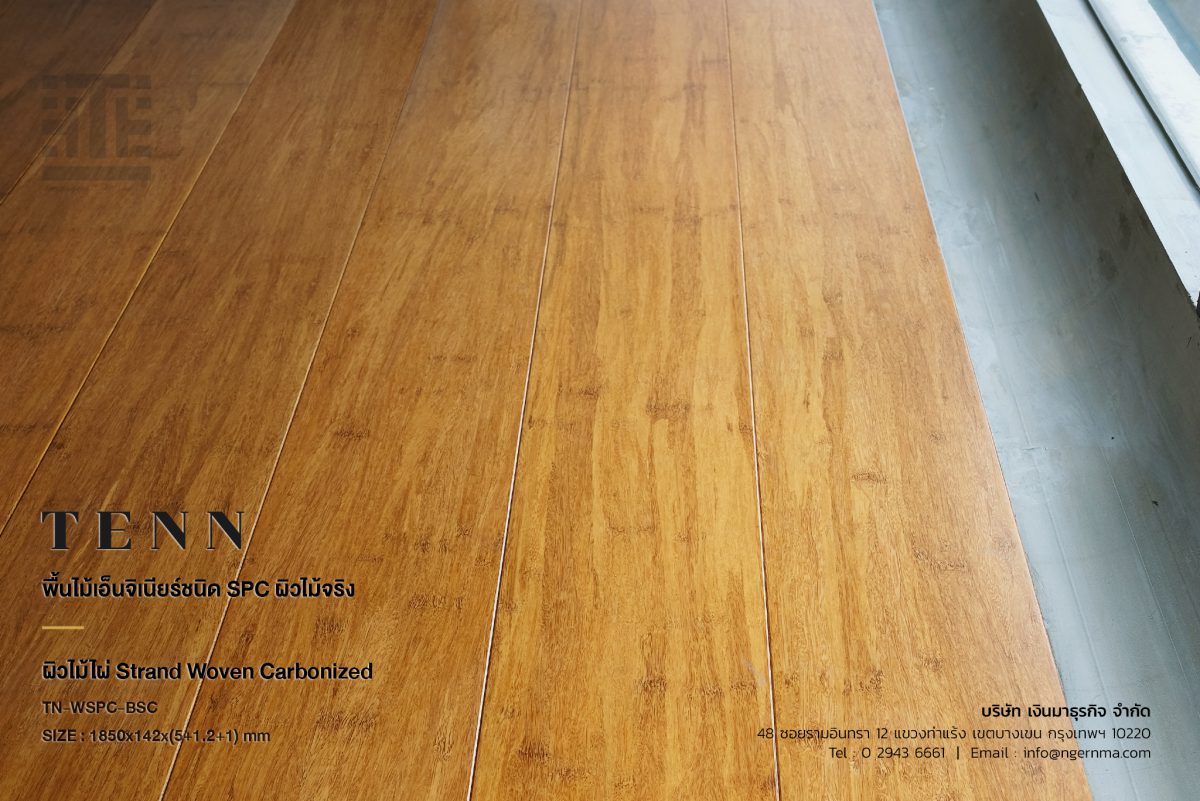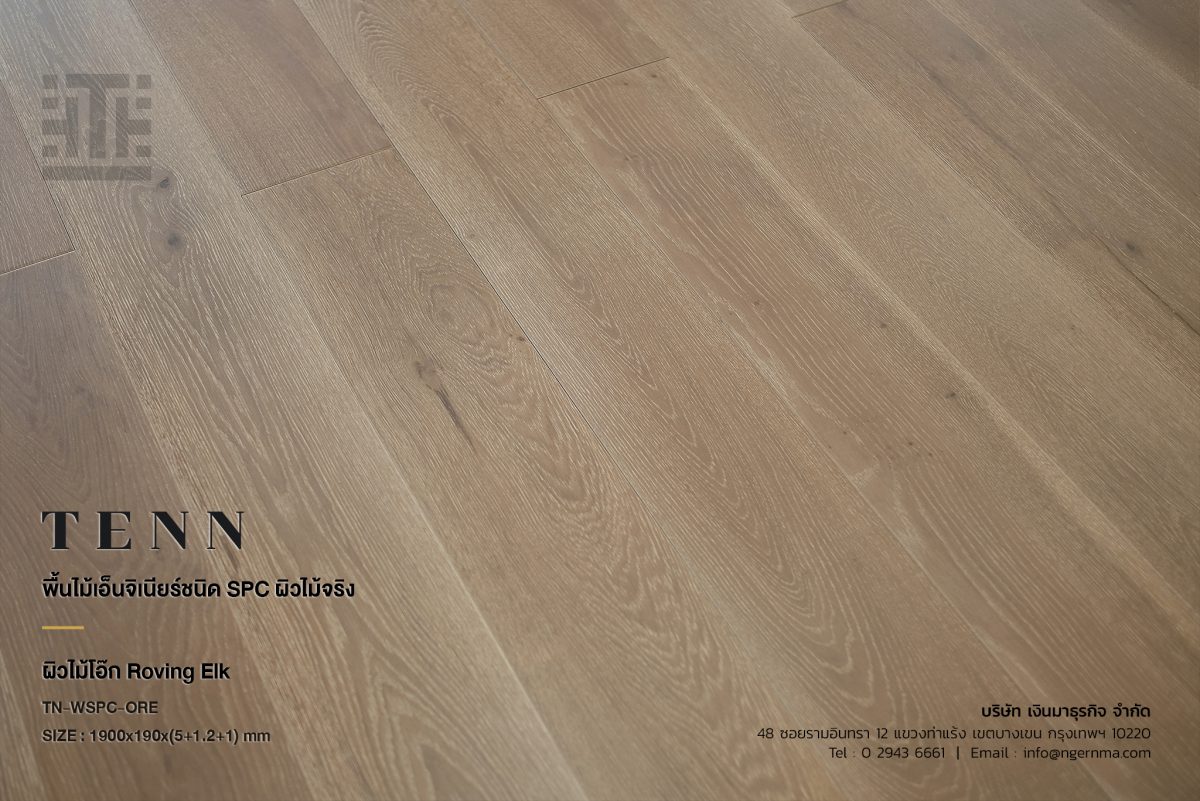 QUEST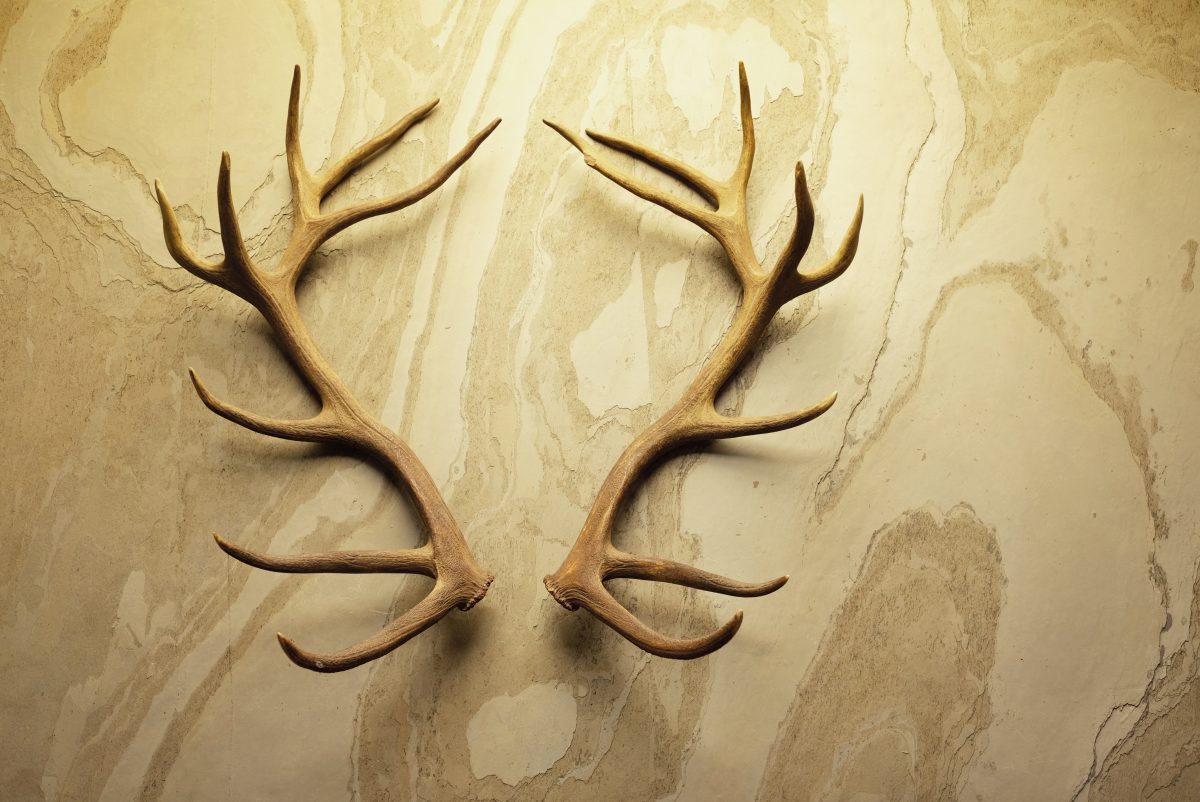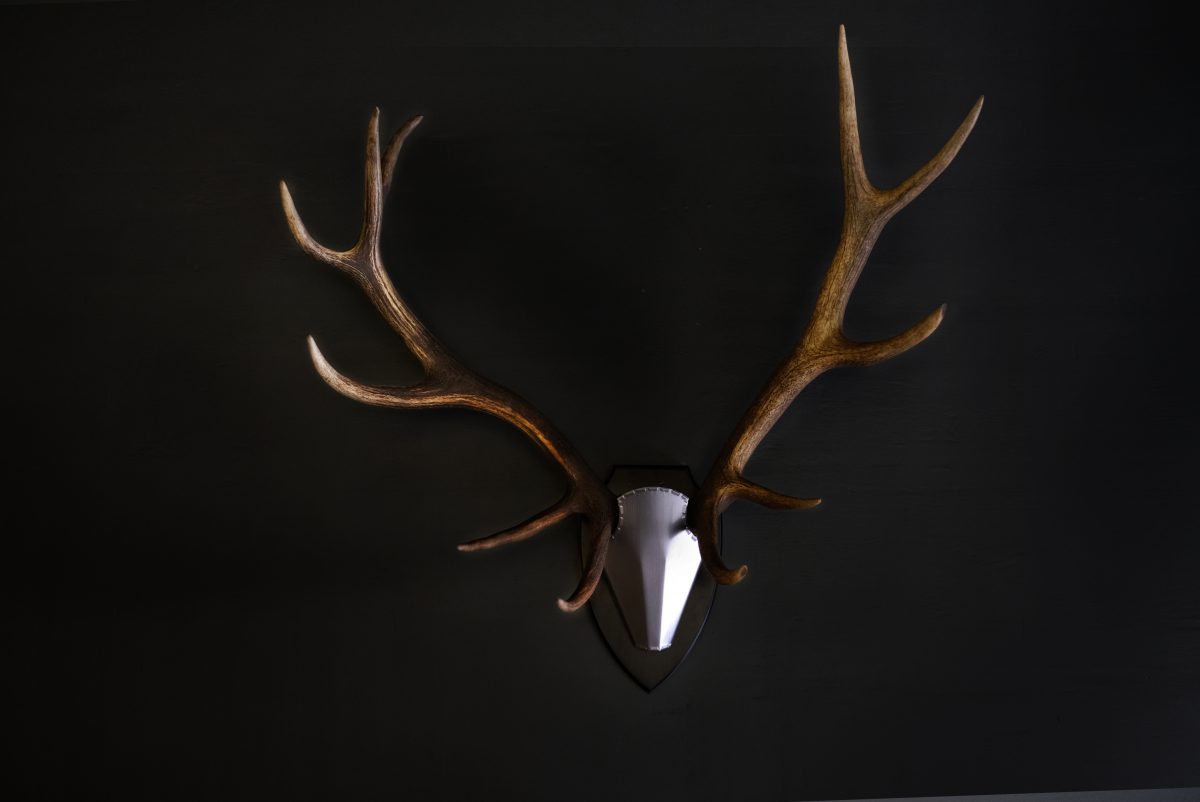 Naturally Shed Deer Antlers are from naturally-shed antlers of the Red Deer (Cervus Elaphus), one of the largest deer species in the world, second only to moose, elk and sambar. The antlers are collected from natural forests in Europe, not from hunting nor farming. The Red Deer normally sheds its antlers every year during the winter, and new ones are grown during the spring, which could grow up to 2.5 cm. long per day, therefore Red Deer Antlers are considered a type of renewable material.
In addition, possessing Quest naturally-shed antlers requires no permission from the authorities. The Red Deer is not among the list of conserved, protected, nor endangered species according to the following regulations:
Wild Animal Conservation and Protection Act B.E. 2562 (2019)
List of preserved wild animal in the attachment B.E. 2546 (2003) under Wild Animal Conservation and Protection Act B.E. 2535 (1992)
Convention on International Trade in Endangered Species of Wild Fauna and Flora (CITES)
Environmentally Friendly Wood & Burl Slabs
Quest wood slab is the perfect alternative for those with the love of wood and burl slabs and wish to simultaneously conserve the environment. All wood slabs are imported from countries with increased forest area such as the United States, Australia, New Zealand, Japan and Western Europe. No slab is imported or purchased from countries with reducing forest land, especially from Thailand and neighboring countries which are facing severe deforestation. Almost all Quest wood slabs are imported from countries and farms situated in temperate, Mediterranean and arid climate. The species, colors, patterns, textures are unique from wood grown in tropical climate areas like Thailand and neighboring countries.
Selecting Quest wood and burl slabs, which are larger than wood generally processed in sawmill, is therefore a way to help reduce the amount of waste to be sent to landfill, and it facilitates carbon sequestration, by keeping carbon, one of the leading causes of global warming, from being released into the atmosphere. There are two main types of Quest slabs: wood slabs and wood burls. All slabs and burls have been dried to ensure the wood contains moisture in an appropriate level to reduce chances of shrinkage, cracking or warping.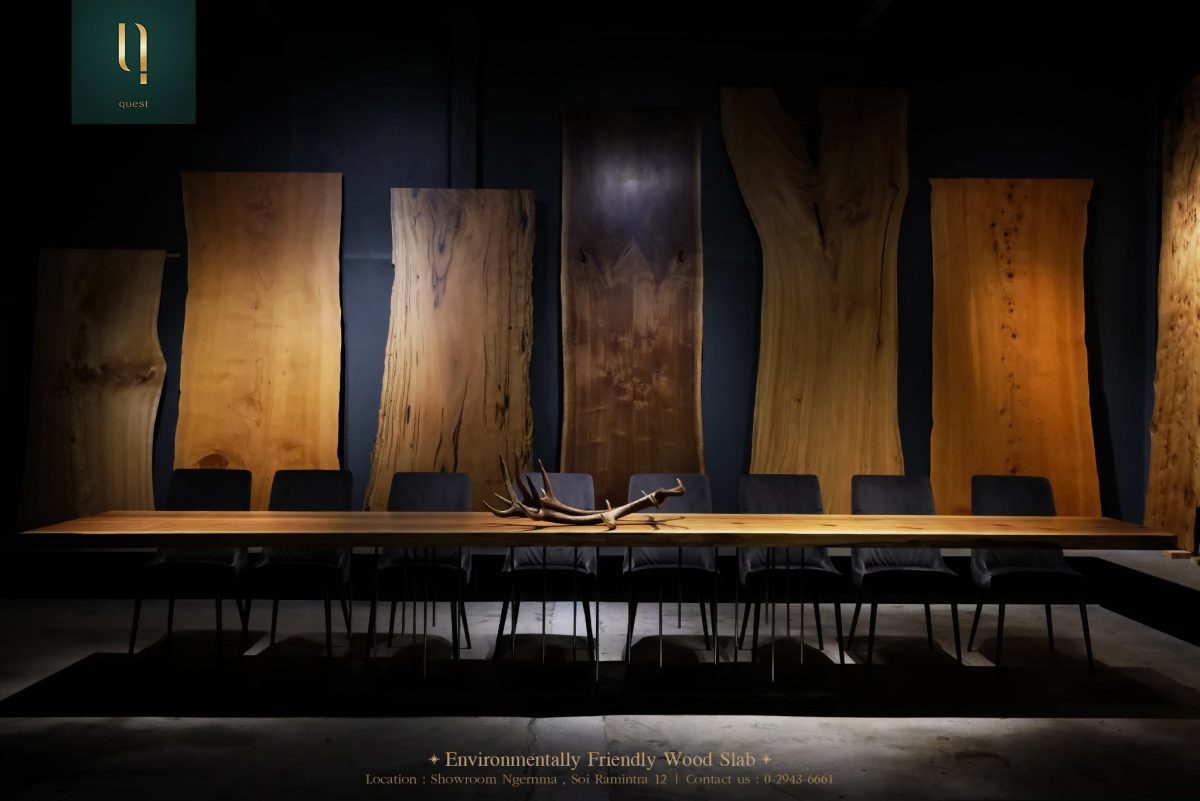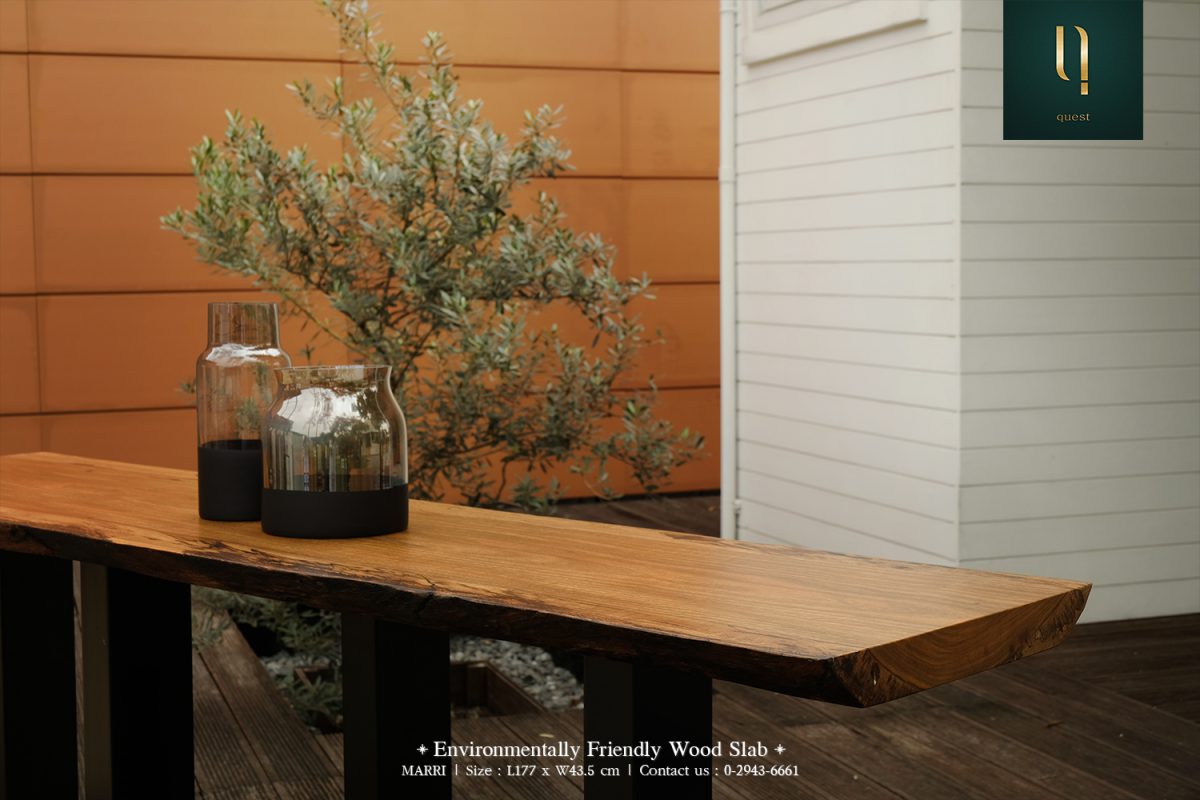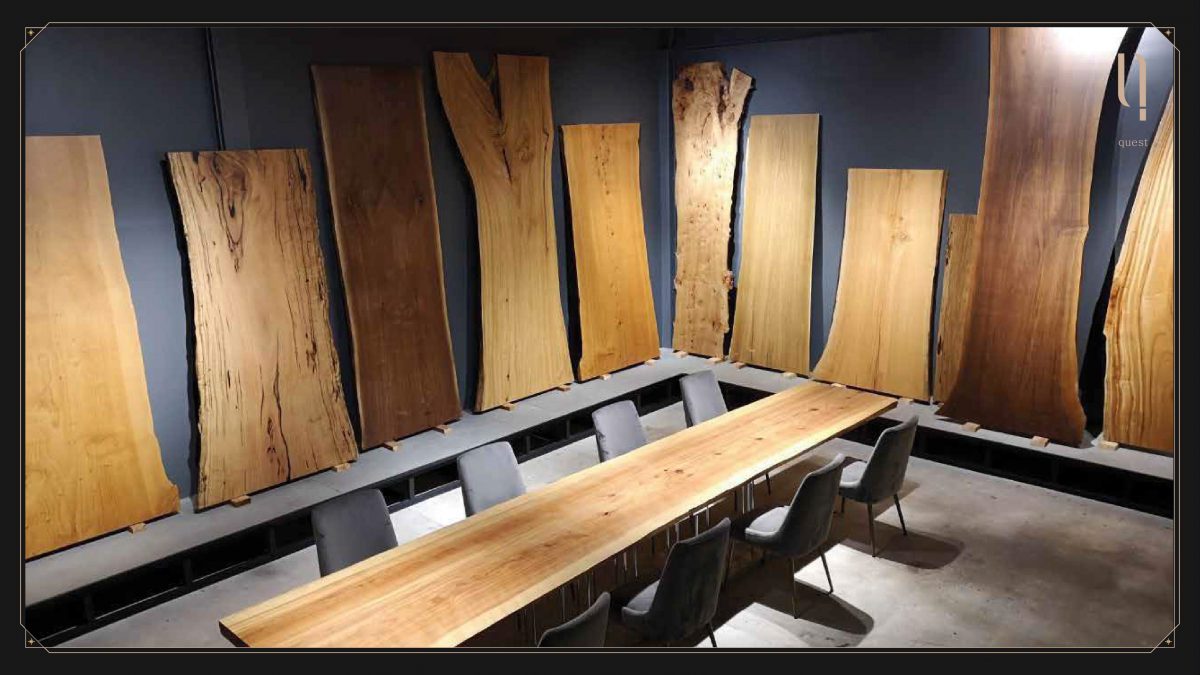 Aircraft, Helicopter and Ship Parts for Upcycling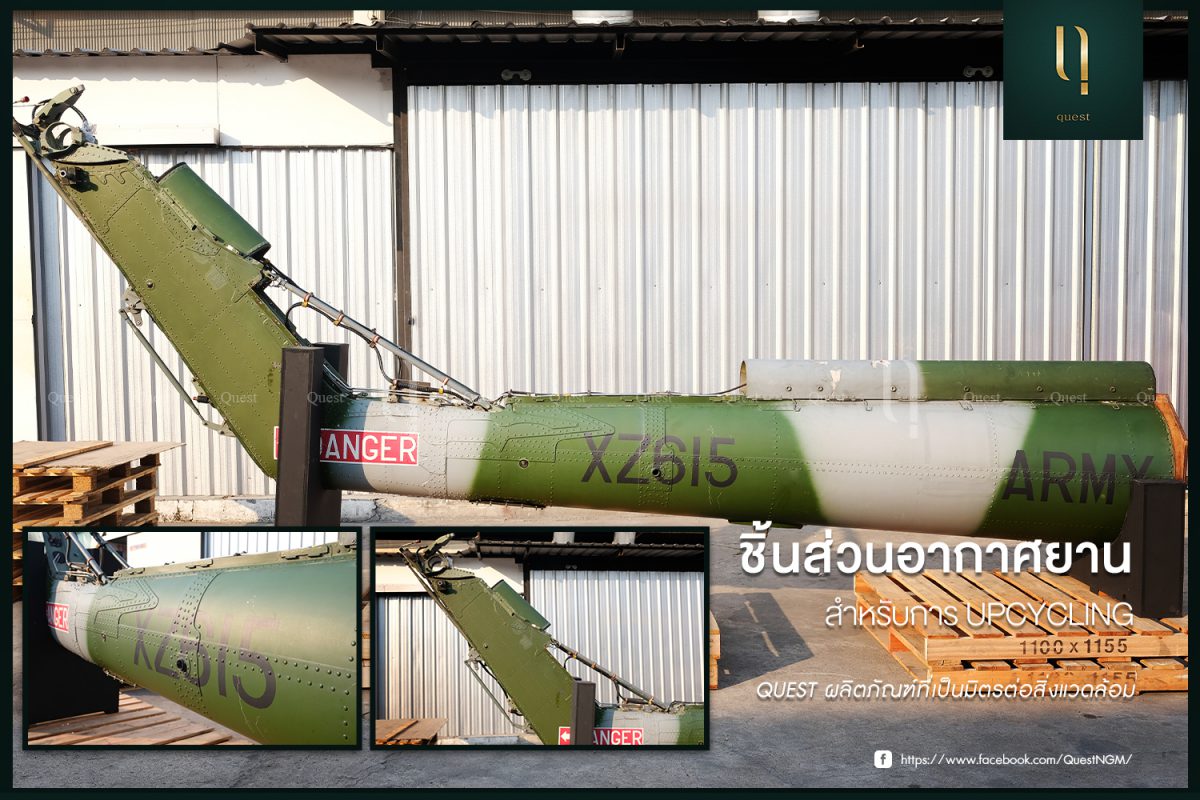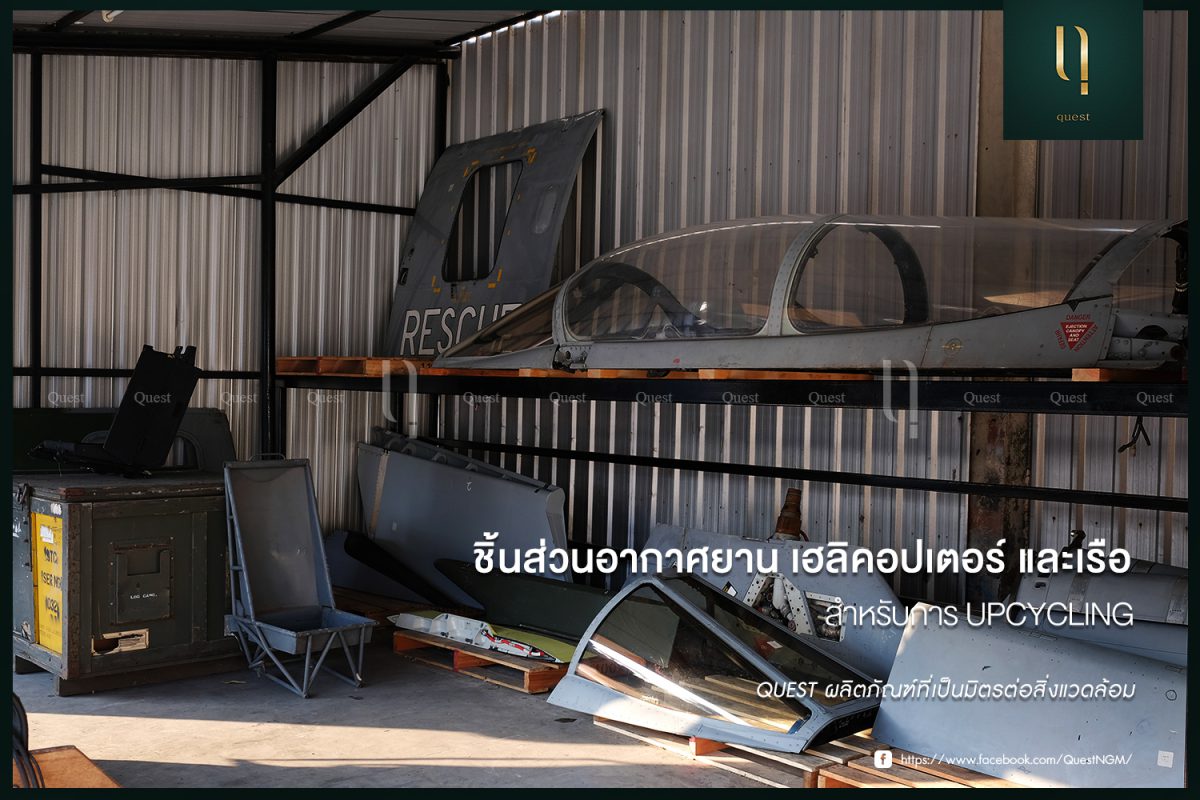 The parts are imported from several countries around the world and are parts of vehicle which have been decommissioned or are no longer used due to a number of factors, many of which involve maintenance and depreciation costs which are not worth the repair cost. Most decommissioned vehicles are sold, both as a complete vehicle for further use and as individual pieces to be converted into artifacts, decorative materials, and furniture to decorate houses and places. Most of the purchased parts are often destroyed or processed into smaller pieces before entering the recycling process by melting metals such as aluminum and titanium for upcycling.
Adhesive & Sealants
Manufacturer and distributor of sealant products for construction under the brand PROTITE/ TAIKEN and distributor of 3M/ DOWSIL products
Products distributed such as polyurethane sealant, hybrid sealant, silicone sealant, acrylic sealant, adhesive, adhesive tape and fireproof products.
The product contributes to the score of the green building project LEED V4, V4.1 & WELL V1, V2 & TREES 1.1.
Low VOCs products are safe, user-friendly and eco-friendly.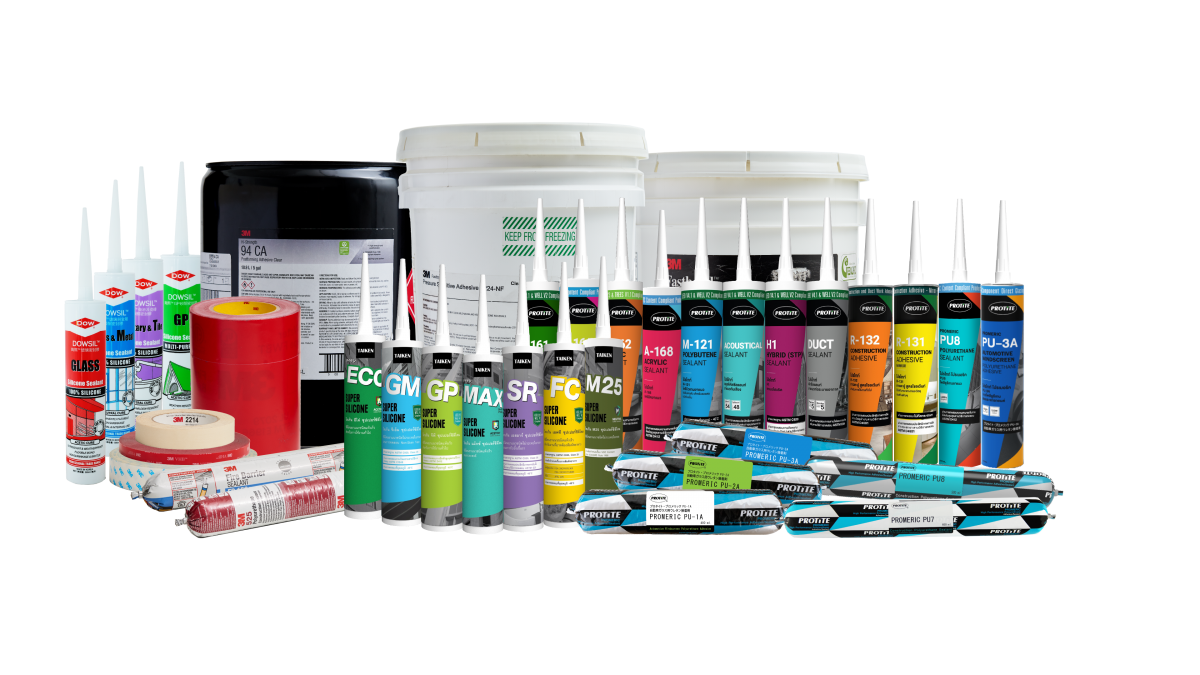 Visit Ngern Ma Business Co., Ltd. and experience its variety of innovative natural decorative materials at booth No. S516 at Architect'23, the 35th ASEAN's Largest Building Technology Exposition during 25- 30 April, 2023 at Challenger Hall, IMPACT Muang Thong Thani.
For those who are interested in space reservation, please visit our website at https://architectexpo.com/2023/en/about-the-expo/#space-reservation, or contact us at 02-717-2477 and Email: info@TTFintl.com.