"FASTINSPECT", the more convenient and faster innovation of real estate inspection to enhance construction industry at Architect Expo 2022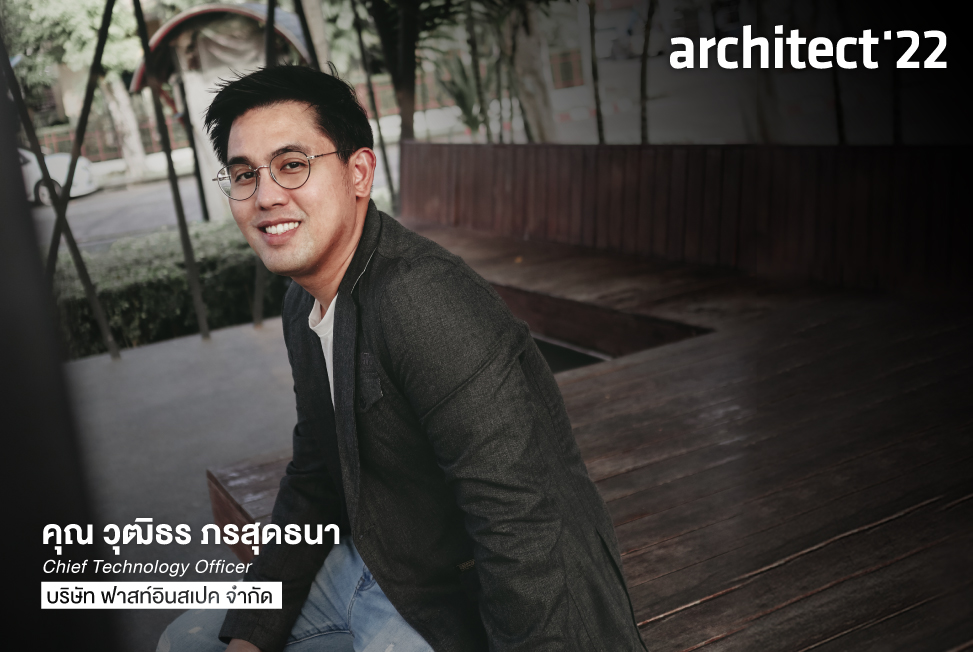 With the current COVID-19 pandemic situation, we have entered a fully digital era, and people have adapted to using online channels for work or other activities. The construction industry is also facing challenges as it transitions to online channels.
Many companies have initiated to development of construction-related software to facilitate users of all departments. FastInspect Co., Ltd. is one of the companies to help service and fulfill customers' needs.
"FASTINSPECT" Thailand's largest defect management solution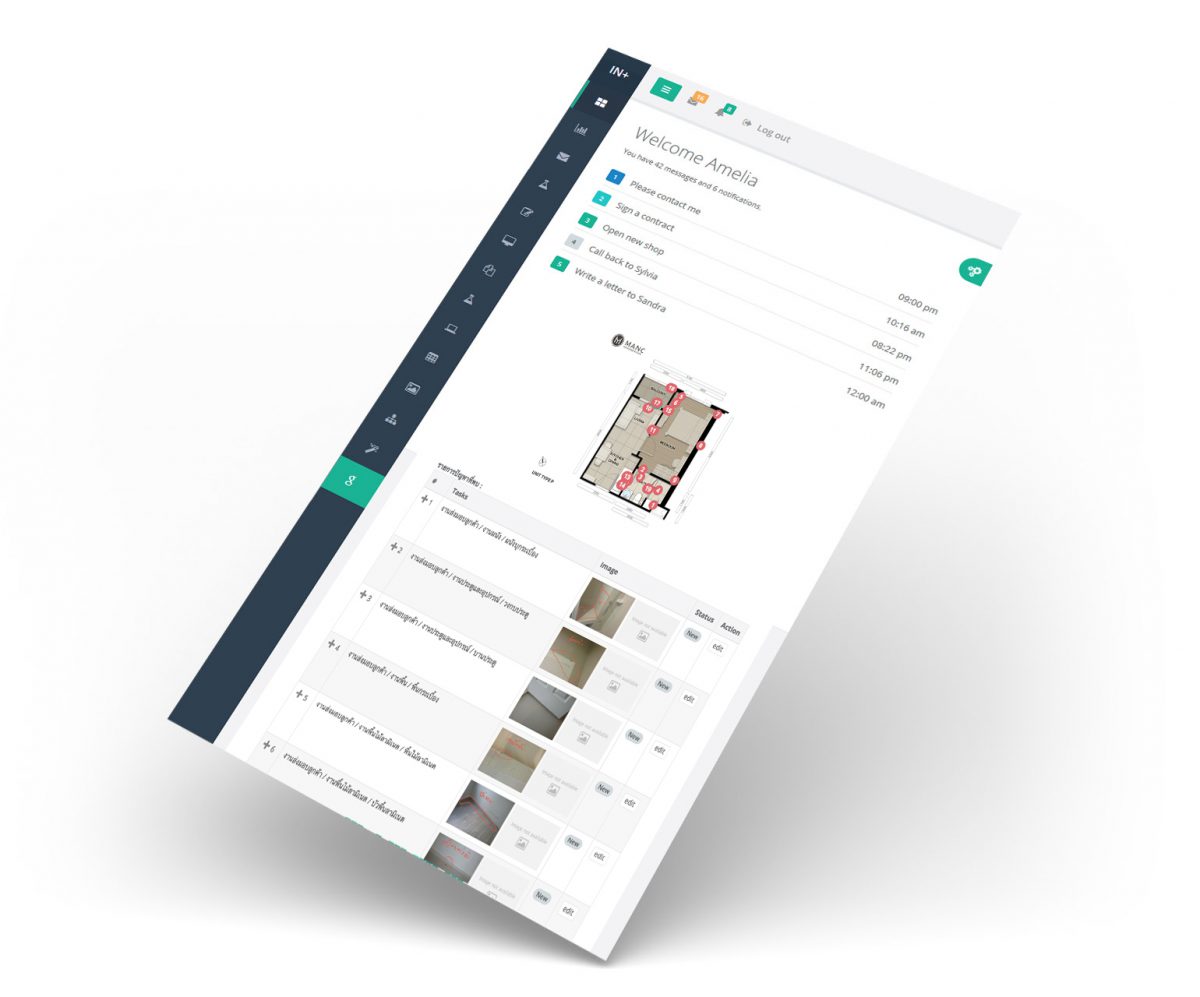 FastInspect Co., Ltd. started developing prototype software and released it to the public in 2012, during which time FastInspect was still a general software development company. However, after conducting market research and understanding the increasing demand for the product, FastInspect decided to enter the market and established as a fully-fledged company in 2017 specializing in software development with professional teams that can improve various systems to meet the needs of customers.
FastInspect Co., Ltd. focuses on creating innovations to solve the problem that arise in the various stages of the construction for real estate developers: from the start of construction to the handing over of homes to customers. Thus, we ensure to hand over every project with the best quality homes or rooms to customers.
However, systematic information storage and management of large numbers of constructions and various sizes are problematic but essential. These are the main qualities where FASTINSPECT can achieve the needs of operators who collect on-site problem data and help process data while systematically providing reports to the management team.
We listen, develop, and provide solutions with comprehensions.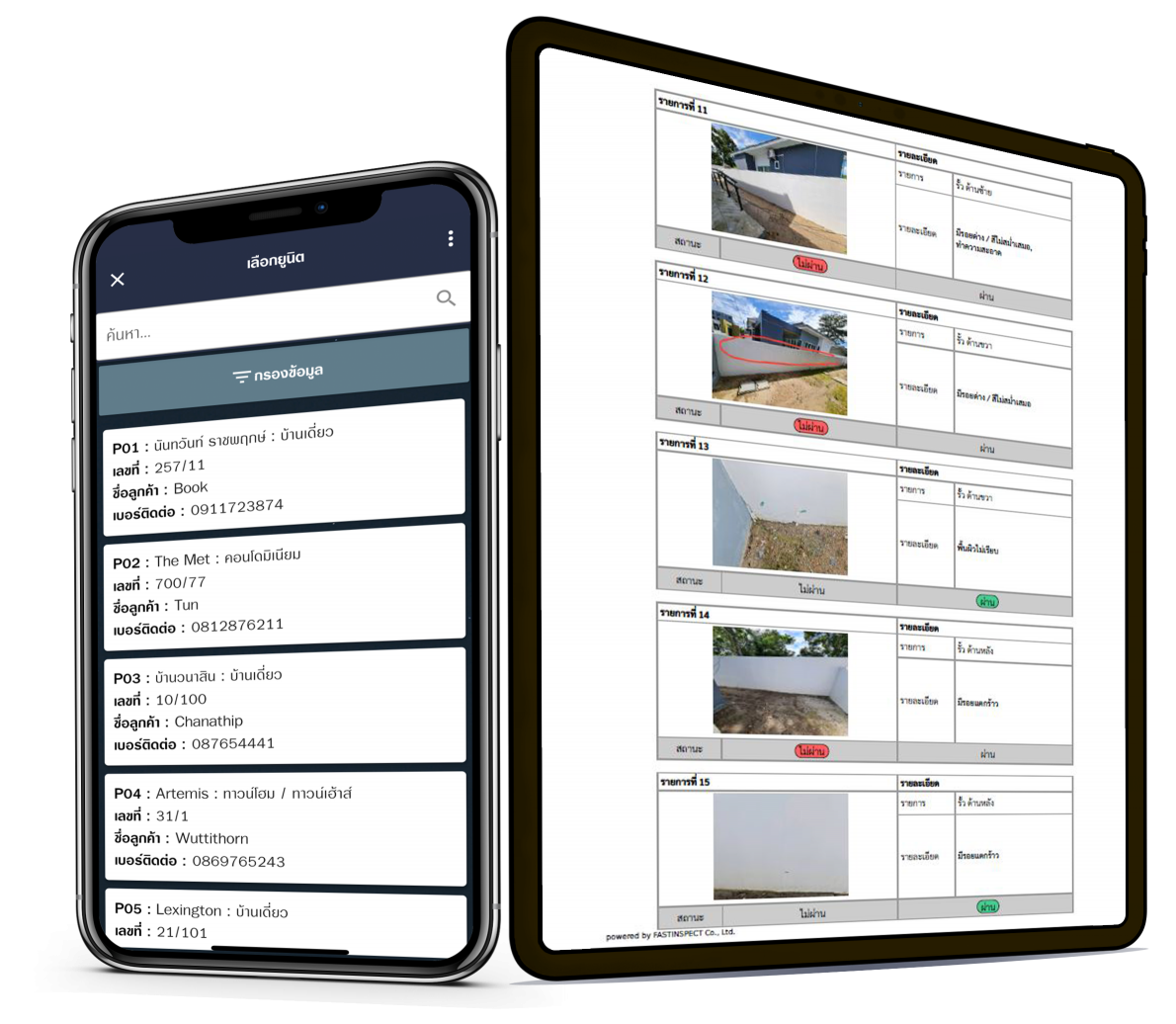 FastInspect Co., Ltd. applies the feedbacks received from the customers: real estate developers, quality control, and inspection teams to constantly analyze and improve software and its features in applications and websites with advanced technology and fresh concepts. Considering customer feedbacks results in perpetually enhancing user experiences.
Exchanging knowledge with related fields for sustainable development
The highlight of FASTINSPECT is the quality relationship and good communication with construction engineers who are involved in both minor and major project developments. We seek experienced engineers to comment on the product design process to help achieve customers' needs and uses where they receive positive feedback.
FASTInspect software – solutions for construction difficulties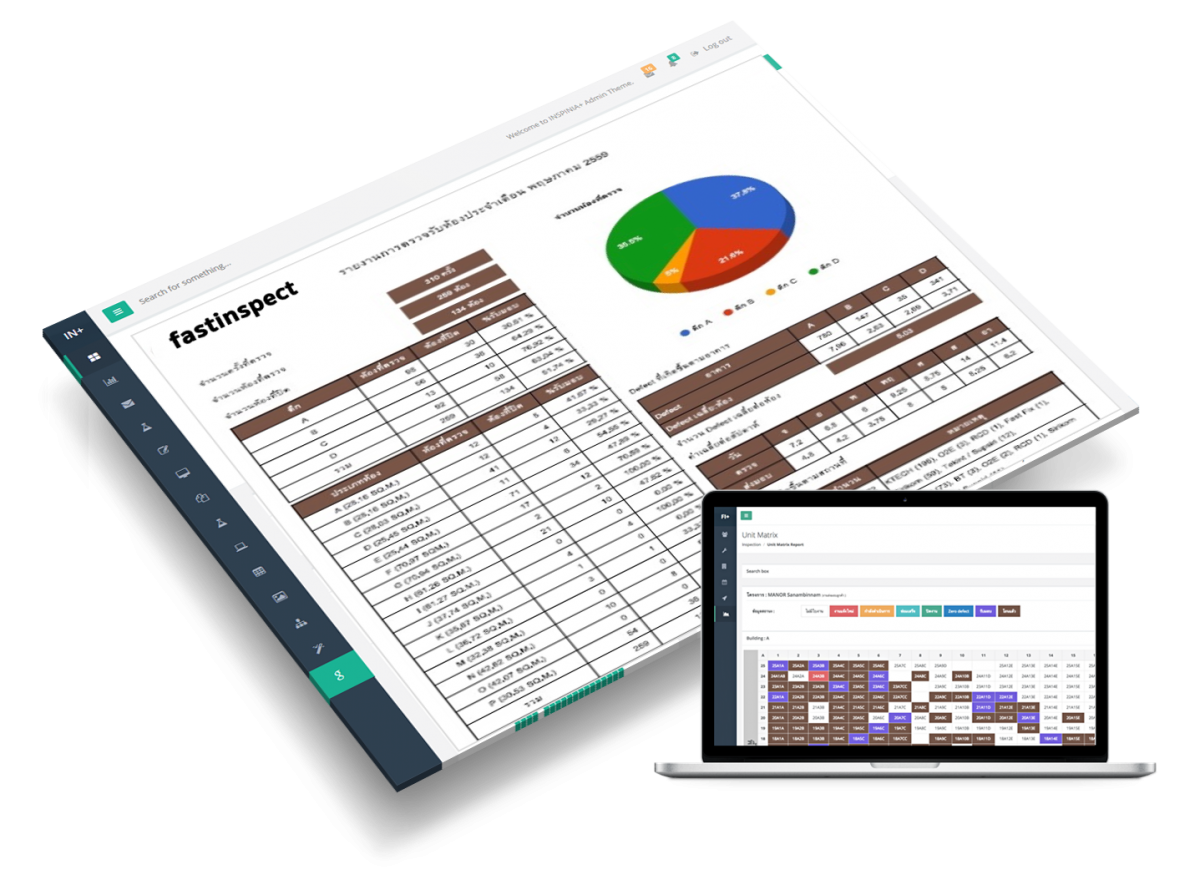 FASTINSPECT is a system used to manage construction problems supporting the use of three prominent customer groups: quality control work during construction, handing over work to residents, and home inspection companies. Imagine when handing over the work, how great would it be if we could use an application for site inspection with just one smartphone or tablet? The information such as problems found from previous inspections, house plans, various problem groups is available in the app. Then staff can take pictures of the problematic areas and select the problem group found to specify the location on the house plan. The staff can print out a summary sheet to the customer after the site inspection.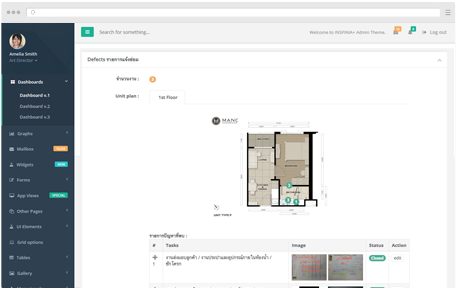 The management will get an on-hand summary of the handed-over work of each room, which they can view in a variety of formats. The contractors also receive summary emails and notifications through the app. This app minimizes the workload, work process time, chances of COVID exposure. In addition, FASTINSPECT can also deal with various issues ranging from house utility to handover work.
Accentuating the new normal lifestyle while reducing resources and work processes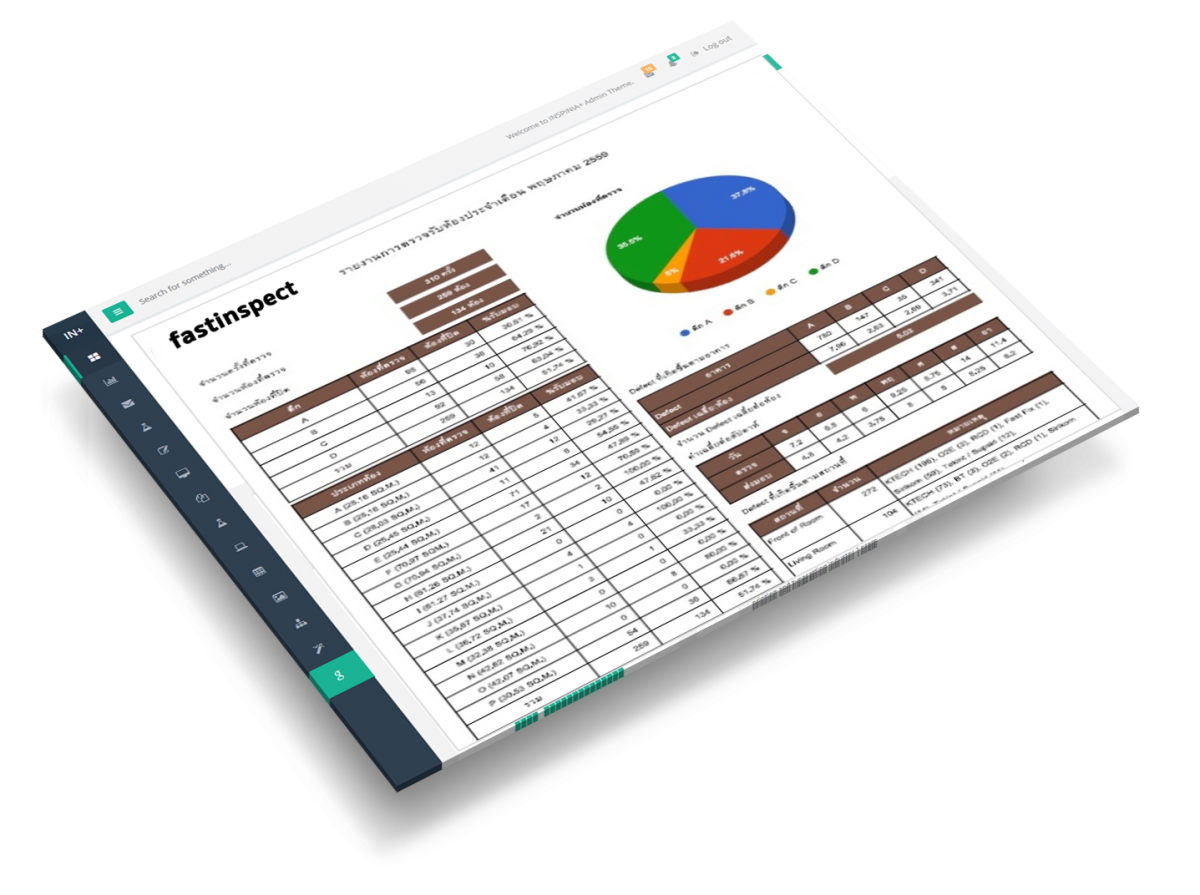 The app helps users organize the information import of construction issues that they have reported. Any party can inspect or perform quality checks with the customers with no hassles on-site with just a smartphone via the FASTinspect application. Once the inspection is complete, there is no need to prepare the subsequent documents as we used to do. When conducting real estate inspections in the past, I used to take pictures with a camera or a phone, write down the information on a piece of paper, and then make another spreadsheet for a summary. All these steps are gone. The project supervisors can click to view the information directly through the dashboard. There are separate works in the app. If the contractors want to use the app, they can get authorization and view the issue-reporting section and its completion. The app developers have designed the app for every related party. The contractors will be restricted only to the information relevant to them.
FASTINSPECT offers several analytical reports studied and accumulated over time from user experiences to the management. We believe that this is the resource for executives to have all the significant aspects and is easily accessible with just a few clicks. The information should also be exportable as spreadsheets for further analytical works.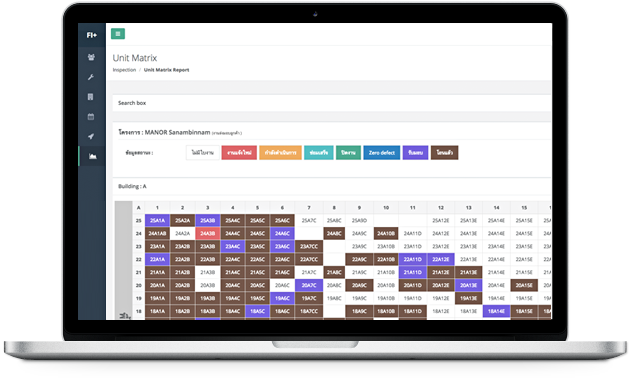 The construction business is a field with a very complex and vast ecosystem of supply chains. Coordinating each unit in the organization internally and externally plays an important role, which has always been the core value of FASTINSPECT. With the transition of the new normal era that comes with limitations in connection, people pay more attention to various online technologies to help organize information. Organizing data import channels and displaying information suitable for managing construction problems have even been more important. FASTINSPECT is your assistant in initiating systematic data storage in a ready-to-use format to create big data being instrumental in making decisions at the policy level.
Witness the flexibility of the FASTINSPECT application at Architect Expo 2022
We invite project developers or people in the related fields to experience FASTINSPECT's innovations. You may check out the FASTInspect app and discuss how to implement FASTINSPECT's innovations to enhance quality checks and handing-over work of large companies. FASTINSPECT has a series of case studies with real estate developers of various sizes including other related groups such as construction management, contractors, and home inspection companies. There are currently more than 50 companies and more than 200 projects using FASTINSPECT software, ensuring us that the FASTinspect system will improve the quality of your construction management.
Experience FastInspect Co., Ltd. at booth number L809 in Architect Expo 2022, the 34th ASEAN's Largest Building Technology Exposition during 26th April – 1st May, 2022 at Challenger Hall, IMPACT Muang Thong Thani.