Upgrade your building to Smart Building, even more complete with 4 cutting-edge solutions from SCG Smart Building Solution in Architect Expo 2022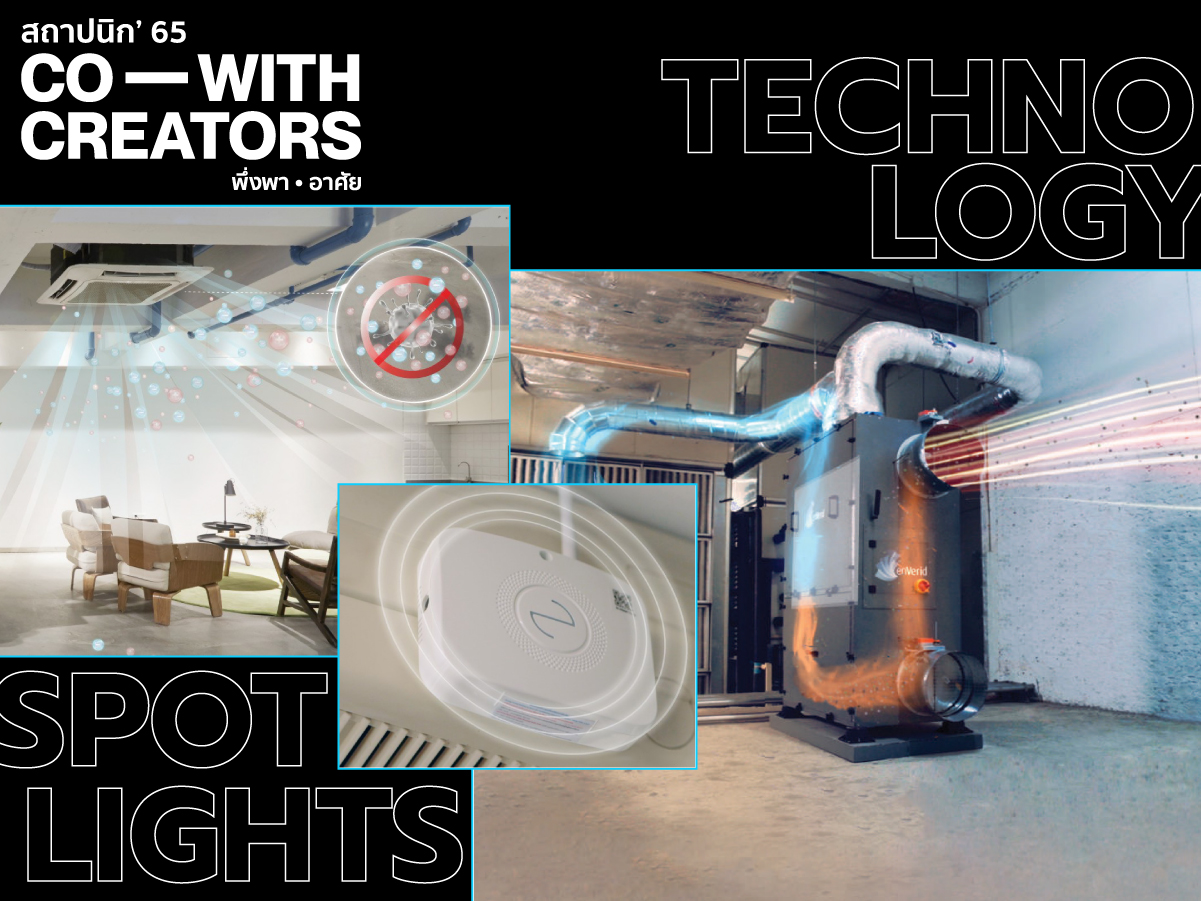 Smart Building is a technology developed to meet the needs of consumers and developers, raising the standard of buildings by combining and connecting various innovations to allow buildings to communicate, interact with users, learn and accurately adapt to changing environments, leading to cost-effective energy consumption management and positive impact on the environment through 4 state-of-the-art technologies from SCG.
SCG HVAC Air Scrubber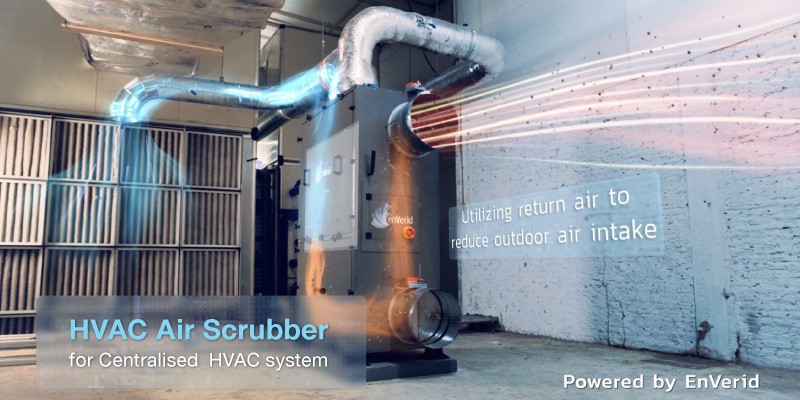 This is an innovation to improve indoor air quality while reducing energy consumption of the air conditioning system and treating indoor polluted air by absorbing all kinds of gaseous pollutants. SCG HVAC Air Scrubber features capture system compatible with more than 30 kinds of gas such as carbon dioxide, carbon monoxide, formaldehyde, radon etc., reducing the cooling load of the air conditioning system. It can eliminate system loss from cooling large portion of unnecessary outdoor air intake*, protecting the air conditioning system from damage, saving energy by 20-30%*. This innovation received the ASHRAE – Innovation Award Product of the Year in 2019. It is considered an innovation which improves the quality of life and health of occupants as well. (*Designed in accordance with ASHRAE 62.1)
SCG Bi-ion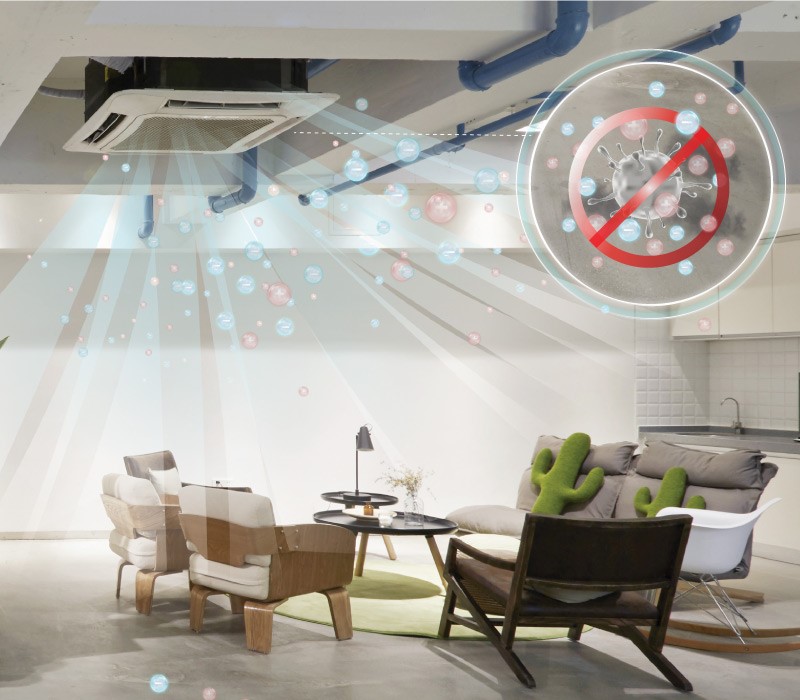 This ion technology operates by eliminating airborne pathogens by producing positive and negative oxygen ions, ubiquitously found in nature.  Such ions flow through devices effective in killing 99% of airborne viruses and bacteria, including SAR-CoV-2 strains, which cause COVID-19. It also reduces small dust particles like PM 10 – PM 2.5 and various odors, while not harming occupants or pets.  SCG Bi-ion can be operated even with occupants in the area, building confidence for visitors and residents in conditions where the outdoor air is filled with different pollutants and germs.
SCG IoT Sensing Thermostat
This smart wireless air conditioning control system assists building owners and operators to customize automatic control to suit various conditions such as indoor activities or outside weather, resembling manual control via cloud and AI systems while maintaining indoor cooled environment, and 24/7 human supervision is not required. The system can analyze and evaluate how the air conditioner works to most minimize energy loss during unnecessary times, saving expenses by 15-60% (depending on type and usage of building).
SCG Wide Coverage Wireless Monitoring System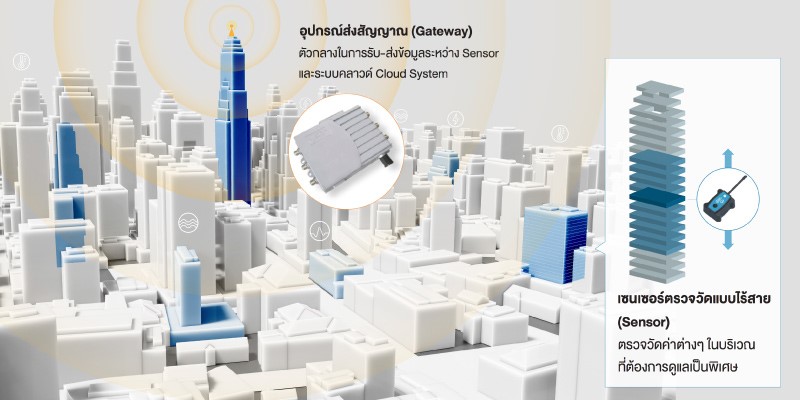 This high-efficiency wireless detection, measurement and transmission system assists in tracking status of equipment and machinery in the building, assess possible unusual occurrences such as detecting vibration and store data on cloud-based system by transmitting such occurrences and analyze such data to display information to building management personnel anywhere and anytime. The Monitoring system can be utilized to inspect a variety of building systems such as water leaks, ventilation system and elevator system, correcting the incurred loss in a timely manner, reducing damage to buildings.
Upgrading general buildings to Smart Building not only enables users and operators to use the building more conveniently, it also allows users to dramatically reduce the amount of energy consumed in such buildings. This reduced energy consumption shall lead to a positive impact on society and the most valuable environment. Let your building be one of the Smart Buildings ready for future smart city, for the world, for us.
Visit 4 cutting-edge solutions from SCG to upgrade your building to a more complete Smart Building at Architect Expo 2022.
Visit 4 Solutions for Smart Buildings with a team of consultants and services at SCG Pavilions at Architect Expo 2022, the 34th ASEAN's Largest Building Technology Exposition during 26th April – 1st May, 2022 at Challenger Hall, IMPACT Muang Thong Thani.